We live in a world where Blake Bortles is a better quarterback than Eli Manning.  Low bar, I know, but true.  At the age of 23, Bortles delivered 4428 passing yards and 310 rushing yards.  The only comparable, age appropriate season came from Andrew Luck with a 4374 passing yard and 255 rushing yard season in 2012.
Special announcement for Jags twitter: Learn and cherish the paragraph above and just know that Blake Bortles is a garbage-time feasting abomination.  Still better than Eli though.
At the age of 22, Allen Robinson secured a season with 1400 yards and 14 touchdowns.  A more productive season at this age cannot be found because it doesn't exist.  Robinson's only single season, statistical peers for age adjusted NFL production are Randy Moss, Odell Beckham and Larry Fitzgerald. And they too fall short.  So when Robinson drops a 150 yards and 3 touchdown performance later this year, don't act like you're not impressed.
While I am not ready to start Allen Robinson after the Oakland debacle, there is an intriguing, positionally ambiguous player named Ty Montgomery who has earned my trust.  The RotoUnderworld Team provide a Bortles-free list of 10 players, including Montgomery, to add across all fantasy football formats.  Note: All listed players are owned in less than 50-percent of MFL redraft leagues or close enough that I can get away with it.
Ty Montgomery, RB/WR, Green Bay Packers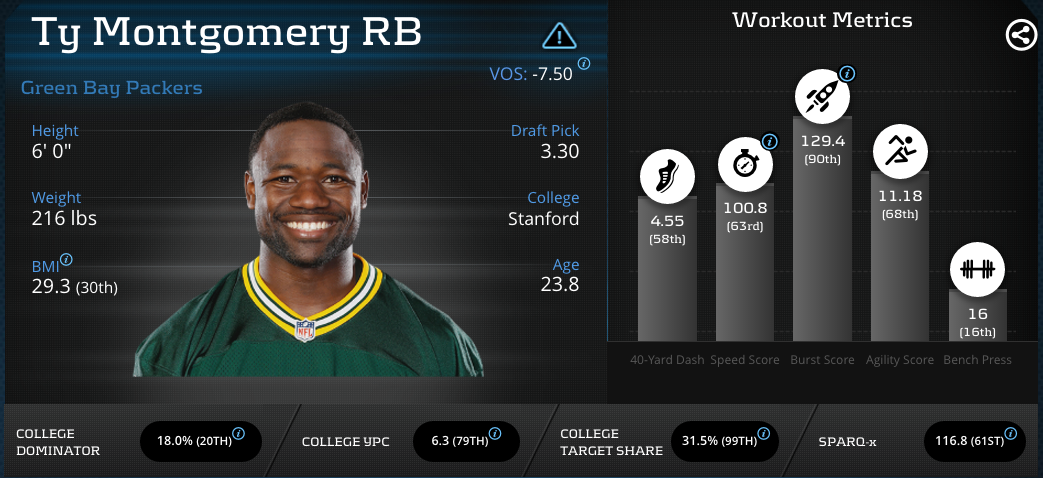 Ty Montgomery Advanced Stats & Metrics Profile
Ty Montgomery has the ability and role to put up Theo Riddick like numbers.  As in, 17.2 fantasy point per game type numbers.  Montgomery played the Riddick role for the Packers against the Bears, recording successful touches in both the rushing and receiving departments.  As a WR, Montgomery is playable, but if he qualifies as a running back in your league he is a verified cheat code.  Montgomery when compared to Riddick, has much better straight line speed as well as advanced zero inertia explosiveness.  This athleticism gives Montgomery an improved ability to record big plays, and the high reception floor should come in handy too.
Buy your shorty TyMo with your money.
Cordarrelle Patterson, WR, Minnesota Vikings
Chalk this up as a win for the truther army.  They have been breathlessly whispering the name of Cordarrelle Patterson as he glides to and fro.  I mean, the man has a eye opening 114.7 (95th-percentile) Height-Adjusted Speed Score (HaSS).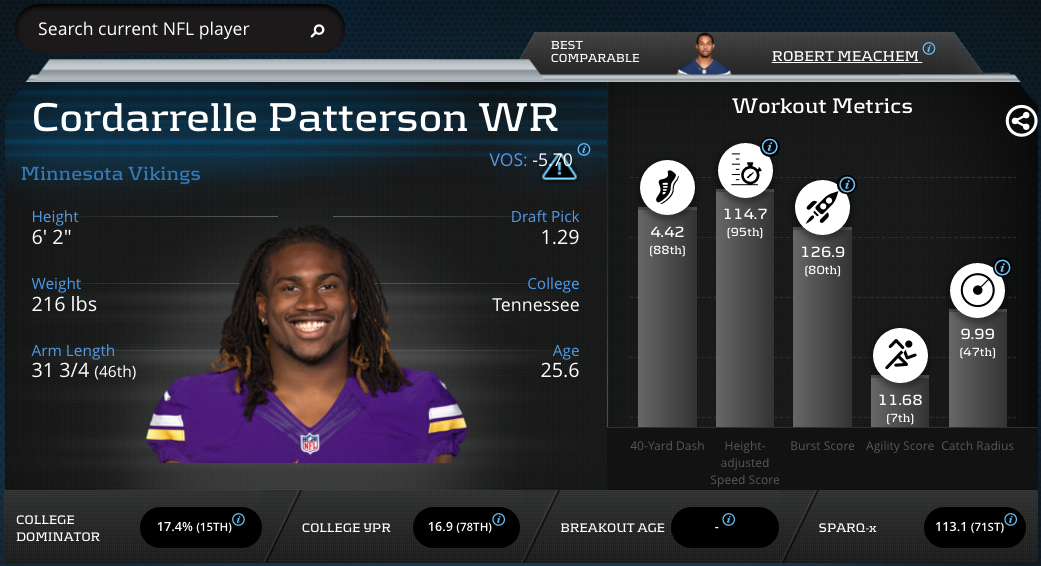 Cordarrelle Patterson Advanced Stats & Metrics Profile
Over the last three games Patterson has seen at least 6 targets, and that is enough volume for a player of his explosiveness to bust one at any moment.  A 1st round pick in 2013, Patterson has struggled to grab traction in Minnesota, but recently has showed signs of coming around.  Patterson's friendly +3.36 Upcoming Schedule (No. 1) foretells a breakout could be on short order.
Jack Doyle, TE, Indianapolis Colts
After 15 years serving in a detective role for law enforcement, Jack Doyle yearned for the open fields of yesteryear where he could devour targets like his forefathers.  As a young whippersnapper, Doyle Hilltopped his way to a 19.3 Breakout Age (92nd-percentile) despite a plodding 4.91 (13th-percentile) 40-yard dash.  Stop what you are doing and go run a 40.  Congratulations it is faster than Doyle's.
Jack Doyle Advanced Stats & Metrics Profile
Discount Doyle at your peril though, because he has been extremely effective as a red zone threat in the absence of Donte Moncrief and more recently Dwayne Allen.  Given that Andrew Luck is lactose intolerant and Phillip Dorsett is a milk factory, Doyle has soaked up the excess volume, by providing the following:
7 Red Zone Receptions (No. 1)
4 Total TDs (No.1)
195 Air Yards (No. 9)
87.9-percent Catch Rate (No.3)
+27.9 Production Premium (No. 6)
The high percentage targets with touchdown upside on a team that provides 43.0 Team Pass Plays Per Game (No. 3) make Doyle a great short term target for you to privately eye.
Waiver Priority Ranks
Davante Adams should be owned above all waiver adds. Fumblin', bumblin' Matt Jones has opened up an opportunity for Chris Thompson who had 19 touches and 113 yards in Week 7.  The efficient production Thompson has provided cannot be denied, +26.0 (No. 8) Production Premium.
Jordan Reed has been cleared to resume practicing, however Vernon Davis could still provide some profitable games.  Washington will likely not want to expose Reed to soon to games with his extensive concussion history.  Now that Jaron Brown has received word he is out for the season, J.J. Nelson gets an opportunity in Arizona.
The passing back duo of Shaun Draughn and C.J. Prosise lay claim to roles where cheap points can be earned through the passing game.  Worth an add, with the added benefit of a touch spike if there is an injury up the depth chart.
For those looking for a streamable quarterback option, take a long look at the bearded wonder, Ryan Fitzpatrick as he faces the Browns this week.
Below is the order I would claim players in a vacuum not taking into account individual team needs.