Let's take a moment to savor the profound importance of today.  It is of course, the first day of my yearly family hunting trip.  (Insert political joke at the expense of your candidate here).
Sighting in my bow, washing hunting clothes in scent free detergent and gathering the endless accessories all serve to build the anticipation of the journey.  In every successful hunt, there comes a moment of truth, where focus elects to fight against adrenaline, potential energy turns to kinetic energy and the arrow must fly.
Whether in the tree stand or grinding waiver wires, opportunities in hunting and fantasy football are easily missed.  Stay in the moment when you click the waiver claim button, don't hesitate during the rut of the season.  Buck up and let the J.J. Nelson arrow fly.
The RotoUnderworld Team has traded sleep to provide analysis for those on the waiver hunt, including a list of 10 players to add across all fantasy football formats.  Note: All listed players are owned in less than 50-percent of MFL redraft leagues.
J.J. Nelson WR, Arizona Cardinals
A fifth round draft pick in 2015, J.J. Nelson finds himself perched atop the Arizona depth chart and now is considered a starter in Bruce Arians eyes.  In the 5 games in which Nelson has received 4 or more targets, he has averaged 16.24 Fantasy Points Per Game.  J.J. "Robin Hood" Nelson is stealing targets from draft capital rich (Michael Floyd and John Brown), and giving to wide receiver poor fantasy owners everywhere.
J.J. Nelson Advanced Stats & Metrics Profile
J.J. Nelson's profile is exceedingly unique.  Weighing in at hologram like 156 lbs, Nelson may be small, but makes up for his diminutive size with a blazing 4.28 40-Yard Dash (100th-percentile).  With one of the highest Average Depth of Target values at 17.7 yards, Nelson has been able to record an excellent 60-percent Catch Rate so far this season.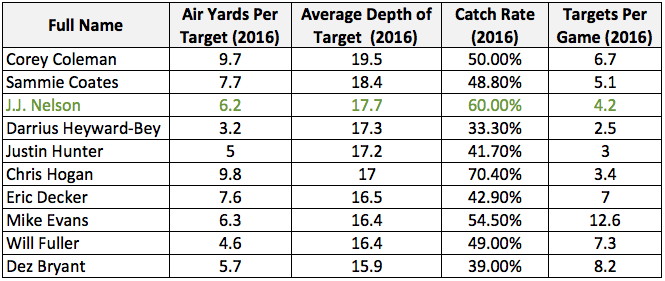 J.J. Nelson Data Analysis
The intriguing list of Average Depth of Target leaders (Min 10 targets) with associated Air Yards Per Target data illuminates J.J. Nelson's newfound ability to produce at a high level.  If the target levels continue in the range of the previous two games (7,11), Nelson is going to smash.
DuJuan Harris RB, San Fransisco 49ers
In week 9, DuJuan Harris rewarded the well informed few, including PlayerProfiler's Ray Marzarella who touted Harris in his Sunday morning article: Tomorrow's Newspaper: DuJuan Harris, Brian Quick, and Week 10 Waiver Wire Prescience.  Going forward, Carlos Hyde's return may muddle the San Fransisco backfield, but we may be able to glean one or two more weeks of goodness from Harris.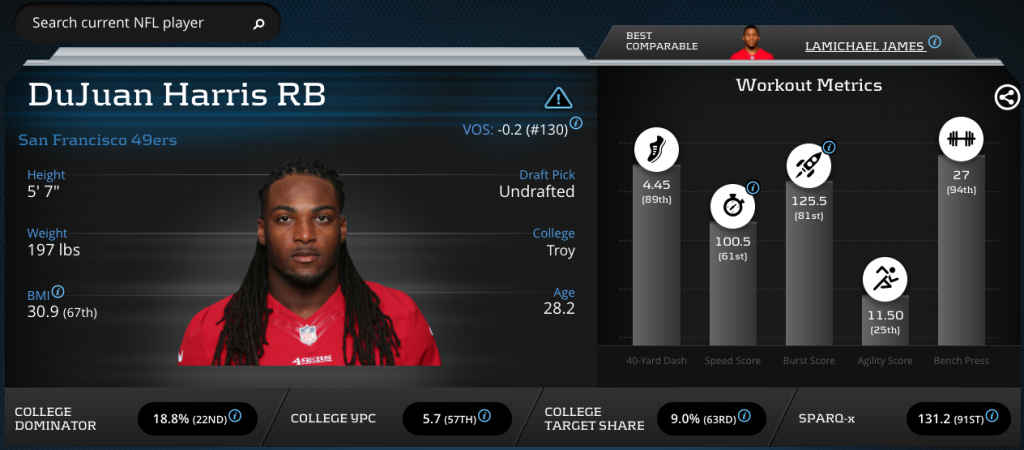 DuJuan Harris Advanced Stats & Metrics Profile
The SPARQ-y DuJuan Harris has bounced around the league with stops in Jacksonville and Green Bay after being undrafted out of Troy in 2011.  Harris has showed the ability to catch passes evidenced by his 9.0-percent College Target Share (63rd-percentile) and 5 receptions against New Orleans.  So, we have an athletic player, who catches passes and was recently productive after an increase in opportunity.  It is great to be alive in a ZeroRB world.
Austin Hooper TE, Atlanta Falcons
I have long been a advocate of the rookie-TE heuristic, i.e. don't draft or roster them in redraft, however 2016 has provided a dissenting voice.  First this year, Hunter Henry burst on the scene and now Austin Hooper has arrived to a lesser extent.  Despite low target volume, Hooper ranks first among the tight ends in Air Yards Per Target.  With Jacob Tamme on the shelf against Tampa Bay, Hooper garnered three red zone looks, cashing in for one touchdown.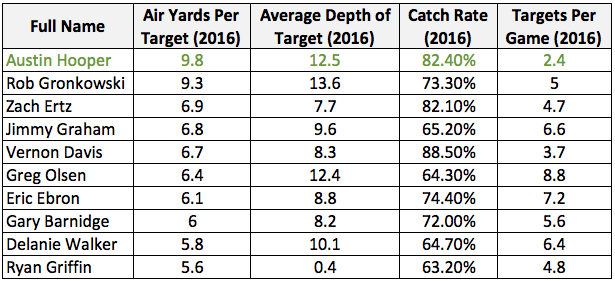 Austin Hooper Data Analysis
Waiver Priority Ranks
If Rishard Matthews is available, stop what you are doing and acquire the man.  Rob Kelley's production has earned him the majority role for the backfield in Washington and should have serious touchdown volume in that offense.
Eli Rogers is operating close to the line of scrimmage with a 7.9 (No. 70) Yards Per Target, but did see a 22.2-percent Target Share in Week 9.  This has been an up and down year for Rogers with an earlier toe injury and some discipline issues.  With Ben Roethlisberger a bit out of sync, the short high percentage opportunities to Rogers will keep flowing.
Adam Humphries sales pitch. Tampa Bay has a +1.93 Upcoming Schedule, in other words, the easiest schedule for wide receivers to score fantasy points.  In addition, Tampa Bay has thrown 42.1 Pass Plays Per Game (No. 6). Humphries eats in garbage time, and the Bucs are garbage time regulars.
Despite the best efforts of the mustached bandits (Kroeke, Fisher et al.), the Rams are not completely devoid of fantasy relevance.  Lance Kendricks is a desert animal forraging for fantasy sustenance in the Los Angeles tundra.  Listen, Kendricks will not get many touchdown opportunities, but his steady target volume the past three weeks (8, 9, 12) provides a high floor.
With Antone Smith headed to IR, Peyton Barber becomes interesting as Doug Martin struggles with returning from a pesky hamstring injury.  Tyreek Hill has been crazy efficient with a +19.4 (No. 13) Production Premium and his usage in the redzone makes him a dance party waiting to happen.
Below is the order I would claim players in a vacuum not taking into account individual team needs.