This is the Moment
The Chargers chargered again in 2022. They made the playoffs, but lost in the first round to an upstart Jaguars team 31-30. It wasn't just any loss, though. The Chargers blew a 27-point lead and lost in their first playoff game since the 2018 season despite the Jaguars turning the ball over five times. This was very Charger-y to say the least. 2022 was supposed to be a big season for the Bolts. Third year quarterback Justin Herbert has shown exceptional command as a passer, and is one of an elite tier of young quarterbacks taking over the league. The Chargers also have a complete group of veteran offensive skill players on board in Austin Ekeler, Keenan Allen and Mike Williams. Those three are reaching the last years of their contracts. Brandon Staley is entering his third season in 2023 with no playoff wins. It's do or die time in L.A. The good news is they might be one of the best NFL offenses in 2023.
The Chargers fired offensive coordinator Joe Lombardi following last season, citing a poor run game and a lack of explosive plays. They then brought on former Cowboys' OC Kellen Moore, let go by the Cowboys because of philosophical differences with Mike McCarthy. Moore is tasked with developing the Chargers' run game and capitalizing on Herbert's talent and the strong core of offensive talent. The consensus is the Chargers will add more offensive talent in the upcoming NFL Draft. Moore aims to install an aggressive offensive attack built to set the AFC West ablaze in 2023 and make some noise in the playoffs.
Coaching/System
Staley knew what he wanted in an offensive coordinator. Less than 24 hours after Moore was bewilderingly let go by Dallas, he agreed to contract terms with the Chargers. Mike McCarthy accused Moore of wanting to "light the scoreboard up." McCarthy said he would rather depend on the run game and "rest [his] defense." It sounds like if it had been up to Moore, the Cowboys would have leaned further into the passing attack. Moore will have an upgraded QB and pass game weapons in Los Angeles. His Cowboys' offense was already more explosive than the Chargers'. Dak Prescott's Air Yards Per Attempt number was 8.5 (No. 10). Herbert's number was just 6.5 (No.32). The Average Depth of Target for the Chargers' pass catchers will be top ten in the league in 2023, and they will be catching passes from one of the best QBs in the game.
Moore will seek to speed up the Chargers' offense, too. The Bolts were No. 4 in pace of play in 2022, but the Cowboys played even faster, ranking No. 3 in plays per minute. Moore also utilized no-huddle more than Lombardi. According to this article by The Athletic's Ted Nguyen and Daniel Popper, the Cowboys were No. 11 in EPA on no-huddle plays while the Chargers were No. 21. That article also reports Dallas ran 71 more no-huddle plays than L.A. last season. Moore brings to this Chargers' offense more plays per game, more yards per pass attempt, and more pressure to opposing defenses utilizing no-huddle. Time to light up the scoreboard.
Quarterback
Justin Herbert has established himself as a star. He ranked No. 2 in the league in passing yards in 2022 with 4,703, trailing only Patrick Mahomes. Herbert also ranked No. 2 in game-winning drives and first in Money Throws (53). This was all while his two main pass-catchers (Allen and Williams) spent significant portions of the season injured. Allen played more than 33-percent of the snaps in just eight games. Williams played more than 40-percent of the snaps in just 11 games. Those two were on the field together 40-percent or more snaps in just four contests in 2022. That means Gerald Everett was Herbert's top pass-catcher most of the season.
QB efficiency in likely passing situations

first 25 NFL starts pic.twitter.com/T2LDu8nhEv

— Warren Sharp (@SharpFootball) April 19, 2023
Don't forget Herbert was also injured himself. He fractured rib cartilage in Week 2 and was playing through discomfort most of the season. Think about that – Herbert nearly led the league in passing yards playing through injury and without decent pass-catchers most games. Imagine what he can do when he and his pass catchers are healthy?
Tooling Up
Editor's Note – This article was written before the 2023 NFL Draft.
Allen and Williams are both signed to $20 million per year contracts through 2024. There was talk of Allen being a salary cap casualty this offseason, but the Chargers weren't going to give up Herbert's most dependable target without any receiver depth behind him. They restructured contracts to keep the skill talent on board. The consensus says the Chargers will add a wide receiver or tight end (or both) early in the 2023 NFL Draft. With the No. 21 overall pick, they could also trade down to get some more shots at young talent. They would benefit from a speed receiver to open up the offense and fully utilize Herbert's deep-ball capability.
The #Chargers are "adamant" about taking a pass catcher in the early rounds of the #NFLDraft2023

Another weapon for Justin Herbert. pic.twitter.com/gmWrHSNTay

— NFL Rumors (@nflrums) April 14, 2023
The Chargers have given Ekeler permission to seek a trade. Given the running back market and the depth of the upcoming running back draft class, however, it is likely Ekeler will return as the Bolts' top back in 2023. The Chargers have had trouble finding a productive backup to complement Ekeler. Ekeler is also aging. It will not be a shock if the Chargers also take a shot at an RB in the draft.
Offensive Line
L.A. has used first round picks in both 2021 and 2022 to acquire top-flight offensive linemen LT Rashawn Slater and LG Zion Johnson. They also signed center Corey Linsley to a five-year, $62.5 million contract in 2021, making him one of the top-five highest paid centers in the league. The right side of the line needs strengthened. As of now, it will be manned by 2022 sixth-round guard Jamaree Salyer and 2019 third-round tackle Trey Pipkins III.
Even though Slater went down with a torn bicep in Week 3, the offensive line only allowed 39 sacks (No. 9 fewest) in 2022, according to Football Outsiders. Football Outsiders' stats also indicate the Chargers' offensive line was middling to poor in the run game, ranking No. 12 in power, but no. 27 in stuffed run rate. According to this ESPN article, the unit finished with a pass-block win rate of 56.6-percent (No. 23) and a run-block win rate of just 70-percent (No. 28). Johnson and Slater need to improve entering their second and third seasons, respectively. Additionally, the Chargers should add depth and improve the offensive line, especially in the run game.
Ascending Assets to Acquire
Justin Herbert
Herbert is being drafted behind the top tier of QBs on Underdog. He is being taken as QB7 – in the fifth round overall. His value is depressed as he was merely QB15 in fantasy points per game last season. Herbert's production can only increase in Moore's offense in 2023. He passed for only 25 touchdowns in 2022 (no. 8). That number is guaranteed to increase in  a more explosive offense. The result will be an MVP-caliber season for Herbert – in real life and fantasy.
Keenan Allen and Mike Williams
Allen and Williams both suffered through injuries in 2022, but were productive when they were on the field. Allen's 16.4 fantasy points per game ranked 11th among wide receivers. He scored 20-plus PPR points in a third of his games and 16-plus in 44.4-percent. Williams was WR20 in points per game with 13.6. He scored 20-plus points in a third of his games and 16-plus in half of his games. That put the receiver duo in an elite class of Alpha wide receiver tandems in the NFL last season. You want these pass catchers when they are on the field. Allen and Williams are both being drafted WR20 (fourth round) or later in Underdog drafts.
Wide Receiver Drafted in Round One or Two
Editor's Note – This article was written before the 2023 NFL Draft.
The Chargers need to add depth at wide receiver for this upcoming season and the future. As we have catalogued, Allen and Williams are aging and will reach the end of their contracts by the end of the 2024 season. A Round 1 or 2 wide receiver will get usage right away in a high-flying offense. Zay Flowers is frequently being mocked to the Chargers in the first round. Flowers has the speed to give Herbert a deep option. He is also a naturally talented separator. Herbert has the arm talent to make multiple receivers productive in this new-look Chargers' offense. Flowers or another of this draft class's speedy separators is the piece this Chargers' offense needs to ignite an explosion in the passing game.
A Storm Is Brewing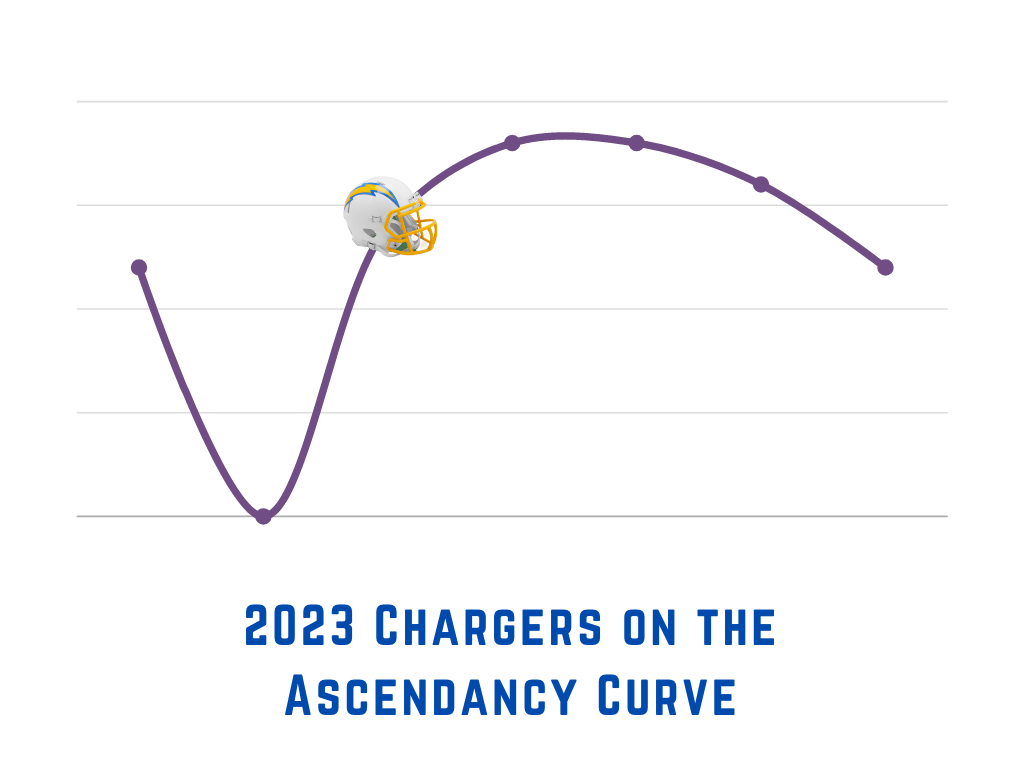 Fantasy Gamers are off the Chargers' offense mostly due to the bad injury luck they suffered last season. Staley's job is on the line if he can't find success with Herbert at the helm and the talent on the rest of the roster. He brought in Moore to unleash the offense's full potential on opposing defenses.
This article states that, per PFF, Dallas ranked No. 2 in total offense and No. 3 in EPA per play in Moore's four years as the Cowboys' OC. He will bring the aggression in L.A. with an improved group of pass-catchers and an ascending QB with arm talent to the moon. The Chargers will seek to electrify opposing defenses in 2023.
Follow @metaffb