With the 2017 NFL Draft approaching, speculation is at an all-time high, and just like every year, a player's value is ultimately tied to his landing spot. With the lack of a true can't-miss prospect at the quarterback position, the landing spot becomes even more important. Listed below are the best and worst destinations for PlayerProfiler.com's top five quarterback prospects.
Patrick Mahomes, Texas Tech (PlayerProfiler No. 1 QB)
Patrick Mahomes, our top-rated quarterback in this years' draft class, has all the physical tools you look for in a quarterback. At 6-2 and 225 pounds, Mahomes is the owner of a 10.96 (94th-percentile) Agility Score, and if you watch him play, you can see his athleticism translates to the football field. Mahomes was also highly productive at Texas Tech, posted a 19.0 Breakout Age (95th-percentile), and an 84.3 (87th-percentile) College QBR while averaging 8.5 (66th-percentile) Yards Per Attempt.
Best Fit – Arizona Cardinals
We believe Arizona is the best landing spot for Patrick Mahomes, as he would be an excellent fit for Bruce Arians' downfield passing game. Mahomes' 60 MPH Throw Velocity would allow him to get the ball deep to John Brown, Jaron Brown, and J.J. Nelson, with Larry Fitzgerald handling the grunt work underneath. Mahomes would have a chance to sit behind veteran Carson Palmer, with the possibility of seeing playing time in 2017 if Palmer's skills erode any further.
Worst Fit – New York Jets
The New York Jets have a horrible track record of developing quarterbacks, and their latest quarterback project, Christian Hackenburg, looks like a complete flop. With Brandon Marshall gone and Eric Decker likely on his way out, Patrick Mahomes would be thrust into the middle of a rebuilding situation that could include a coaching change at the end of the season. Mahomes would be set up to fail with the Jets.
Mitchell Trubisky, North Carolina (PlayerProfiler No. 2 QB)
Like Patrick Mahomes, Mitchell Trubisky, is physically impressive in his own right, posting a 11.12 (81st-percentile) Agility Score and a 4.67 (85th-percentile) 40-Yard Dash. Trubisky, like Mahomes, was also efficient and productive in college, registering an 89.2 (94th-percentile) College QBR and averaged 10.1 (96th-percentile) Yards Per Attempt. Unfortunately, Trubisky's Throw Velocity sits at 55 MPH, ranking in only the 45th-percentile of current NFL quarterbacks, and he must prove he can fit the football into windows tighter than he saw at North Carolina.
Best Fit: San Diego Chargers
With only one full season of experience at North Carolina, we believe Mitchell Trubisky could use some time on the bench to learn the NFL game before being thrown into the fire. San Diego would be a perfect landing spot for Trubisky, as he could sit and learn for a few years behind Philip Rivers, and would have plenty of weapons if pressed into action.
Worst Fit: Chicago Bears
Mitchell Trubisky could have a tough time in Chicago, as the Bears downgraded their skill position players significantly in the offseason. While the Bears have a decent offensive line, Trubisky's lack of arm strength could be an issue when it comes to dealing with the cold weather. When a quarterback lacks arm strength, the proficiency of the weapons at his disposal becomes more important. While Cameron Meredith has a ton of upside, Markus Wheaton, Kendall Wright and Eddie Royal leave a lot to be desired.
DeShone Kizer, Notre Dame (PlayerProfiler No. 3 QB)
DeShone Kizer has some solid measurables and impressive raw talent; it really depends on if he can put it together. Kizer was productive but inconsistent at Notre Dame, with a 74.7 (51st-percentile) College QBR while averaging 8.4 (56th-percentile) Yards Per Attempt. Breaking out at age 19 (79th-percentile), Kizer has plenty of college experience, but his inconsistency and lack of standout athletic ability have damaged his draft stock.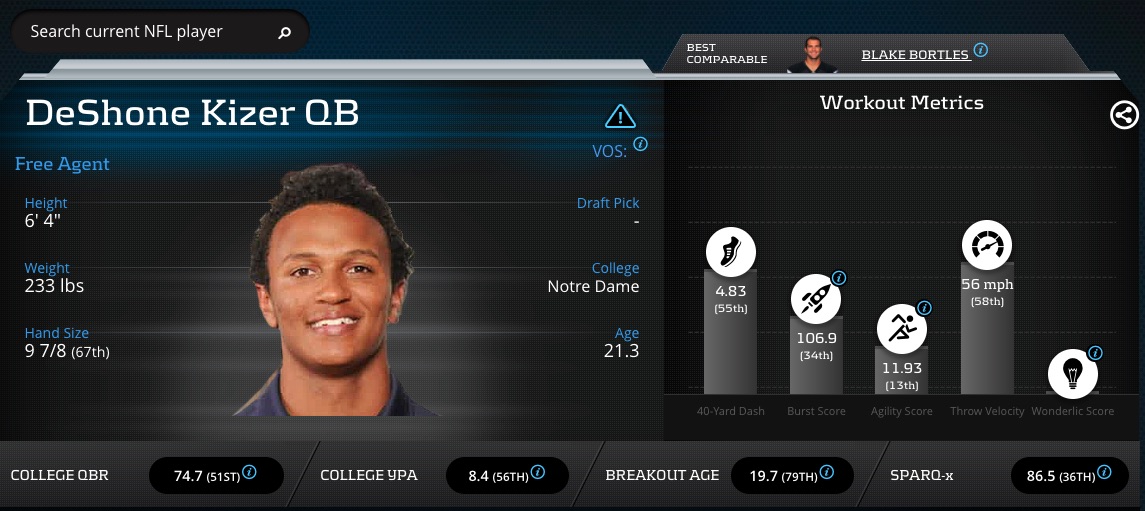 DeShone Kizer Advanced Stats & Metrics Profile
Best Fit: Kansas City Chiefs
We have Kansas City as DeShone Kizer's best landing spot, as he would be playing in an offensive system that fits his skill set. Kansas City has no shortage of playmakers, and while Kizer doesn't have an incredibly strong arm evidenced by a 56 MPH Throw Velocity (58th-percentile), but he has more upside as a downfield thrower than Alex Smith. Andy Reid has a nice track record with quarterbacks, which wouldn't hurt Kizer's outlook in Kansas City.
Worst Fit: Cleveland Browns
Yes, we know the Cleveland Browns have theoretically made strides toward competence, but until they start using all those draft picks on players who are actually good, we can't assume anything when it comes to that franchise. DeShone Kizer would have some solid skill position players to work with in Kenny Britt and Corey Coleman, but would be playing behind an improved but still suspect offensive line.  Kizer isn't as athletic as we had hoped, and his lack of arm strength could hold him back in the winter months.
Deshaun Watson, Clemson (PlayerProfiler No. 4 QB)
There are plenty of things to like about Deshaun Watson from an intangibles standpoint. He was a winner at Clemson, posting an 85.8 (90th-percentile) College QBR and averaged 8.1 (50th-percentile) Yards Per Attempt. Watson is also highly athletic, as he ran a 4.66 (86th-percentile) 40-Yard Dash and posted a 116.4 (75th-percentile) Burst Score, a 11.26 (71st-percentile) Agility Score and a 98.9 (73rd-percentile) SPARQ-x Score. What's going to hurt Watson at the next level is his 49 MPH (3rd-percentile) Throw Velocity, and like Mitchell Trubisky, he could struggle to make the difficult throws into the tight windows he never dealt with at Clemson.
Best Fit: Houston Texans
Deshaun Watson will need an excellent team around him to have success, and the Texans are the best team in the league without a clear solution at quarterback. Watson would have some reliable tight ends to check down to in C.J. Fiedorowicz and Ryan Griffin, and could put up plenty of jump balls for DeAndre Hopkins. A proven winner, Watson's intangibles could be enticing for a team like the Houston Texans.
Worst Fit: New York Giants
Although Deshaun Watson would be able to learn behind Eli Manning for a few years, the Giants have pushed their salary cap space to the limit, which is going to end up hurting them down the road. If the Giants were to draft Watson as the quarterback of the future, there's a chance the cupboard could be bare by the time he gets on the field. Additionally, Watson had little experience dealing with adversity on the football field at Clemson, so it is anyone's guess as to how he'd respond to the pressure of playing quarterback for a New York fan base.
Nathan Peterman, Pittsburgh (PlayerProfiler No. 5 QB)
Highly efficient in a pro style offense, Nathan Peterman had a nice career at Pittsburgh, registering an 82.8 (82nd-percentile) College QBR and averaged 9.3 (88th-percentile) Yards Per Attempt. Unfortunately, Peterman didn't break out until age 21 (33-percentile) and only posted a 49 MPH (5th-percentile) Throw Velocity. While lacking the physical traits we look for, Peterman's efficiency and experience give him a chance to eventually compete for a starting job.
Best Fit: San Francisco 49ers
Despite playing in a pro-style offense, Nathan Peterman would be best served to spend some time on an NFL sideline, and he would be able to take a redshirt year in San Francisco. Having Brian Hoyer and Matt Barkley on the roster, the 49ers wouldn't be pressured to rush Peterman into action, as he would have a chance to sit and become acclimated to a Kyle Shanahan offense that is said to be difficult to learn.
Worst Fit: Miami Dolphins
While Miami is another destination where Nathan Peterman could sit and learn, the Dolphins seem committed to Ryan Tannehill, and Peterman would be unlikely to surpass Tannehill or Matt Moore on the depth chart. Even if he ended up seeing playing time, Peterman lacks the arm strength to take advantage of downfield threats Kenny Stills and Devante Parker.