Height

5' 9"

Weight

197 lbs

BMI

29.1

(32nd)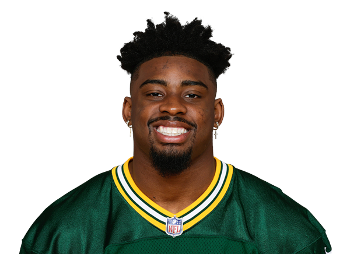 Draft Pick

Undrafted

2022

College

Iowa

Age

22.2
Workout Metrics
40-Yard Dash
Speed Score
Burst Score
Agility Score
Bench Press
High School Workouts
40-Time
Speed Score
Vertical Jump
20 Yard Shuttle
Scouting Grade
Tyler Goodson Bio
Tyler Goodson was a 3-star prospect who played at North Gwinnett High School in Suwanee, Georgia. While he garnered offers from schools like Michigan State, Kentucky, Nebraska, and Indiana, Tyler ultimately chose to attend the University of Iowa. As a Hawkeye, he aged like fine wine, continuously improving his game year over year. Goodson is one of the rare running backs that's coming out as a junior. Read More
College Dominator

College YPC

College Target Share

SPARQ-x
Tyler Goodson News & Analysis
Recent News
The Green Bay Packers waived rookie running back Tyler ...
Green Bay Packers running back Tyler Goodson carried the ...
Tyler Goodson Injury History
Tyler Goodson College Stats
Year

Year

Games

Games

Rush Attempts

Rush Atts

Rushing Yards

Rush Yrds

Total Touchdowns

TDs

Receptions

Rec

Receiving Yards

Rec Yrds

Target Share

Tgt Share

Age

Age

School

School

2019

13

(RB)

134

638

(5 tds)

5

24

(28 tgts)

166

6.8%

19

Iowa

2020

8

(RB)

143

762

(7 tds)

7

15

(22 tgts)

152

8.9%

20

Iowa

2021

13

(RB)

256

1,151

(6 tds)

7

31

(45 tgts)

247

11.1%

21

Iowa
Who is Tyler Goodson
As a freshman, Tyler Goodson commanded the lion's share of carries in the Hawkeye backfield. While scouts may have been concerned about his 190lb frame, he put those concerns to rest by rushing for 134 times in his first season. He also demonstrated his pass catching ability to the tune of 24 receptions for 166 yards. Goodson made a statement that he was an all-purpose back who intended to prove that he could handle a full workload at the college level.
He really came into his own during his sophomore season. Covid shortened the Big Ten schedule, but he still showcased that at his frame he could handle a full workload. Over the shortened 8 game schedule, he eclipsed 100 rushing yards in 4 games and had over 15 rush attempts in 5 of those 8 games. He commanded a total 143 rush attempts for 762 yards and 7 touchdowns. His stats certainly don't indicate that he isn't suited to a workhorse role.
The 2021 season was the climax of Goodson's career at Iowa. He had the quietest 1,151-yard season that nobody was talking about averaging a modest 4.5 yards per carry. His receiving game also greatly improved, averaging 8 yards per reception for a season total of 247 yards. Year over year, Tyler Goodson improved as a rusher and as a pass catcher despite concerns of his slighter build. It is important to note that Iowa runs an outdated offense that defenses can easily adjust to in game. Looking at Iowa's team rushing average per carry during Goodson's tenure, it's evident that Goodson was not the problem in this lackluster offense (Iowa team ypc by year: 3.9 in 2019, 4.6 in 2020, and 3.4 in 2021). Additionally, the shaky QB play has taken its toll on Goodson's stats too. The yards per attempt continually decreased every year that Goodson played. Had his QB's not thrown for less than 6 yards per attempt, there's a chance his receiving yardage could be even greater.
Tyler Goodson was a UDFA signed by the Green Bay Packers following the 2022 NFL Draft. Goodson won't see playing time unless both Jones and Dillon go down. He's got a good shot of beating Hill, who's recovering from an ACL tear, for a spot on the depth chart.