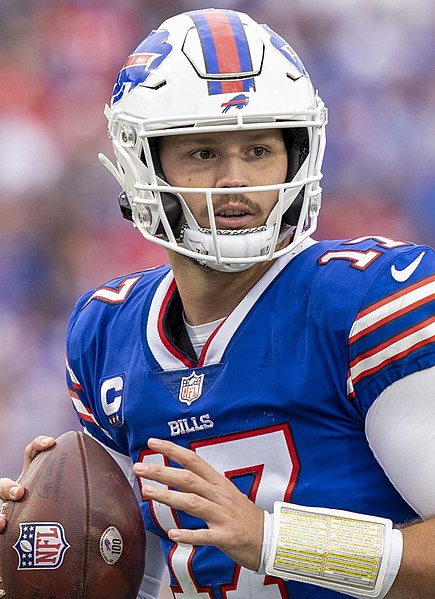 Josh Allen is a 6-5 quarterback with a 10 1/8-inch (88th-percentile) hand size. He was drafted with the seventh overall pick in the 2018 NFL Draft by the Buffalo Bills. He entered the league with a rocket for an arm (100th-percentile Throw Velocity). Paired with his 4.75 (73rd-percentile) 40-yard dash, he was a physical clone of Cam Newton. Like Newton, the concerns with Allen were not his physical skills, but a sub-optimal Completion Percentage that never exceeded 57-percent in his two seasons as a starter at the University of Wyoming. Throwing accuracy may have been an issue, but it may have also been due to the lack of receiving talent on his collegiate team. His most notable pass-catchers were Tanner Gentry and Jacob Hollister, neither of whom made much impact in the NFL.
Allen experienced growing pains during his rookie season in 2018. Naysayers were proven right about his throw accuracy issues. His Completion Percentage was 52.8-percent, and his True Completion Percentage and True Passer Rating were both outside the top 35. However, he flashed potential in fantasy football by leading QBs with 52.6 rushing yards per game and eight rushing touchdowns.
Allen improved in his second season as starter (2019) under head coach Sean McDermott and offensive coordinator Brian Daboll. The Bills realized that offseason that the receiving corps of Zay Jones, Kelvin Benjamin, and Robert Foster was underwhelming. They brought in speedster John Brown and slot specialist Cole Beasley to augment the receiver room. They also added tight end Dawson Knox and running back Devin Singletary in the Draft.
With the weapon upgrades, Allen doubled his passing touchdowns from 10 to 20 in 2019 and facilitated a 1,000-yard season for Brown, despite barely topping 3,000 total passing yards. Fellow Class of 2018 quarterback Lamar Jackson led the league in most rushing categories that season, but Allen still finished with 510 (No. 3) rushing yards and nine (No. 1) rushing touchdowns. Would Allen take the leap to superstar status? Doubters pointed to his horrendous passing efficiency as evidence to the contrary. Believers pointed to the same metrics, however, rationalizing that Allen had nowhere to go but up.
The believers were vindicated during the 2020 season. The Bills would properly equip Allen with a No. 1 wide receiver by trading for the disgruntled Stefon Diggs. That QB-WR pairing ended up being a match made in heaven. Allen nearly doubled his passing touchdowns again, going from 20 to 37, and his Completion Percentage soared to 69.2-percent. Diggs put up a career-high 1,535 yards along with eight touchdowns. Allen entered fantasy football superstardom by averaging 25.4 (No. 1) Fantasy Points Per Game.
Allen continued his dominance at the QB position in 2021, developing chemistry with a quality cadre of pass-catchers: Diggs, Beasley, Knox, and Gabriel Davis. He put up over 4,400 passing yards that season and totaled 42 touchdowns en route to another QB1 finish with 24.6 fantasy points per game. Allen catapulted himself into an elite tier of quarterbacks who can rush for more than 700 yards and throw for more than 4,000. In 2022, he again hit those marks, rushing for 776 yards and seven touchdowns while throwing for 4,316 yards and 35 touchdowns. What Allen lacks in accuracy (No. 23 in True Completion Percentage in 2022), he makes up for with rushing and downfield aggression (80 Deep Ball Attempts, No. 3).