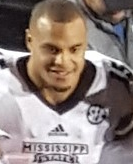 Dak Prescott is a quarterback for the Dallas Cowboys, and was drafted in the fourth round with the 135th overall pick in the 2016 NFL Draft. The former Mississippi State Bulldog is a native of Haughton, Louisiana and played high school football for the Haughton High School Buccaneers. During his senior season at Haughton, Prescott threw for 2,860 yards and 39 touchdowns, while also rushing for 90-951-17. He  led the Buccaneers to a District 1-AAAA Championship in 2010. Prescott joined Mississippi State as a three-star quarterback from the 2011 recruiting cycle, but wasn't named the team's full-time starter until the 2014 season. During his time at Mississippi State, Prescott was twice named First-team All-SEC. He totaled 9,376 yards and 70 touchdowns to 23 interceptions, with a passer rating of 146.0 during his three-year college career. Drafted as a project quarterback to play backup to Tony Romo, Prescott found himself quickly thrust into a full-time starter role, and didn't look back.
During Prescott's rookie season, injuries took their toll on Dallas' quarterbacks in training camp and throughout the preseason. The most notable injury came to Romo, who suffered a vertebral compression fracture expected to keep him out for an extended period of time. Prescott was named the Cowboys' starter and started every game that season (2016). Since that season, Prescott appeared in 85 games, starting all 85. During that stretch, he has proven to be one of the top quarterbacks in the league. He has compiled a regular season record of 53-32 and thrown for over 22,000 yards, 143 touchdowns and just 50 interceptions.
Prescott was off to a hot start in 2020, but suffered a season-ending ankle injury in Week 5 of that season. He returned to the team in 2021. With his return came his best season yet. He totaled 4,449 passing yards, 37 touchdowns and 10 interceptions in the 2021 campaign while leading Dallas to an 11-5 record. Dallas' 11-win season represents the Cowboys' highest win total since Prescott's rookie year when the team went 13-3. The six-year veteran established himself as one of the top quarterbacks in the NFL. While ranking seventh in the league in passing yards and air yards (4,820), Prescott also proved to be one of the most accurate passers in the league. His True Completion Percentage of 74.0-percent ranked No. 4, while his 54.9 QBR was good for No. 9 in the league. Prescott finished the year with 76 deep balls and a 42.1-percent Deep Ball Completion Percentage. His receivers posted the fifth most drops in the league (34).
Prescott ranked in the top-10 in several Next Gen Stats on PlayerProfiler, including Adjusted Yards Per Attempt (7.8), Best Ball Points Added (78.0), Pressured Completion Percentage (51.6-percent) and Red Zone Completion Percentage (63.7-percent). With multiple top weapons at his disposal, it's no wonder Prescott was able to return from a devastating injury to post the best season of his career. The former fourth-round draft pick has finished with a top-12 fantasy ranking in points per game in five of six seasons, and averaged a ridiculous 27.1 fantasy points per game in his injury-shortened 2020 season.
Prescott suffered a thumb fracture on his throwing hand in Week 1 of the 2022 season. He returned in Week 7 and posted middling numbers in most Advanced Metrics, including a 80.6 True Passer Rating (No. 22) and 88.6 EPA despite playing less than 12 full games during the regular season. He continued to be an effective downfield passer with a 6.3 Deep Ball Accuracy Rating (No. 9), but also led the league with a 3.8-percent interception rate. The Cowboys have a solid roster, including a quality offensive line that is proficient in pass protection (4.7-percent Adjusted Sack Rate, per Football Outsiders). Prescott will be looking to help the Cowboys contend for the NFC East title in 2024 and make a return to the playoffs.