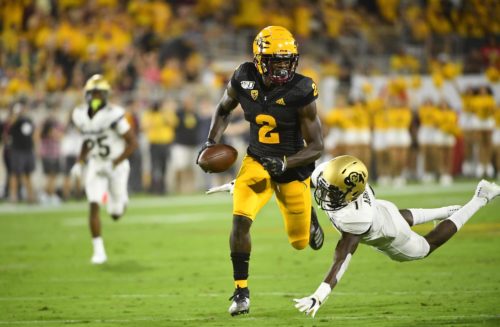 Brandon Aiyuk is a wide receiver for the San Francisco 49ers, drafted 25th overall in the 2020 NFL Draft. Aiyuk is a native of Reno, Nevada, who played junior college football at Sierra College before transferring to Arizona State. His stats in his final college season were 8 touchdowns on 65 receptions for 1192 yards and he was named to the first team All-Pac-12 offense. To go with an imposing 6-foot, 205-lb frame, Aiyuk ran a 4.50 40-yard dash at the combine, posted a 92nd percentile burst score of 132, and has a 91st percentile arm length of 33.5".
Through his first two NFL seasons, Brandon Aiyuk had a unique NFL trajectory. With the 25th pick in the 2020 NFL Draft, the San Francisco 49ers selected Aiyuk. He was the sixth wide receiver taken in the draft, and immediately came in to impact the team, setting up next to Deebo Samuel.
During a six game stretch at the end of his rookie year, he averaged 20.8 PPR points per game, seemingly setting himself up for a breakout sophomore season. His ADP rose to the 4th round of Underdog best ball drafts, but he stumbled to open the season, as he was benched by Kyle Shanahan and saw 0 targets on 12 routes in Week 1. He didn't have a game with 50 air yards until Week 8. From that point on, he averaged 13.1 PPR points per game, leading to a season-long average of 10.0 PPR points per game.
Many of Aiyuk's key metrics took a turn for the worse in 2021 due to his relegated role for the first half of the season. His target share dropped from 24.2% to 18.5%, his routes run dropped from 36 routes per game to 26, and his deep targets dropped from 12 to 5. He dropped 3 targets in 2020 and 2021, and his role stayed similar with 14.5% of snaps in the slot in both seasons.
In 2022, Aiyuk posted career highs in targets, receptions, receiving yards, and touchdowns. He had his first 1000-yard season on a 23.5-percent Target Share. Aiyuk also ranked No. 3 among wide receivers in target separation. He adapted to the changing quarterbacks in the 49ers quarterback carousel and has become a top target for San Francisco. As his rookie deal comes to a close, expect Aiyuk to continue to be a key weapon for the 49ers. Aiyuk is under contract until 2023 with a team fifth-year option.