Super Bowl LVIII is scheduled in February 2024 at Allegiant Stadium. It will be the first Super Bowl played in Las Vegas. Though the hometown Raiders will not be chasing a title on that date, we are here to find value on the betting market with possible representatives on that championship Sunday. The Kansas City Chiefs rightfully open up as the clear favorites to win it all (around +600 on most widely available sportsbooks). They are going for their third title in the last five seasons. This team is headlined by the Andy Reid, Patrick Mahomes, and Travis Kelce "big three." These are our three Super Bowl Best Bets in descending order of bankroll exposure. As usual, stay disciplined with these wagers. One unit is meant to represent approximately 1-percent of your gambling bankroll.
Cincinnati Bengals (+1100, DraftKings): 1 unit
Note: this bet was placed prior to Joe Burrow's calf strain during training camp. Monitor the timetable for Burrow; we still like the bet at this value as long as Burrow is on his current timetable. This could see him return by Week 1.

On most books, there are four teams with shorter odds to win the Super Bowl than the Cincinnati Bengals. These teams are the reigning champion Kansas City Chiefs, the reigning NFC-winning Philadelphia Eagles, the reigning AFC No. 2-seed Buffalo Bills, and the reigning NFC No. 2-seed San Francisco 49ers. There's a good chance that by the end of the 2023-24 season, the Bengals might be the most complete team in the NFL. Currently, they sit at an implied probability of 8.3-percent to lift the Lombardi Trophy. Now is the best time to buy in.
Over the last two seasons, led by the dynamic connection between former LSU Tigers Joe Burrow and Ja'Marr Chase, the Bengals have made two serious playoff runs. Two seasons ago, they stunned the world when they beat Mahomes's Chiefs on their way to a Super Bowl. Unfortunately for them, they lost by a field goal to the Rams in their house. Last season, they played one of the best games of the season against the eventual-champions Chiefs in the AFC championship. Unfortunately again, the Bengals fell by a field goal. This was most notably due to a "late hit to the quarterback" defensive gaffe.
Experience is Key
Now they have that experience under their belts. On the regular season last year, Cincinnati ranked No. 11 in the NFL in total defensive DVOA and weighted DVOA despite significant injuries to their core. They also ranked No. 4 in total offensive DVOA (No. 7 in pass DVOA and No. 4 in rush DVOA). They did all this while their offensive line was still unspectacular (No. 30 in pass block win rate). Their front seven was also inconsistent (No. 21 in pass rush win rate).
Most importantly, this offseason, they were active to address needs and improve further from a great team to one that might challenge the No. 1-seed and end up being favored in an AFC Championship Game when we eventually get there.
In free agency, they lost Von Bell, Jessie Bates III, and Eli Apple on defense. However, they replaced them with free agents Nick Scott and Sidney Jones and drafted cornerback DJ Turner and safety Jordan Battle in the top-100. They also added depth on defense with linebacker Germaine Pratt, edge rusher Tarell Basham, and first-round draft pick edge rusher Myles Murphy. Finally, perhaps the most impactful move of them all—they stole four-time Pro Bowl offensive tackle Orlando Brown Jr. from Kansas City and added him to their roster.
Joe Burrow Can Lead a Team to the Super Bowl
Among all quarterbacks last year, Burrow ranked No. 7 in adjusted yards per attempt. Burrow also ranked No. 1 in accuracy rating, No. 6 in true completion percentage, and No. 9 in red zone completion percentage. Additionally, Burrow ranked No. 3 in true passer rating and No. 6 in expected points added. He continues to be one of the best in the NFL as he matures in this league. The Bengals will be serious contenders so long as Burrow is under center. Some added help on both sides of the ball will only bolster their chances. For that reason, Cincinnati should be one of the biggest threats in the AFC yet again. An argument can certainly be made they are the best team on paper top to bottom. They are my pick to win Super Bowl LVIII and thus my largest pre-season Super Bowl bet of the year.
Dallas Cowboys (+1400, DraftKings): 0.50 units
In our most recent futures betting article, we discussed the offseason of the Dallas Cowboys and why their progress on both ends of the ball should imply a step forward for an already-high-ceiling team. We'll go a step further and sprinkle on them to dethrone one of the favorites. We already have some good news to back up this faith.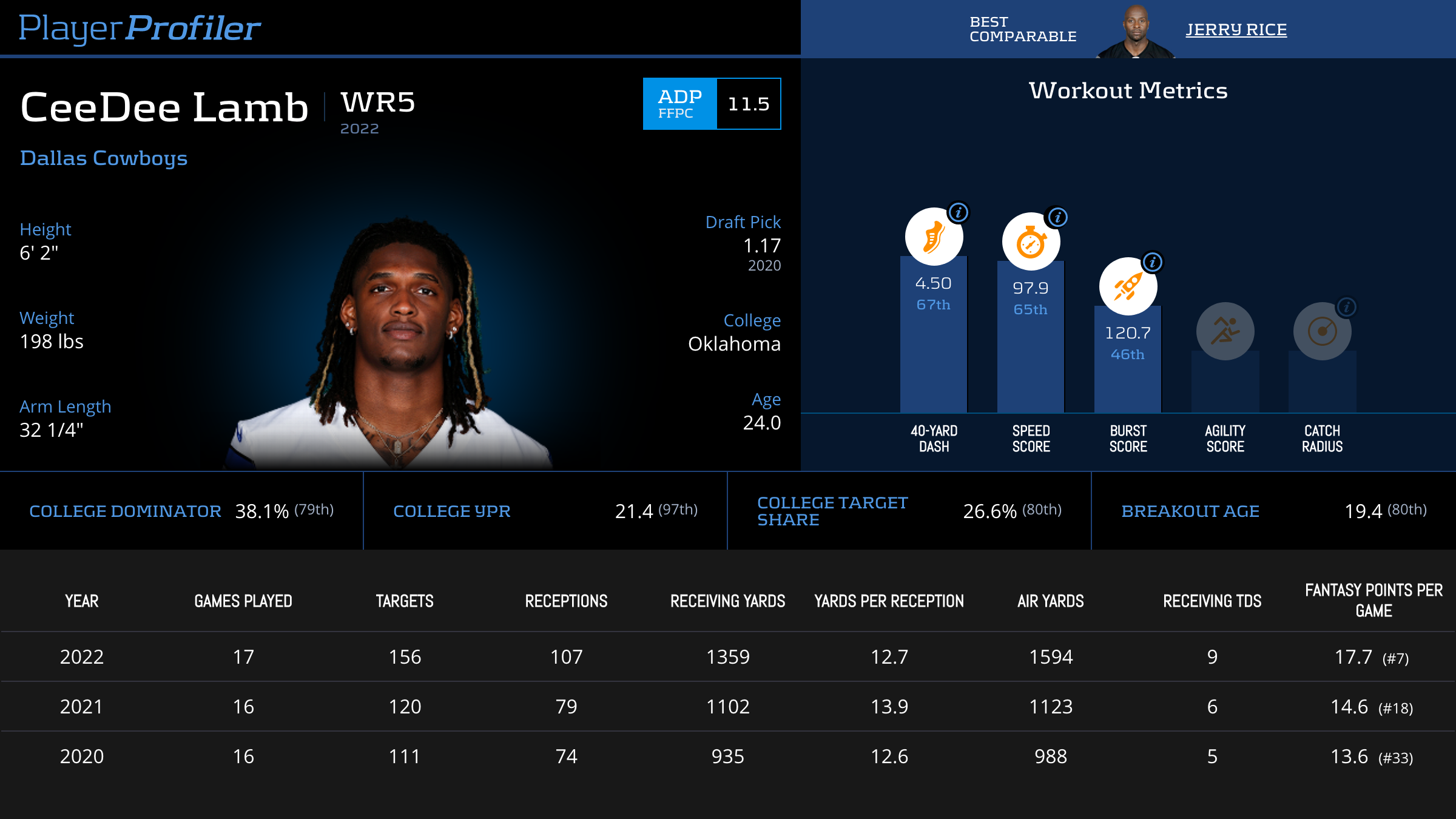 Despite Dak Prescott playing without health fully on his side and wideout CeeDee Lamb playing through some injuries of his own, the Cowboys lost a close, defensive battle against the San Francisco 49ers. The Cowboys completely shut down the 49ers passing game in that matchup. The Cowboys also had experience playing the Eagles. Unfortunately, neither one of their meetings last season featured both starting quarterbacks healthy. However, the majority of that Philadelphia team will return, nonetheless. The Cowboys will be better equipped to contain the Eagles.
Although head coach Mike McCarthy being the primary offensive play-caller in 2023 is a scary narrative to back, Dallas did reportedly revamp their staff to feature analytics in decision-making on the field. This is always good news for winning in the NFL. That makes this implied 6.7-percent probability of Dallas to go all the way a steal. This is something they can pull off even if they do not upset the Eagles for the division title in the NFC East.
0.50 units: Jacksonville Jaguars (+2800, FanDuel)
When looking for teams that have a shot at making a deep playoff run, we are looking for an elite offensive core and defenses that can get red-hot if they stay healthy. The Jacksonville defense didn't do much of that last year. It is why they didn't have a realistic shot for a Super Bowl last season. However, after staying aggressive on addressing those needs this offseason, we could be looking at an underrated defensive roster when it's all said and done.
During last year's regular season, Jacksonville ranked No. 27 in total defensive DVOA. They also ranked No. 19 in run stop win rate but No. 8 in pass rush win rate. During the draft, they padded their defense with linebacker Ventrell Miller, edge rushers Tyler Lacy and Yasir Abdullah, safeties Antonio Johnson and Erick Hallett II, and cornerback Christian Braswell all in the first six rounds. In free agency, they also added interior defenders Michael Dogbe and Henry Mondeaux while just losing edge rusher Dawuane Smoot.
Offensively
On offense, it should simply be common knowledge that this group can be one of the best in the league in 2023. The leap of Trevor Lawrence in 2022 under the new coaching regime of Doug Pederson was no fluke. On the regular season, Lawrence ranked No. 7 among quarterbacks in money throws. He ranked No. 11 in adjusted yards per attempt. Lawrence ranked No. 9 in accuracy rating and No. 13 in true completion percentage. He ranked No. 6 in true passer rating, No. 12 in accuracy rating under pressure, and No. 15 in accuracy rating in a clean pocket. The former No. 1 overall pick continued to tap into his ceiling as the season progressed. It was the reason Jacksonville not only participated in the playoffs but completed one of the most memorable comebacks in recent NFL history in the first round.
Only two QBs had a positive total dropback EPA against every coverage type last season (cover-0, cover-1, 2-man, cover-2, cover-3, quarters):

🔥 Patrick Mahomes
🔥 Trevor Lawrence

(📊 via @PFF, 📸 via @TruMediaSports) pic.twitter.com/MjIWvd36vo

— Ahaan Rungta (@AhaanRungta) July 29, 2023
Jacksonville was doing all of this without a single snap played from one of the NFL's best pass-catchers, wide receiver Calvin Ridley. In his most recent season before a gambling-related suspension (2021), Ridley was a pure alpha. In that season, Ridley ranked No. 7 among all wide receivers in target share. He ranked No. 4 in air yards share and No. 5 in route win rate. The time off has reportedly helped Ridley work on his health. A full season out of him would open up a new dimension to Jacksonville's passing attack, especially in the deep ball department. This is an area where Lawrence got no help. He ranked outside the league's top-20 in completion percentage in that department.
Final Word
Last year's Jaguars, still learning their identity around Lawrence and Pederson, finished the regular season as the No. 9-ranked team by total offensive DVOA. They should again be a top-10 team in 2023 if their core stays healthy. Couple this with an improved defense and they can transform from a team that just came up short against the Chiefs in last year's playoffs to a team that can seriously pull off an upset in the AFC playoffs this year.
That makes the implied 3.4-percent probability of this bet an easy snag and worth the exposure at half a unit.