"The greatness of the Raiders lies in their future"- Al Davis
While last season provided a glimpse into that future, the 2016 season will go down as a "what could've been" for the Raiders and the Raider Nation as on Christmas Eve they lost quarterback Derek Carr to a broken ankle, having their first playoff game in 14 years started by third string rookie quarterback Connor Cook, and were ousted in the wild card round by the Houston Texans. Off the field, it was a tumultuous offseason for the silver & black, as the team was approved relocation to Las Vegas for the 2019 season. But on the field the future is sky high with a young nucleus on both sides of the ball, starting with their signal caller.
Quarterback
Derek Carr
In line for a massive contract extension, 26-year old quarterback Derek Carr took another step forward in 2016, setting a career best 64-percent completion percentage, throwing 28 touchdowns and only 6 interceptions.  Carr was slightly below the middle of the pack in Air Yards with 2,101 (No. 18) , but he was No. 9 with a 41.0-percent Deep Ball Completion Percentage. Playing behind the No 1 (137.1) ranked pass blocking offensive line on PlayerProfiler.com (dubbed "Carr Insurance"), and given the efficiency of the run game it could open up the deep play action for Carr to more shots downfield  in 2017 as he was No. 21 in Deep Ball Attempts (61) in 2016.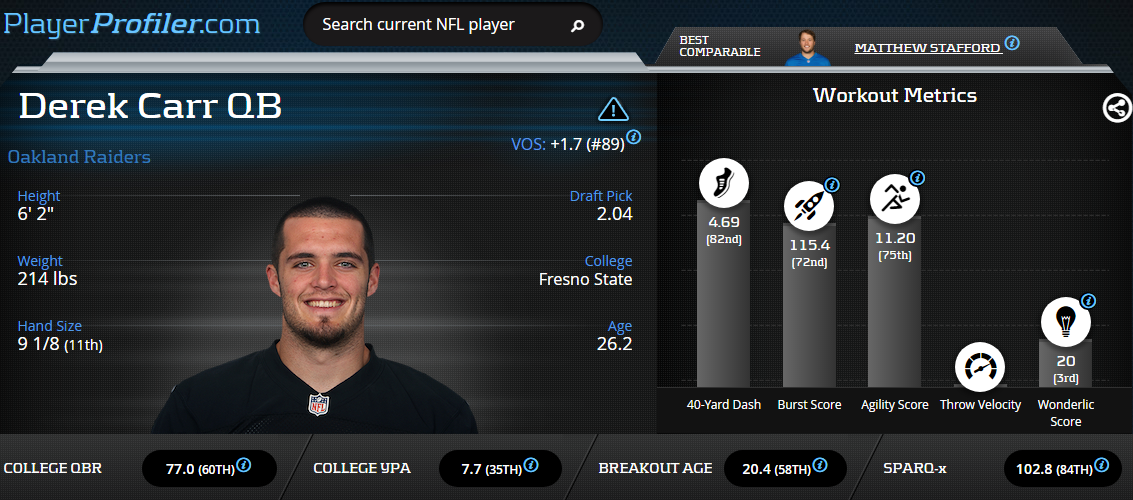 Carr is due for some positive regression in the touchdown department, as the Raiders were much better at running the ball in the red zone than they were at converting passing touchdowns. Carr is an ascending dynasty asset at the quarterback position.
Running Back
 Marshawn Lynch
The native son returns. The allure of playing for his hometown team before they head to Las Vegas drew Marshawn Lynch out of retirement. While the last time we saw Lynch, he wasn't exactly "BeastMode", battling nagging injuries and ineffectiveness, playing in a career low 7 games and posting an uncharacteristic -26.4 (No. 76) Production Premium, with just one 100-yard game and a 3.8 yards per carry. Latavius Murray left behind over 200 touches and 40 red zone carries for Lynch, Expect the Raiders to keep him fresh for a playoff run and limit his work in the passing game, as they have two  capable options behind him to shoulder the receiving load out of the backfield.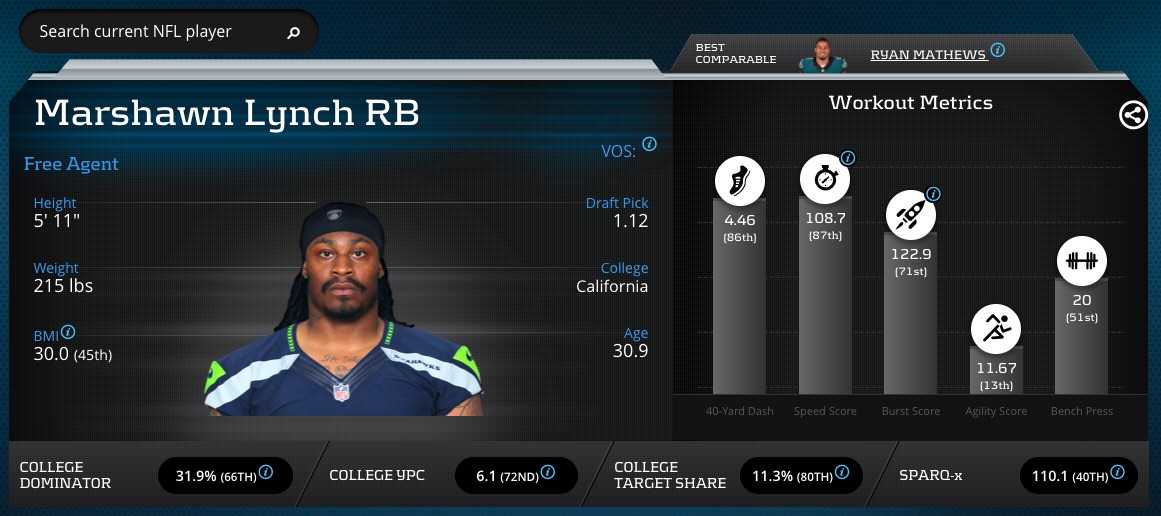 Marshawn Lynch Advanced Stats and Metrics Profile
Now 31, we don't exactly know what to expect out of Lynch, but he is turning heads (and bodies ) at OTAs. Perhaps a year of rest helped his body recover, but it seems unlikely he will command his past workloads. Lynch is surely candidate to be over drafted in August, I understand why, it's fantasy football, a game within a game, and it's fun and Lynch is a fun player to watch. And he's having fun when he runs through a muthafuc*a face.
DeAndre Washington
DeAndre Washington did not disappoint when given the opportunity in 2016, flashing his all-terrain skillset. Though only 5-8, he's compact with a 31.0 (71st percentile) BMI running through stacked fronts exceptionally well, posting a 6.3 (No. 2) stacked front yards per carry. The big play ability shined through as well, with an 8.1-percent (No.5) Breakaway Run Rate.
A slick receiver out of the backfield, he racked up over 100 receptions at Texas Tech, a 9.7-percent (68th percentile) College Target Share. Washington looks to be active out of the backfield as the satellite back for the Raiders, as they plan to manage Lynch throughout the season. He looks to be a Zero RB lottery ticket if Lynch went down with an injury.
Jalen Richard
Not to be outdone, Jalen Richard had a higher Production Premium (+23) than Washington (+5.1). Referring back to the chart above, he nearly matched Washington in Breakaway Runs, posting 1 less, starting with his first NFL carry.
Jalen Richard himself was successful against stacked (No. 3), base (No. 3), and light (No 9) fronts. Richard is capable in the receiving game as well, posting an 18.4-percent (95th percentile) college target share while at Southern Mississippi. Comparing athletic profiles, he is doesn't appear to be the player Washington is, but he was as productive and would offer flex appeal if in a committee with Washington.
Elijah Hood
The Raiders drafted Elijah Hood in the seventh round, he has the profile of a straight line, early down grinder with his subpar 110.1 Burst Score (10th percentile), 11.77 Agility Score (11th percentile). A late round pick in dynasty leagues, Hood looks like there would need multiple injuries in the backfield to receive significant playing time in 2017.
Wide Receivers
Amari Cooper
154 receptions, 2,232 yards,11 touchdowns, all before his 23rd birthday. Amari Cooper is an absolute Phenom at the wide receiver position. What more does Cooper have to do to prove himself to fantasy owners that he is one of the most precocious young stars in the game?
Some will say score more touchdowns. Seemingly the one (slight) weakness in his game has been his red zone production. Although his red zone targets did go up from 8 to 13, his Red Zone Catch Rate dipped from 50 percent to 38.5 percent. That part of his game is still maturing, the Raiders need  to redistribute the share of red zone targets in his direction. We know touchdowns aren't always easy to predict , but if start to swing his way he could have be on his way to a special 2017 season.
---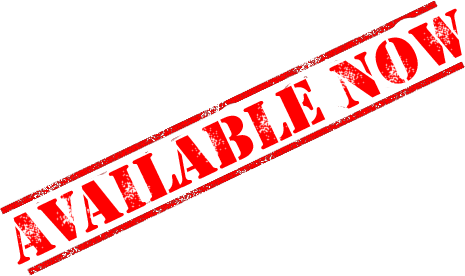 ---
Michael Crabtree
Michael Crabtree led the Raiders in targets for the second consecutive season, capturing a Hog Rate of 17.4 percent (No. 7) finishing with a career high 89 receptions and just over 1,000 yards. Accessing PlayerProfiler's Data Analysis Tool, Crabtree was the preferred option for Carr in the red zone commanding a 23.9-percent (No. 16) Red Zone Target Share. Crabtree was also leaned on in high leverage situations, and came through, posting an 80-percent Contested Catch Rate (No. 11). Entering his age-30 season,"King Crab" is showing no signs of slowing down.
Seth Roberts
Seth Roberts did most of his damage in the slot last year, lining up there 47.5-percent (No.11) of the time, the rest of the damage he did was dropping passes at an 11.2-percent rate (No. 2 among qualified NFL wide receivers). After a promising 2015 season, his efficiency cratered, going from a +20.7 (No. 12) to a -24.1 (No. 101) Production Premium. Nearly commanding a similar red zone target share, Roberts is better suited to his use 4.46 (76th percentile) 40-yard Dash speed to stretch the field for the Raiders. A favorite of the coaching staff, he would be in line for a big time bump in targets in the event of an injury to Cooper or Crabtree.
Cordarrelle Patterson
Cordarrelle Patterson came over from the Vikings on a one year deal as he looks to compete with Seth Roberts for the number 3 receiver job. A dangerous threat with the ball in his hands, 114.7 Speed Score (95th percentile) and 126.9 Burst Score (80th percentile) and maybe the Raiders see something in him as more than a returner and gadget player.
Ishmael Zamora
Shortly after the draft, the Raiders signed Baylor WR Ishmael Zamora, after leaving school a year early Zamora did not receive an invite to the NFL Combine due to the new conduct policy after a video was released of him abusing a dog . He has the physical attributes 106.0 (85th percentile) Speed Score, 126.3 (77th percentile) Burst Score, along with his 6-4 frame and a 10.06 (90th percentile) Catch Radius. He makes for an intriguing late round dynasty pick, who could earn playing time by showing well in the preseason.
Tight End
Jared Cook
The Raiders signed  tight end Jared Cook to replace Clive Walford in the starting lineup. Cook posted a 15.1 percent Target Share from Aaron Rodgers last year, finishing with 30 receptions for 377 yards. Now 30, Cook may not possess the freakish athleticism he once did (125.6, 90th percentile SPARQ-x Score), but at 6-5 his 10.38 (97th percentile) Catch Radius will make him a big target in the middle of the field for the Raiders and potential streaming TE option in fantasy as a red zone target.
Conclusion
The Raiders look to continue their ascension to the upper echelon of the AFC in 2017 and finish what they started last year. With franchise quarterback  Derek Carr back and healthy, and two target hog receivers in Cooper and Crabtree leading the aerial attack. With the wild card at running back, can Marshawn Lynch go "BeastMode" for one of the best top fantasy scoring offenses in 2017