The draft is less than a week away and it's time to draw back the curtain on all the small school darlings and hidden sleepers you didn't want your league mates to know about. Let's get zesty.
Running Backs
Marlon Mack, South Florida
Marlon Mack has it all. He's a patient but punishing runner who exhibits above average vision when choosing his running lane in the backfield and proceeds to outrun second level defenders with ease. However, the shifty Mack also possesses the necessary bulk to brute-force his way forward in short-yardage and goal-line situations.  Mack helped himself at the NFL Scouting Combine, running the 40 in 4.50 flat, resulting in a 103.9 (73rd percentile) Speed Score. There's no glaring weakness in his game, and he has all the characteristics of a later round value pick for savvy fantasy drafters.
James Conner, Pittsburgh
When James Conner isn't beating cancer, he's beating up opposing defenses all day with his bruising running style. He's a wild animal with the ball in his hands, and you will always see him fighting for every bit of extra ground he can. It's also important to note that while Conner wasn't used much in the passing game early on in his college career, his 2016 season saw him pull in over 300 receiving yards, a large uptick from the 103 he amassed in 2013 and 2014 combined. Conner did not put up a stellar Combine performance but in all honesty, his game doesn't really lend itself to sexy workout metrics. Get him on the right NFL depth chart and he'll be terminating LBs and DBs in no time.
I'Tavius Mathers, Middle Tennessee
While PlayerProfiler.com lists Jeremy Langford as Mathers' best comparable player, I see LeSean McCoy. Mathers' film shows us a runner that gets skinny near the line of scrimmage and squirts through traffic for sizable gains. Mathers' game also mirrors McCoy's in that he's a threat both as a runner and a receiver. The Middle Tennessee product picked up 60+ receptions and more than 600 receiving yards to go along with 1500 rushing yards in a monster 2016 season. In addition to being a shifty dual threat, Mathers has respectable measurables, which he displayed at the Combine. a 4.51, 71st-percentile 40 time and a 98.1, 51st-percentile Speed Score give us more evidence that Mathers is an above-average athlete ready to ascend at the next level.
Brian Hill, Wyoming
Brian Hill looks to join the ranks of elite NFL Brians (led, of course, by Brian Quick). For me, the Wyoming product can be summed up in a word: solid. Solid in terms of his frame, College Dominator, and Combine performance. Hill's film shows us a player that's quite patient behind the line for such a big back, and he exhibited serious workhorse qualities in college, culminating in a 2016 steamroll to the tune of 350 carries for 1860 yards and 22 touchdowns. Granted, Wyoming isn't the running back factory of a Georgia or an Alabama, but the fact that Hill stayed healthy for the entire season even while amassing so many carries speaks volumes about his toughness. Hill performed with efficiency at the combine, logging a 4.54 40 and a 103.1 (70th-percentile) Speed Score. Hill is a likely to be a faller during the NFL draft, but he could represent a sneaky value for your fantasy team if a less durable back than he goes down during his rookie year, a la Jordan Howard in 2016.
Wide Receivers
Josh Reynolds, Texas A&M
Reynolds is a high-point artist following in the footsteps of former A&M product-turned-NFL superstar Mike Evans. While not nearly as massive as Evans, Josh Reynolds is super-agile and is capable of reeling in balls thrown anywhere near him using his 10.21 (85th-percentile) Catch Radius, and then turning up field for chunk yards after the catch. The remaining metrics reinforce the film, as Reynolds logged a 39.7-percent (78th-percentile) College Dominator Rating to go along with an impressive 17.0 college YPR, which is 79th-percentile. Like the bulk of this class, Reynolds has the profile of a successful complementary role-filler and his abilities after the catch are sure to be a valuable arrow in his quiver as he sets out to climb an NFL depth chart.
Ishmael Zamora, Baylor
Featuring a suspension, lopsided metrics, and Twitter feuds left and right, Ishmael Zamora's profile commands attention for all the right and wrong reasons. Zamora only played a major role in college for one season (and even then, he played behind fellow '17 class prospect KD Cannon), ending up with a 63 catch, 809 receiving yard campaign in 2016. Add this to the fact that he enjoyed a successful Pro Day outing, highlighted by a 4.58 40-yard dash time and 106.0 (85th-percentile) Speed Score after only logging a 30.2-percent (49th-percentile) College Dominator Rating and the issues stemming from an animal abuse fiasco, there's no question that Zamora is the most polarizing prospect in the class outside of Joe Mixon. Where- if it all- he is drafted will likely shed some light on an NFL team's commitment to him by way of draft capital, and Zamora's rookie ADP is likely to be on a yo-yo even after the NFL draft. But if he lands in the right spot, there's undeniable value here.
Zay Jones, East Carolina
While Zay Jones' workout metrics are impressive, he remains a polarizing prospect for dynasty players. Jones' 10.7 career YPR is as low as you will find for a NFL Draft-worthy wide receiver and the East Carolina product is best summarized as a high-volume, low-yardage player who looks like a more athletic, less refined Jarvis Landry. When reviewing Matt Harmon's Reception Perception data for Jones, the data checks out. He accrued a vast majority of his production on short and intermediate routes, with little production coming after the catch.
While yes, Jones lit up the Combine, highlighted by a 4.45 40 and 10.80, 90th-percentile Agility Score, he under-performed this athleticism in college, going down on first contact far too often for a player with such gaudy metrics, feeding the evidence that Jones is more of a short-yardage possession receiver than a well-rounded talent.
Josh Malone, Tennessee
Josh Malone went off at the NFL Scouting Combine, forcing dynasty players to take a closer look at the Tennessee product as the draft approaches. Lo and behold, Malone's 2016 season consisted of 50 catches for 972 yards, giving him a 92nd-percentile YPR of 19.4.  That 2016 line combined with his blazing 4.40 40-yard dash time and 114.0 (94th-percentile) Speed Score paint Malone as a home-run hitter that's also tall enough at 6'3 to bring in the contested catches. While Malone's game isn't fully developed, he's one of the younger prospects in the class at only 21 and one month, so there's plenty of time for him to hone his skills at the next level while likely putting in some special teams work at first.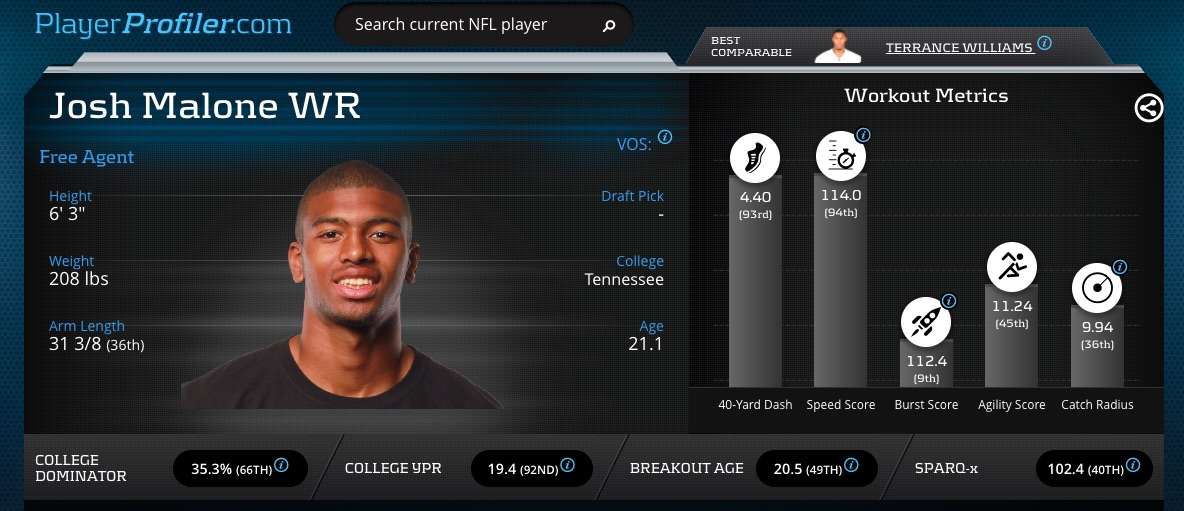 Cooper Kupp, East Washington
In line with the other receivers listed here, Cooper Kupp represents a conundrum for fantasy drafters. Kupp stacked up a huge amount of receptions and yards in his time at East Washington, ending his college career with 428 catches for 6,464 yards and 73 touchdowns. That being said, there isn't a rich history of Big Sky conference players scorching the earth at the next level. To make matters worse, Kupp under-performed in almost every drill at the Combine, coming away with only one respectable mark, a 10.83 (88th-percentile) Agility Score. Perhaps most importantly, the film shows us a player that simply struggles to separate, which will pose an immediate problem at the next level. While Kupp compiled huge numbers in college, he has the makings of a player that's already peaked.
Tight Ends
Jordan Leggett, Clemson
Although he shared the field with play-making receivers his entire career at Clemson, Jordan Leggett still carved out a valuable role as both a blocker and receiver while wearing the orange, wrapping up his college career with a 46 catch, 736 yard campaign in 2016. Competing against an exceptional group of tight ends entering the league this year, Leggett didn't do much help his case at the Combine, finishing with barely above-average scores in a majority of the drills. While it's true that Leggett won't be winning many flat-out foot races with defenders at the second level, his bulky frame aids him in shredding first and sometimes second contact. Again, in a class so stacked, Leggett will have a hard time breaking through after his lack-luster Combine, but the requisite skills are there for him to develop into a solid role player at the NFL level.
Jake Butt, Michigan
Likely a first round pick before a brutal ACL injury during the Rose Bowl, Jake Butt still absolutely deserves a mention here. Butt's ability as both a contested catch receiver and a rock-solid blocker place him on the fast track to NFL playing time, and it says a lot that teams have still been very interested in meeting with Butt even as he recovers from injury, with numerous teams reaching out at Michigan's pro day. If Butt's rehab goes according to plan, he can begin ramping up his activity this summer and hopefully make an impact early on in his NFL career.
Adam Shaheen, Ashland
Ashland's own Adam Shaheen is the quintessential finishing touch to the 2017 prospect preview. Shaheen forced NFL personnel to pay closer attention to him after his strong Combine performance, the high marks being his 107.8, 80th-percentile Speed Score and a 4.79 40 at 278 pounds. Shaheen's 36.4, 95th-percentile College Dominator can't be ignored either, as it provides more evidence that Shaheen dominated all comers with his freakish size-adjusted speed, agility, and massive frame. Shaheen has been talked up recently by Twitter draftniks and scouts alike, but even then, I believe his name could be called a lot sooner than we think.
One more clip of Ashland TE Adam Shaheen. I see some similarities to Travis Kelce. pic.twitter.com/U4RC5vfQ6t

— Daniel Jeremiah (@MoveTheSticks) February 14, 2017
We made it! That wraps up the 2017 skill position prospect preview. Where will Joe Mixon be drafted? Which team will get Moneyball'd by Cleveland? Will the ghost of Laremy Tunsil leak a gas mask bong video of a top prospect during the draft? We'll all find out later this week!