Matt Jones is Milton From Office Space.
There's an equilibrium point where below average efficiency becomes a liability and can derail a player's expected fantasy production.  Volume can make a replacement level player fantasy relevant, but there are diminish and returns that incur with inefficient play putting the player in jeopardy of being stripped of their starting role.
In the movie Office Space, Milton, the fat dorky account representative, was demoted to work in the basement with his beloved red stapler due to his unprofessional appearance and inefficient workflow.  People like Milton generally don't make it to the top of the corporate latter, social awkwardness, poor production and personal appearance prevents them from succeeding in the business world.  NFL teams aren't much different, inefficient players eventually get demoted to work in the basement, just like Milton.
I hope to god Matt Jones owns a red stapler because he's a candidate to finish his career in the NFL working in the basement.  Using PlayerProfiler's Data Analysis Tool, his 3.40-yards per carry was last in the league amongst running backs with 125 or more carries.  He had four games last season where he received ten or more rushing attempts and averaged less than three yards per carry.  Jones also finished last season second in the league with five fumbles.  Inefficient play is a trend that extends all the way back to his collegiate career where he averaged 4.9-yards per carry during his junior season, ranking eighteenth amongst NFL running backs.  Jones also had six games during his junior season where he averaged 3.5 yards per carry or less.  He hasn't been efficient since high school and his style of play would have to change for him to become more efficient in the future.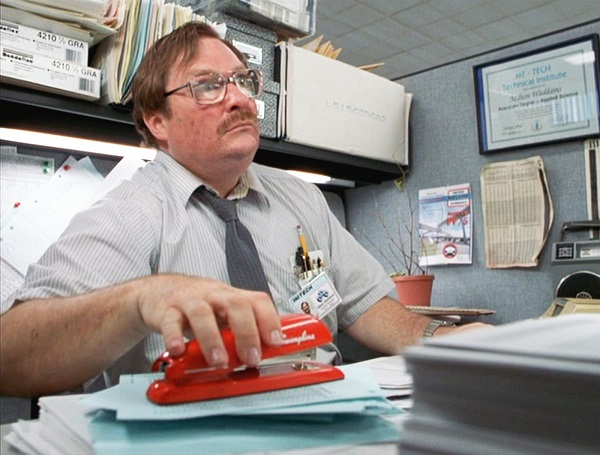 Matt Jones is currently penciled in as the starting running back for Washington, illustrating the narrative that a higher volume of carries is going to help him become fantasy relevant.  He would need to receive 294-carries for him to reach 1,000-yards rushing if he continues to run at the pace of 3.4-yards per carry.  Adrian Peterson was the only running back who received more than 290 carries in 2015.  Chris Thompson, the team's receiving back, is going to be implemented a lot on passing downs, which is going to curtail Jones' usage in the passing game, making him a volatile asset in fantasy.
Every-down Back Profile
One Matt Jones allure is his size combined with his quickness.  It's hard to deny that he doesn't look like the prototypical three down running back.  Jones' 11.16 Agility Score is amazing when you take in account that he's 6-2 and 230-pounds frame.  The highlight reels of him juking defenders and eating up large amounts of yardage in the open field wouldn't be possible if it wasn't for his tremendous agility.  However his 20.2-percent Juke Rate, evaded tackles per touch, which ranks in the 70th-percentile amongst NFL running backs, provides the notion that the consistency of these magical runs are few and far between.  Jones evades a tackle once in every five carries, meaning he's getting brought down on first contact 79.8-percent of the time, one of the main reasons why his yards per carry is one of the worst in the league.  It doesn't matter if you have the speed and quickness to get around defenders and the size to run over them if you consistently run into them.
Value Trap
Sometimes you just need to let players like Matt Jones fall in drafts regardless of perceived value.  I'm sure you can buy molded bread for dirt cheap at the grocery store but you're not going to eat it because it's unsanitary and gross.  So why buy it?  A player's value can be perceived through ADP and various rankings.  Just because a player is valued at a certain price doesn't mean you should jump all over them if they fall in the draft, avoiding groupthink value traps can save you from drafting a bust RB.  Just because it's a "good deal" doesn't mean it's the right deal for your team.  According to Fantasy Football Calculator's redraft ADP  Jones is being selected around 52 overall in PPR leagues, making him an early fifth round selection.  Players that are being drafted after him are Andrew Luck, Jordan Matthews, Emmanuel Sanders, Donte Moncrief, and DeVante Parker.  A lot would have to change with Jones' play for him to exceed his draft position and the odds are just as likely that he will end up a complete bust.  Just because a player is starting and is receiving a large market share of the touches doesn't mean you should spend premium capital to acquire them.
One of the best scenes in Office Space was when the company was celebrating Bill Lumbergh's birthday by serving cake to all of the employees.  If you remember, everyone in the office received a piece of cake but Milton, leaving him feeling left out of the celebration.  Metaphorically speaking, you need to allow everyone else in your draft to have a chance to acquire a piece of the "Matt Jones" cake, because you don't want an invite to this birthday party, trust me.
Athletic Specimen Looms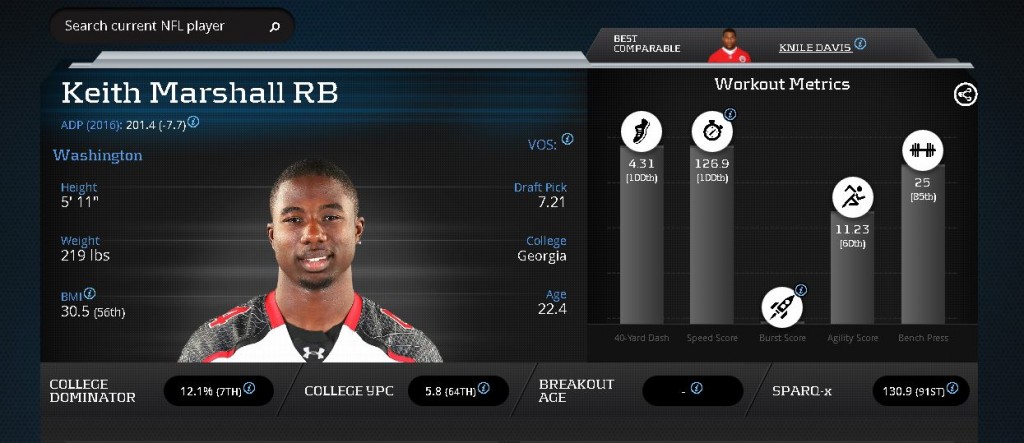 Keith Marshall Advanced Metric Profile
Keith Marshall is one of the few seventh round draft picks that could potentially earn a starting role early in his career.  He possesses size, speed and elite athleticism, which the rest of Washington's running back corps lacks.  His 4.31 40-yard dash and his world class 126.9 Speed Score ranks in the top 100th-percentile amongst all NFL running backs.  The lack of production in college, injury history and his tentative playing style is what made him fall in the draft.  Marshall is a dark horse and he's a threat to take the starting running back job if he gets the opportunity to showcase his skill set.  Not many highly athletic late round running backs hit in fantasy, especially early in their career, but he's in a situation where he's one injury away from having a starting job.
Opportunity Isn't Everything
Hyper-competitive NFL coaches are impatient with inefficiency, leaving yards on the field will eventually get a running back benched and Matt Jones may not finish as the team's starting running back if he continues to play at his current rate.  There have only been two running backs since 2012, Trent Richardson (2012) and Frank Gore (2015), who received 250 or more carries while averaging less than 3.8-yards per attempt.  Ineffective running backs either get benched or receive a reduction in touches because it's highly irrational to feed a running back with carries if they are not maximizing their opportunities on the field. Jones will get demoted if he continues to rush under 4.0-yards per carry.  Don't be surprised if Jay Gruden walks up to Matt Jones while he's inefficiently working in his cubical to deliver the message that he needs to gather all his belongings and move to the basement.