On a previous episode of the Mind of Mansion Podcast, Nelson Sousa, a renowned high-stakes fantasy football player, laid down the fourth commandment of fantasy drafting: Thou shalt not spend a 5th-round pick (or higher) on a running back who was a waiver wire pick-up last season. Those players carry a higher risk of busting and in the early rounds, that is a death sentence for fantasy teams. Has this rule held up to the scrutiny of advanced stats, metrics, and analytics over the past five years?
Methodology
Using MFL10 average draft position (ADP), every player (not just running backs) who was drafted in the sixth round of a draft while going undrafted before the previous season was pulled.
Note: Undrafted was considered outside of the top-192 picks. This represents the total number of selections in a 12-team, 16-round draft.
The round number was bumped up one to get a larger pool of players, namely wide receivers, to acquire data from. The round increase from Nelson's original cutoff didn't impact the findings in a significant way but did increase the overall size, and in turn applicability, of the data.
Players who outperformed their positional ADP were categorized as successes and players who failed to meet that mark were categorized as fails. For instance, last offseason Kenyan Drake was being drafted as the 17th running back after going undrafted in 2017. He finished as the RB-14 last year and is counted as a success.
Three players technically fit these criteria but were excluded anyways. Those players were Josh Gordon, Marshawn Lynch, and Jerick McKinnon. Lynch and Gordon were both being taken as top-12 players at their position in previous years. Neither played in 2017 and then the pair returned in 2018. We knew both were capable of elite play but extraneous circumstances kept them from playing in 2017. This doesn't seem to fit the spirit of the rule. McKinnon was buried behind Latavius Murray and Dalvin Cook in 2017 so he was going undrafted in leagues with 16 or fewer rounds. However, he was being drafted in the fifth round just a year before that.
These three didn't arrive out of thin air, they just took a year off of being coveted fantasy assets.
Results
Quarterbacks and Tight Ends
In the past five seasons, only one passer went from undrafted to 6th-round pick in the span of one year: Nick Foles. He was going into his first season as a full-time starter and had thrown 27 touchdowns to two interceptions. The sky was the limit. Foles proceeded to play just eight games while throwing 13 scored to 10 picks. As far as I know, he was never heard from again.
Tight end showed similar results on a limited sample of players. The number zero t0 hero stories at the onesie positions don't give enough data to make any sweeping conclusions from but does point toward fading them.
Wide Receivers

If you must chase a one-hit-wonder in fantasy football, look to the wideouts. Since 2014, there have been eight such players and three of them outpaced their ADP. The three hits were Allen Robinson, Jarvis Landry, and Julian Edelman. There are not many commonalities between these players but they were all on teams that threw the ball more than most. Jacksonville, Miami, and New England all ranked inside the top-16 in pass attempts when these three broke out. Over half of the other receivers who couldn't live up to the hype played on below-average passing offenses by total pass attempts.
Landry and Robinson also had prolific college profiles. Both were above the 70th-percentile in College Dominator and Breakout Age. The only other player among the eight receivers to meet both of these thresholds is Keenan Allen, who would go on to be an elite fantasy receiver in later years and could count as a pass when zooming out.
Another important point with the receivers has been their floor. They may present a higher risk of failing to meet expectations but they don't tend to hit rock-bottom. Six of the eight receivers finished in the top-40 at their position. This might not sound like an accomplishment but the running backs would kill for a floor like the receivers have shown.
When looking to avoid the busts at receiver, fall back on what we know: Target players who prolific, age-adjusted production, and buy high-volume offenses.
Running Backs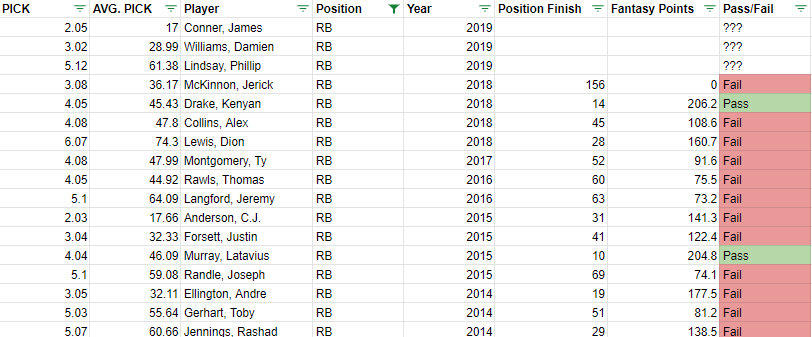 The running back position is a different story. Of the 14 backs who meet the zero-to-hero criteria, only two made good on their ADP in the following season: Drake and Latavius Murray.
Unlike the three successful wideouts, who outperformed their positional ADP by an average of 14.3 spots, the running backs followed up with more tame seasons. Drake and Murray only beat their ADP by five spots on average.
With receivers, there were some similarities that might be useful in predicting which players can sustain their success. This isn't the case with running backs. The common thread for these running backs is that they bust at an extraordinarily high rate. They also crash harder. For rushers, 57.1-percent of them finished outside the top-40 running backs after they were drafted in the top-six rounds. Only 25-percent of receivers cratered below top-40 status.
The Takeaway
Tyler Boyd, WR, Cincinnati Bengals
Coming out of Pittsburgh, Tyler Boyd's profile was impeccable. He dominated his offense at college while maintaining high efficiency and he produced at a young age. Athleticism, he was the perfect prospect. The problem he'll face is competition for targets in an offense helmed by Andy Dalton. Before missing the final five games of 2018 due to a torn thumb ligament, Dalton was averaging 6.5 Adjusted Yards per Attempt. That mark ranked 24th in the NFL. When Dalton started, they averaged 34.7 pass attempts per game, 18th in the NFL. With the Red Rocket under center, the Bengals are going to remain a middling team in volume and efficiency.
Boyd will have to compete with A.J. Green, for targets on a weekly basis. Before Green went down in Week 9, he was receiving 9.5 targets per game. Over the course of a season, that would put Green at 152 targets, top-10 among receivers.
---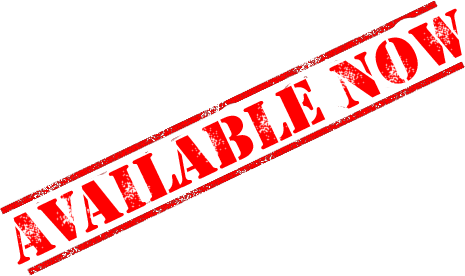 ---
Boyd may follow the career arc of Allen, who failed to exceed his cost after rising but eventually reclaimed a spot among the league's best wideouts. Boyd has the profile of a stud receiver but not the situation to go with it. Once the Bengals move on from Andy Dalton in the 2020 NFL Draft, Boyd's outlook will skyrocket.
James Conner, RB, Pittsburgh Steelers
If his ADP holds at pick 17, James Conner will be the most expensive player to go undrafted in the year before. Conner looks the part of a bell-cow back though. He recorded a 79th-percentile College Dominator and a 55th-percentile College Target Share while at Pitt (alongside Boyd). Then, when he was asked to step up in place of Le'Veon Bell, he did just that.
Conner earned a 79.5-percent snap share (No. 6) and 83.1-percent (No. 3) opportunity share in his first year as Pittsburgh's lead rusher. He highly efficient by a number of metrics as well:
The biggest threat to Conner will be Jaylen Samuels. Samuels played a mix of tight end and running back at North Carolina State but made the full switch to running back after joining the NFL. In his three starts for Pittsburgh, as a rookie, Samuels was targeted 12 times and went for 105 receiving yards. It will be hard for Pittsburgh to keep a dynamic athlete like Samuels off the field often. That could lead to Conner seeing less volume than fantasy players became accustomed to in 2018.
Conner is the safest of the one-hit-wonder candidates but he also owns a capped ceiling with Samuel stealing targets. Much like Drake and Murray before him, Conner may beat his ADP, but he isn't going to blow it out of the water.
Damien Williams, RB, Kansas City Chiefs
No player has a more enticing ceiling than Damien Williams this off-season. In his final eight games last year (including playoffs) he averaged 24.5 fantasy points per game which would have led all backs over the season. The goal of any fantasy drafter in the early rounds should be to maximize their floor. Let other players hold fantasy grenades while you get ahead by securing proven fantasy points.
Williams has the ceiling of a first-round pick but the floor of a late-round flier. The history of running backs who go from undrafted to top-60 picks is overwhelmingly against Williams. Add that to his lack of production through five years in the NFL–he's never carried the ball more than fifty times in a season–and Williams is a fade in any normal fantasy league. In championship-style leagues where league-winners advance to play other league-winners, Williams has the upside to be a worthwhile pick. In any other format, it will be hard not to side with history.
Phillip Lindsay, RB, Denver Broncos
Phillip Lindsay has to be the easiest fade in this year's cohort of one-year wonders. At 5-7 and 184 pounds, Lindsay isn't built like any feature-back in the NFL. Size aside, he'll also be playing on an anemic Broncos offense. Their new starter quarterback, Joe Flacco, will keep them from achieving even a moderate level of success. He's ranked 35th and 36th in Production Premium for the last two seasons. Flacco was also 26th and 32nd in AY/A during 2018 and 2017. Denver won't be able to produce enough yards or find the end zone often enough fo Lindsay to return value. Lindsay will also have to compete with Royce Freeman for touches. Coming out of Oregon, Freeman was a dynamic prospect.
Freeman checked every box as a prospect, finishing above the 60th-percentile in College Dominator, College Yards Per Carry, College Target Share, and SPARQ-x Score, and the Broncos affirmed this by spending an early third-round pick on him. Meanwhile, Lindsay ended the season with a wrist sprain which required surgery. The Broncos should rightfully see this as a reason to dial down the diminutive back's workload next season. Between a downtick in touches and the subtraction by addition known as Joe Flacco, Lindsay will struggle to be a valuable pick inside the first six rounds of fantasy drafts.