With the NFL Draft fast approaching, it is only fitting that Ito Smith should get his props just before it takes place. Smith was the most glaring absence from the NFL Combine. While less athletic running backs like John Kelley, Kallen Ballage and Mark Walton failed miserably at the combine, Smith had to remain home and wait. It wasn't until the Southern Mississippi pro day that Smith got the chance to show the football community what he was made of. His resulting advanced stats, metrics and analytics profile, though not on the level of Saquon Barkley or Nick Chubb, is decent enough to prove he should not have been snubbed. It was good enough to garner interest from New England, Dallas, Seattle, Indianapolis, Tennessee, Miami, Carolina and the Los Angeles Rams. One thing seems certain: Ito Smith will get drafted. It probably won't be until the fourth round or later, but Smith should be drafted higher than draft analysts are mocking him based on advanced stats, and metrics profile.
College Dominance
Romerius Dejuante "Ito" Smith also goes by the nickname "The Judge." He got his two related nicknames back in 1995, a year after the infamous O.J. Simpson murder trial. His nicknames were coined by his five-year-old cousin who watched the trial every day. When she met him at the hospital just after his birth, she remarked that his chubby cheeks were reminiscent of Judge Lance Ito, who presided over the Simpson trial, and the nickname stuck. Twenty years later, Ito Smith would start his career as a mega-productive running back at Southern Miss.
To put Smith's production in perspective, consider how much his college resume resembles that of this year's rookie running back phenom, Saquon Barkley:

Both were prolific runners and hungry pass catchers. Smith slightly outperformed Barkley on the ground, but Barkley makes up the difference in receiving efficiency. Smith was used slightly more than Barkley, but it's tough to find two more comparable running backs. Barkley had a 32.2-percent College Dominator Rating (70th-percentile), while Smith's was slightly better at 33.9-percent (75th-percentile). Barkley's 14.8-percent College Target Share (93rd-percentile) edges Smith's 13.4-percent (87th-percentile), but Smith had a better career YPC (56th-percentile) compared to Barkley (49th-percentile).
So why will Barkley go early in the first round while Smith won't be considered until the back end of the draft? There are a few determining factors at work. First, Southern Miss is a considered a "mid-major" school playing in Conference USA. Penn State plays in the Big Ten, one of the major "Power Five" conferences, along with the SEC, ACC, Big 12 and Pac-12.  Therefore, if Barkley can do what Smith can do, but against superior competition, that helps elevate his draft stock. This was also the most likely reason why Smith was not invited to the combine.
---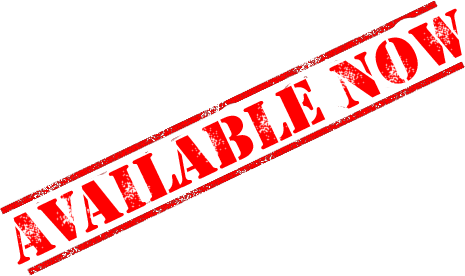 ---
The second reason Barkley reigns supreme is physical size. The ideal frame for a strong, fast and elusive running back is about 6-0 and 215 pounds.  Barkley's frame is much heavier, coming in at 6-0 and 233 pounds. At 5-9 and 200 pounds, Smith falls short of the ideal. Although both were easily two of the most prolific college producers, that is where their similarities end. Barkley simply runs better and faster and is much bigger and tougher to tackle. Smith is smaller and built more like a satellite back at the NFL level.
The third and final reason Smith isn't in the same league as Barkley is due to athleticism.  Although Smith is a slightly above average athlete, Barkley's analytics elevate him as the Second Coming. Barkley is simply the running back to own based solely on his metrics, and when his production is factored into the equation, he is miles ahead of the rest.
Ito Smith's Athletic Profile
While Smith did not tear it up at his pro day, he was hardly a flop. Smith ran an adjusted 4.50 40-Yard Dash, which puts him ahead of other rookie backs like Nick Chubb (4.52), Sony Michel (4.54), Royce Freeman (4.54), Kerryon Johnson (4.57) and Ronald Jones (4.65), all of whom are ranked as top 10 rookie running backs.  However, they are also considered potential three-down backs. It is more pragmatic to see where Smith measures up against guys his own size as well as players who fit the same potential NFL mold.
Below is a table that has seven running backs, including Ito Smith, sorted by their current PlayerProfiler ranking. These are all backs who have complete workout metrics and are unlikely to be drafted in the first three rounds.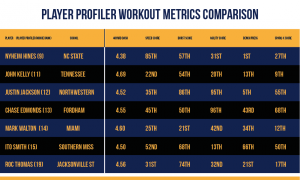 How does Ito Smith compare to these other potential satellite backs? Nyheim Hines blows everyone away with his 4.38 40 time, and even with the height and weight adjustment, he easily tops the rest with his 85-percentile Speed Score. Smith comes in a distant second, however, he is the only other running back to crack the top half percentile. The rest are simply not as fast, which challenges the notion that the 2018 running back class is as super-athletic and deep as many believe. Therefore, out of the list of final day hopefuls, Smith is behind only Hines. However, there are more athletic factors to consider when analyzing a running back's profile.
Apart from his very poor Agility Score (13th-percentile), Smith is an average to above-average athlete.  The next most consistent player would be Justin Jackson, but he falls short in speed (35th-percentile) and strength (5th-percentile Bench Press). Although Chase Edmonds does not measure below the 43rd-percentile in anything, he is rather lackluster except for his impressive Agility Score (96th-percentile).  At the other end of the spectrum, Mark Walton is the poorest athlete, underperforming in all areas, followed by John Kelly, who only is barely above average in his Burst Score (54th-percentile), yet both are rated higher than Smith, presumably due to their Power Five pedigrees.
Although it is clear that Smith isn't an elite athlete like Saquon Barkley or Nick Chubb, when compared to players in the above table, he is the best all around athlete. One could argue that he deserves to be at least considered as a top 10 running back heading into the draft. Hines is currently ranked ninth, followed by Alabama's Bo Scarbrough at 10th. Both Hines and Scarbrough pale in comparison to Smith's College Dominator Rating (75th-percentile). Hines' 22.6-percent College Dominator Rating (38th-percentile) is about half of Smith's, while Scarborough's 14.9-percent places him well below Smith in the 17th-percentile.
Target Magnet
Due to their size, all seven backs are destined to become satellite backs in the NFL, thus their college receiving production merits extra consideration. The table below highlights each back's most prolific year as a pass catcher, their total receptions and their per-game averages.
In terms of volume, Ito Smith is easily the most experienced receiver, which can only help his draft stock. He caught the most passes in one year (49) and in total (140), and averaged the most per game (2.75). Justin Jackson is second best, but Smith averaged 4.2 more yards per reception. Ironically, Jackson's Agility Score (96th-percentile) is much higher than Smith's (13th-percentile). Based on that athletic metric, one would think that Jackson should be more elusive and agile, thus being able to evade more tackles as he racks up more yards after catch (YAC). However, Smith was much more efficient, demonstrating that despite his poor agility, he can indeed break away from defenders. Hines, who averaged the third-most receptions per game, was even more efficient than Smith, while Chase Edmonds proved to be the most efficient of the bunch, despite averaging less than two receptions per game.
Based on the table, Smith is the most experienced receiving back. His high usage in this area could explain why he wasn't the most efficient. Clearly, Smith, Jackson, Hines and Edmonds seem to be the four prospects with the best chance to make it in the NFL as pass catching backs, based on production and athleticism. Ito Smith appears to be the safest choice, based on his production, efficiency and above average athleticism. He might not be as exciting as some of the names going many rounds ahead of him in the draft, but he has the experience and versatility to be a guy one can count on to at least contribute and at most succeed.
Conclusion
Ito Smith deserved the opportunity to show his talent on the big stage. However, instead of wallowing in self-pity, he took the combine snub in stride and posted a respectable pro day. As a big fish in a little pond, Smith was nothing less than Barkley-esque during his time at Southern Miss. Smith will soon find out which team truly values his determination, ability, athleticism and production as he readies to play on the biggest stage in football.
Ito Smith is as close to a sure thing as a late-round running back could ever be. He is worth grabbing in all fantasy formats, as he is ready to make an immediate impact and is one of the best sleeper candidates in this year's draft. It is almost time for Ito the Judge to sentence all his doubters.