Aaron Dobson, Taylor Price, Brandon Tate. They were thrust into the prime of all prime situations in New England on the wings of draft capital. The production never matched the expectations.
Some time later, a young man toiled in college as he found himself linked with production depressing, signal callers. A propensity for efficiency lurked in the depths of his being waiting to be unlocked. Malcolm Mitchell's name was called in the middle of the fourth round, and the destination: Tom Brady's loving embrace.
Just as Malcolm Mitchell's talent prepared itself to be set free for all to see, a funny thing happened. I mean a thing happened to his funny bone. Mitchell never missed a game due to that preseason elbow dislocation and now his rise is elbowing aside those Pats receivers before him. The RotoUnderworld Team provides a list of 10 players including Mitchell to add across all fantasy football formats. Note: All listed players are owned in less than 50-percent of MFL redraft leagues.
Malcolm Mitchell, WR, New England Patriots
Once as crowded as Jeff Fisher's loss total, the receiving group in New England is now Gronk-less and sans Danny Amendola. Not to worry, as the Patriots have cultivated a wicked, offensive focal point in Malcolm Mitchell.
Malcolm Mitchell Advanced Stats & Metrics Profile
Nestled nicely in the Jeremy Maclin/Reggie Wayne archetype, Malcolm Mitchell has delivered a three week surge (19.8, 21.2 and 16.2 fantasy points) like a lightning bolt from the fantasy gods.

Malcolm Mitchell Target Share
And why not? It is time we embrace the Malcolm Mitchell fantasy love story. From his +18.9 Production Premium (No. 14) to his 21.7-percent Target Share in Week 13, Mitchell's accelerated development comes at the perfect time of year. What Tom Brady and Target Share have joined together, let no man tear asunder.
Ladarius Green, TE, Pittsburgh Steelers
Ladarius Green, the notorious athlete, possesses a 116.4 Height-adjusted Speed Score (HaSS) (92nd-percentile) and a 10.19 Catch Radius (83rd-percentile). In college, Green recorded a fabled 18.3 Breakout Age (98th-percentile) and 34.10-percent College Dominator Rating (92nd-percentile). A player with this profile on an explosive offensive is a rare find on the late season waiver wire. Review Ladarius next to some relatively impressive comparables and he rises to the top of the list.
Ladarius Green Player Comparison
Ladarius Green wins leagues. Go get Ladarius Green.
Ted Ginn, WR, Carolina Panthers
Things are not going well in Carolina. However, while the team has cratered, sneaky Ted Ginn has provided a 10-point floor and 20-point ceiling.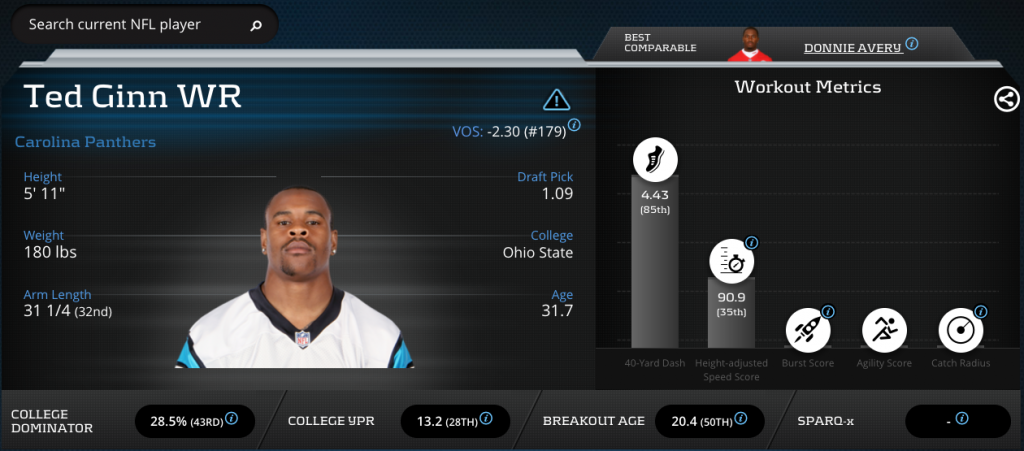 Ted Ginn Advanced Stats & Metrics Profile
Cam Newton and Ted Ginn, have renewed some of that 2015 type connection over the past three weeks. I do not expect this connection to be an efficient one, but Ginn was able to score 10 touchdowns in 2015. While the production flows through Ginn a fantasy bonanza awaits. Ginn is fast, fast people score long touchdowns, and long touchdowns make the world go 'round.
Waiver Priority Ranks
Everyone hates Dontrelle Inman and I don't understand. Highly efficient and sporting a +9.5 Production Premium (No. 28), Inman is averaging 12.95 Fantasy Points Per Week over the last six weeks.
Adam Thielen currently sits at 447 Air Yards (No. 33) and has become an effective option for Sam Bradford evidenced by Thielen's +21.2-percent Target Premium (No. 9). Although, Bradford and effective should probably not be used in the same sentence.
Last week I urged us to put aside our past differences with the mythical beast, Dorial Green-Beckham. Good news! He saw 10 Targets in Week 13. Bad news? The mythical beast continues to be inconceivably inefficient. Hide your wife, hide your children, because Green-Beckham's 2016 body of work has resulted in a maggot infested, -21.3 Production Premium (No. 91). Green-Beckham has the allure of swan dive into a pit of vipers.
The mythical beast of the week, this week, is Brian Quick. As opposed to Green-Beckham, Quick has been efficient this year given his +14.4 Production Premium (No. 20).
While Lamar Miller is masquerading, Jonathan Grimes sits in the corner grooming his true bell cow profile. With a Best Comparable Player of LeSean McCoy, Grimes showed elite production in college and he has the ability to produce if given a larger role.
Below is the order I would claim players in a vacuum not taking into account individual team needs.