This is the next article in a series of in-depth team-specific pieces that began with Matt Keeley's breakdown of the Arizona Cardinals. Today we are going to ask and answer if players on the Indianapolis Colts are fantasy football assets you should be buying or selling in different formats.
For the last few years, the Colts have been an obvious candidate for fantasy points. They have passed for over (or close to) 4000 passing yards every year since 2012.  With a star quarterback and dynamic wide receivers, it's obvious. But the Colts have recently undergone some changes. Notably a change in the General Manager and Offensive Coordinator positions. There is an undercurrent of curious face emoji's swirling in the deeper parts of the fantasy world over whether, in fact, these Indianapolis Colts are actually going to be #good.
The Defense
Not where you thought we'd start? But it is where this re-tooled version of the team has focused its efforts this offseason.
The Indianapolis Colts defense has helped fantasy players. The team ranked 24th in total DVOA in 2016. That's worse, by one, then in 2015. However, their offensive DVOA ranked No. 12 both years – including when Matt Hasselbeck had to start 8 games. The Indianapolis  Colts offense has been trying to cover for a lackluster defense. This offseason the team refocused their efforts. Six out of their eight picks in the 2017 draft were on defense and only one of the other two was a skill position player. They have started to try and fix what has been broken for a while.
It remains to be seen to what extent they have been successful in their repairs. But even if they have improved a better defense does not necessarily reduce the amount of fantasy production. What's more, the lack of offensive changes indicates that the scheme shouldn't change drastically. Their strength is still the quarterback and things will continue to funnel through him. However, it doses bare remembering that the Indianapolis Colts may function better as a whole than they have in the last few years.
Quarterback: Andrew Luck
Andrew Luck is good. Say it with me, people. I know 2015 sucked, but it's also been pretty obvious why the Colts suffered from time to time. Despite the nagging doubts that he can reproduce his 2014 touchdown total (40), the facts make it pretty clear that the quarterback has not been the problem.
A quick glance at the advanced stats and metrics available on PlayerProfiler can tell us a great deal about the colts leading man. In 2016, before the Colts started fixing the broken parts, he ranked No. 6 in deep ball completion for passes traveling over 20 yards. he was 3rd in Red Zone completion as well. All of this with less than 550 pass attempts behind a pass blocking unit that ranked No. 31 in the NFL.
The efficiency metrics available on his player profile confirm what all this all already indicates. Even if the offense is not chasing the scoreboard, Luck would still shine like a star guiding you to your championship.

Andrew Luck Fantasy Outlook
While we can expect changes in 2017, we shouldn't expect it to hinder the skill or talent of their quarterback. In fact, with an improved overall team, I think it's more accurate to imagine a healthier, more consistent Andrew Luck. He has been performing above and beyond his situation for years. Improvements to the team can only help to improve his production, hopefully, while keeping him healthy.
Wide Receiver: T.Y. Hilton, Donte Moncrief, Kamar Aiken, and A Bunch Of Other Guys
If we project around 4000 passing yards for the Indianapolis Colts, based on the last 5 years of consistency and the lack of offensive changes. Then we can feel confident in yards production even if the targets may shift around. So, who's going to catch them all?
T.Y. Hilton
Feel safe in the knowledge that TY Hilton is going to be a productive fantasy player. He has averaged over 1250 yards, 6 touchdowns, and 140 targets in the last four years and has barely missed a game in the last 5 years. Hilton is what a league winning fantasy WR looks like. As Jacob Rickrode reminds us, Hilton consistently finishes in the top-24 wide receiver every year — rare and esteemed company.
---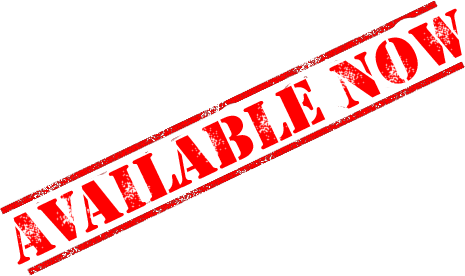 ---
Donte Moncrief
Donte Moncrief is, still, a wide receiver with all the promise in the world. To this point, he has been…disappointing, averaging 70 targets, for 494 yards and 5 touchdowns. I think he is likely to show more in year 4 after being held to only nine games last year, in what is traditionally a players breakout year, by injury. His disproportionate touchdown numbers likely mean his role will continue to be a productive one for fantasy. However, he is easily the Colts player with the hardest ADP to justify.
Kamar Aiken
In walks, Kamar Aiken. A savvy veteran and interesting athlete who showed some promise in Baltimore for a good part of the 2015 season.
He provides a big body with reliable hands in the middle of the field. He managed to rank 21st in receptions in 2015 and scored 5 total touchdowns. While his 6 Red Zone Receptions ranked 33rd we can't know exactly how he will be deployed with the Colts. But his 60-percent efficiency in the red zone catch rate makes him an interesting candidate to possibly snipe some touchdowns work. On top of this, the steady ADP's of all three show clearly who is the better value for savvy fantasy players.
The Other Guys
Last, and possibly least, is Phillip Dorsett along with a gluttony of other pass catchers. I've already written about how I view Dorsett as more of a cut then a stash candidate. But newly acquired UDFA Jerome Lane is more interesting.
A converted linebacker in college Jerome Lane is already an outlier. His 4.60 Seconds (28th percentile) 40 time would also be unusual for a successful NFL wide receiver. But his pure size still gives him a 102.3 (75th percentile) HaSS and he has very interesting college production at the position.  Based on the work of Jon Moore and Him Kloet we can see Lane lines up nicely with college production of NFL "hit's" taken in the second and third round of the NFL Draft.
That Jerome Lane went undrafted might make this evaluation less reliable. At the very least it could extend his hibernation period before he finds opportunity. But Donte Moncrief's has failed to truly fire at the NFL level and Kamar Aiken struggled to continue his breakout when he received competition in Baltimore. So, there is an outside chance on this depth chart.
WR Fantasy Outlook
All three receivers have maintained steady ADP's this offseason. T.Y Hilton is a lock at the back of the first round. Unfortunately, Donte Moncrief seems to have maintained his value despite a disappointing third year in 2016. He is not a buy low for dynasty but if you can find him at cost, I'd recommend the investment. There is a clear value to be had in the form of Kamar Aiken. He should compete for targets and is virtually free in most formats, which is a price we should be willing to pay.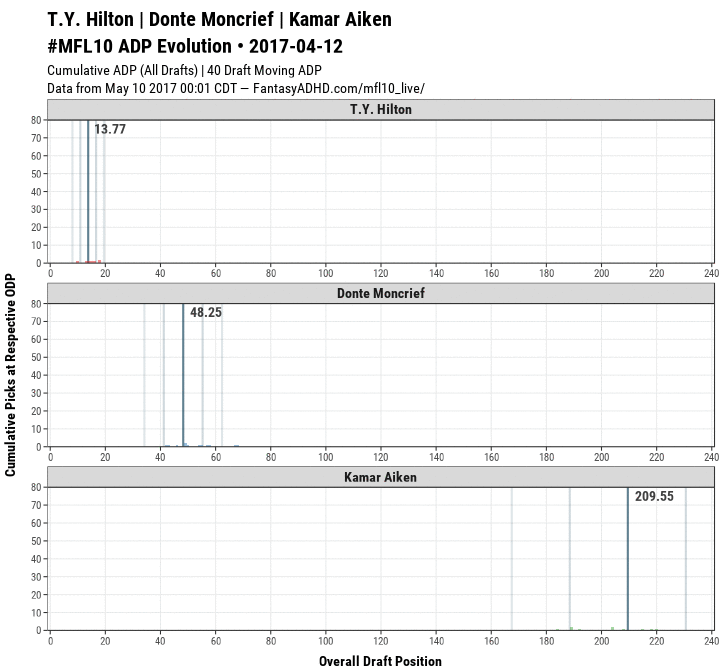 Jerome Lane is an interesting stash candidate in Dynasty, and someone to keep your eye on in other formats as well should the depth chart turn out to be softer than it looks.
Running Back: Frank Gore, Marlon Mack, and Robert Turbin
The Colts running game has been limited at best. Mostly restricted to aging veterans – Frank Gore and Ahmad Bradshaw – and underachieving cast offs – Robert Turbin and Trent Richardson. This too has changed. The only offensive moves the team made in the 2017 draft was to pick up an intriguing rookie running back prospect in the fourth round.
Frank Gore
I don't know how many more years (days?) this will be true, so I'm going to say it: Frank Gore is a late round target in redraft leagues. While there is a stark difference between his opportunity and efficiency last year I think for his cost he could easily pay off.
This could be as much a product of the poor offensive line. But at 34 years old there are more than enough reasons to question if the "Old Man" can get the job done. If the Indianapolis Colts decide to change their outlook on how to approach the running back position along with everything else, then his opportunity could be harvested by others.
Marlon Mack
Newly drafted rookie Marlon Mack's draft stock shot up rookie boards in the wake of this ideal landing spot. Mack is an impressive athlete with a 10.9-percent (76th percentile) college target share. With a 29.8-percent (61st percentile) College Dominator Rating and a 122.9 (71st percentile) Burst Score, there is a lot to like about the Colts only offensive rookie.
Robert Turbin
While the rookie is much newer and shinier remember that Robert Turbin also has a sneaky high 9.3-percent (65th percentile) college target share. He didn't put it too much use last year with only 26 receptions, but he did manage to produce 8 touchdowns.
RB Fantasy Outlook
Frank Gore is clearly an ageless cyborg who will outlive us all. Don't bet on the long term but hold for production in dynasty and don't be afraid to pay (the low) price in redraft leagues.
The rookie, Marlon Mack, is a scintillating prospect. Running back production depends heavily on their opportunity and he has plenty in front of him. He is a must draft in dynasty. But while Mack is the clear dynasty rookie prospect of the future I think both of he and Robert Turbin are likely to share some portion of whatever Frank Gore is no longer able to handle. Perhaps making them interesting flex plays, but frustrating starters for 2017.
Tight End: Jack Doyle & Erik Swoope
Jack Doyle
Jack Doyle and Dwayne Allen split 127 targets in 2016 with Doyle gaining the majority (75.) The tight end plays an important role in the Indianapolis Colts offense. Despite letting Dwayne Allen go to the Patriots this offseason, I think it is a likely spot for fantasy points in 2017. With an 18.6-percent red zone target share Doyle was a solid red-zone target last year. Even in a tight-end rich draft class, the Colts did not feel a need to add any more competition. Probably because they already have a good one on the roster who can compete.
Erik Swoope
Erik Swoope is the heir apparent for Dwayne Allen's targets. At at the same height and only 2 pounds difference in weight Swoope has a better 40-yard dash time and Height Adjusted Speed Score (HaSS) then Doyle. This makes him an interesting candidate for production as well.
TE Fantasy Outlook
Jack Doyle is a clear later round target for those in redraft leagues and an interesting trade target for 2017 in other formats. However, Erik Swoope makes for a more interesting dynasty league target and he projects to get a share of targets this year as well.