Ole Miss' Snoop Conner is the next subject in a series in which I evaluate 2022 rookie running backs solely on their ability to run the ball. The Breakout Finder installments can be found here. The PlayerProfiler installments can be found here. If you happened to already catch those and don't need a refresher on my methodology, feel free to skip to the player-focused analysis.
The Player
Snoop Conner is a big dude at around 5-10 and 220-pounds. But he did not play a big role as a college football player. His career best Dominator Rating was the 17.9-percent he posted last season. Only a 32nd-percentile mark among third-year college runners who would go on to be drafted since 2007. Go get that money while you're healthy. But I'm honestly surprised that Conner even declared this year given that he's done hardly anything in college. Maybe it's because he's a great runner. Let's see.
The Metrics
On very low volume (just 305 career carries, 22nd-percentile), Snoop Conner proved less efficient than his college teammates. The -0.16 YPC+ he posted over his career is just a 22nd-percentile mark. A bit better but still unimpressive is the positive 0.56-percent mark he notched in Chunk Rate+, which lands in the 46th-percentile. Those numbers were posted relative to teammates who averaged a collective 3.81-star rating (76th-percentile) as high school recruits.
Conner also had a significantly tougher road to his efficiency than those guys did. The average box count he saw was 0.25 defenders heavier than what his backfield mates ran against, a discrepancy in the 94th-percentile. Relative to those box counts though, he was still not good. His 112.0-percent Box-Adjusted Efficiency Rating is a 40th-percentile number, while his -1.5-percent Relative Success Rate is in 34th-percentile.
The 32.0-percent Breakaway Conversion Rate he posted is pretty average and lands in the 55th-percentile.
Rushing Efficiency Score and Comps
Given all of the non-BAE metrics touched on above (in addition to overall team quality, offensive line play, and strength of opponent), Snoop Conner earns a 43.7 out of 100 in my process' Rushing Efficiency Score composite rating. In a composite that accounts for the box count data, he earns a 42.3. He was simply a below-average college runner by the standards of NFL-quality running backs.
Using the same metrics that go into the main Rushing Efficiency composite (as well as physical measurables), I am able to generate similarity scores between current and historical prospects to find comps for players as pure runners. Assuming he runs a 4.50 40-yard dash at a projected 5-10 and 219-pounds, his most comparable players are the following: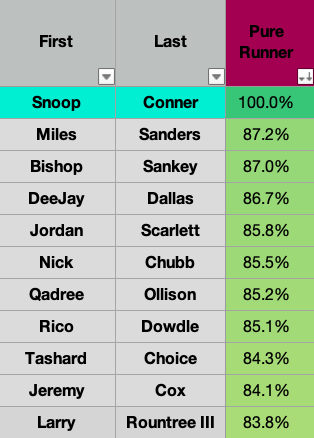 Again we see Miles Sanders popping up in the comps list of a total JAG running back (he shows up a lot because he's average and therefore is relatively comparable to lots of players in the meaty portion of the bad-to-good bell curve). Nick Chubb is the best player here and Conner is the busted ass version of him.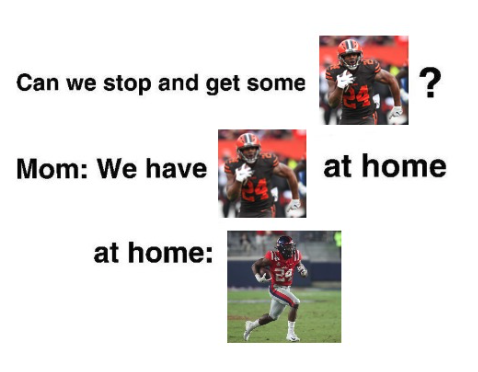 Last Word
Snoop Conner is bad and you should feel bad if you like him. Turn the film off and touch some grass.
me, after finishing the snoop conner article that marks the last of 39 rushing efficiency pieces for this year's rookie rb class pic.twitter.com/yKSbg6HhgB

— noah hills (@noahmoreparties) March 3, 2022