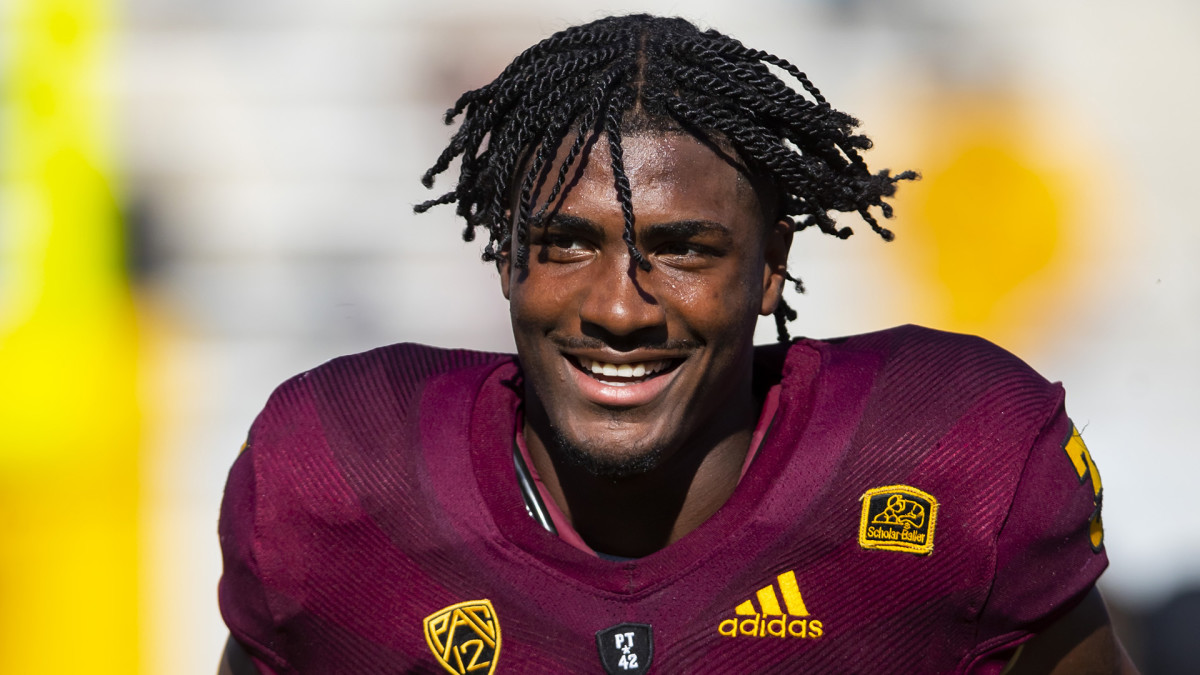 Rachaad White attended high school at Center High in Kansas City, Missouri, and was named First Team All-State while totaling over 2,000 yards from scrimmage. Despite his high school accolades and production, he received minimal collegiate offers, and decided to attend Division II Nebraska-Kearney. After just one season there, White transferred to Mt. San Antonio in California. White played only one season at Mt. SAC, accruing 1,200 yards and 10 touchdowns before transferring to Arizona State, a Division I university.
Insert UCLA, where Rachaad White gave his verbal commitment, and on Signing Day he was pulled away by former Mt. SAC linebacker, and New York Giants Super Bowl Champion, Antonio Pierce. Pierce was in his second season as the recruiting coordinator at Arizona State, he banged on the table not once, not twice, but three times for the Sun Devils to sign the now three time transfer. And it paid off, in 2020 Arizona State played just 4 games due to covid and White exploded onto the scene with 400 yards rushing in 4 games, including 158 yards and 2 touchdowns on 13 carries against Oregon State, and 133 yards and 3 touchdowns on 10 carries against Arizona. Fast Forward to 2021, White finally got the opportunity to put it all on the field. He rushed 182 times for 1,000 yards, and pulled in 43 receptions along with 16 touchdowns, finally Rachaad White reached the Top of the College game.
Rachaad White was selected in the 3rd round of the 2022 NFL Draft by the Tampa Bay Buccaneers. He joins a team that by all accounts revolves around one player, Tom Brady. Paired with pass catching back Leonard Fournette, there looked to be limited upside for Rachaad in 2022, but he was able to carve out a role for himself, particularly in the second half of the season where he finished with five games as a fantasy RB2 or higher. Despite the struggles of the Buccaneer offensive line, White flashed enough for the team to not go out and add any major competition for 2023, even after losing Leonard Fournette. Rachaad White is one of the few running backs in the NFL that seems to have the entire backfield in the palm of his hand, and he's got the talent to keep the backfield all to himself.