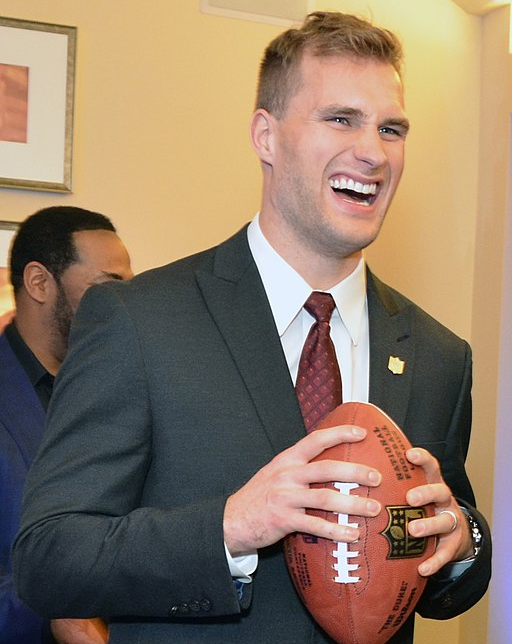 Kirk Cousins is the Minnesota Vikings' starting quarterback. Cousins hails from Barrington, Illinois, and played high school football at Holland Christian High School in Holland, Michigan. From there, he went on to play three seasons at Michigan State University, where he threw for 9,131 yards and 66 touchdowns to 30 interceptions. He was drafted to The Washington Football Team in the fourth round of the 2012 NFL Draft. In the same draft, Washington traded multiple first-round picks to move up to No. 2 overall and select Baylor University's Robert Griffin III.
The 6-foot-3, 214-pound Kirk Cousins sat behind Griffin until RG3's injuries forced Cousins into action during the 2014 season. Cousins entered the 2015 season as Washington's starting quarterback. Cousins, posting a 4.93 40-yard dash, did not possess the athleticism Griffin did. Nevertheless, he managed to put up impressive numbers as Washington's signal-caller. In each of the three seasons he started (2015-2017), Cousins threw for at least 4,000 yards and 25 touchdowns. Cousins' 2016 season stood out the most. He threw for 4,917 yards that season, a record number for Washington quarterbacks. Despite producing at a high level, Cousins only led Washington to the postseason once.
After two franchise tags in Washington, Cousins became a free agent in 2018. In that offseason, he signed a free-agent deal with the Minnesota Vikings. Cousins continued above-average production in Minnesota, again without much postseason success. He has thrown for at least 26 touchdowns in all his four seasons (2018-2021) as the Vikings' quarterback. He's also averaged just under 4,100 yards passing during that stretch. In 2021, Cousins finished 15th among quarterbacks in QBR, second in deep-ball attempts (81), while averaging 7.5 (No. 9) Yards Per Attempt and 8.2 (No. 9) Air Yards Per Attempt. He also had a 99.8 (No. 6) True Passer Rating in 2021 and finished as the QB11 in fantasy football, outdoing his QB19 ADP.
The Vikings started 2022 with a new general manager, Kwesi Odofo-Mensah, and head coach, Kevin O'Connell. They stepped up the pass attempts under O'Connell - airing it out 39.5 (No. 3) times per game. Accordingly, Cousins threw for his highest yardage total since 2016. He kept up his proficiency as a passer, posting top-10 numbers in Accuracy Rating (No. 10), True Passer Rating (No. 10) and EPA (No. 8). Cousins enters a contract year in 2023; the team has not offered to extend his contract. He has the best receiver in the league at his disposal, and the Vikings have added pass-catchers T.J. Hockenson and Jordan Addison. They also released Dalvin Cook. It looks like they will continue to attack opposing defenses through the air and see if Cousins can take advantage of the upgraded receiving unit.