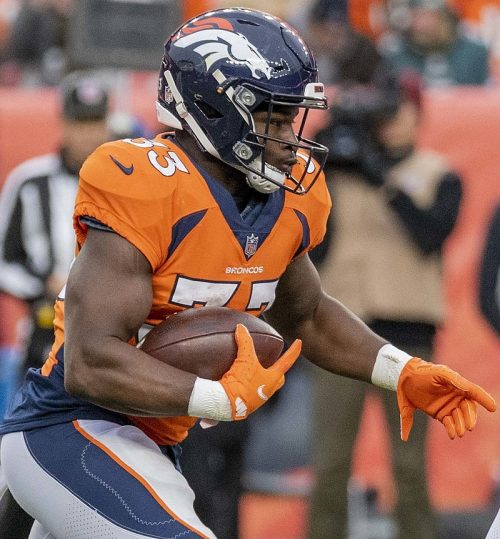 Javonte Williams began his football career at Wallace-Rose Hill High School in Teachy, North Carolina. After rushing for 2271 rushing yards and 27 touchdowns and graduating as the school's valedictorian, he accepted his only FBS offer at the University of North Carolina. He played sparingly as a true freshman, but split the backfield with Michael Carter in his second year. Slightly behind Carter, Williams scampered his way to 933 rushing yards and 5 touchdowns, but outgained Carter as a receiver. In 2020, the duo again split backfield work. Despite being a dark-horse Heisman candidate, Williams was again out-rushed by Carter. The differentiator was Williams's 22 total touchdowns and elite elusiveness, forcing 75 missed tackles. Following a stellar season, Williams opted to leave UNC and go to the NFL draft.
Javonte Williams did not attend the 2020 combine, opting to stick with his pro day with covid-19 looming. Though he displayed impressive agility with an 11.02 burst score, his workout metrics were lackluster. He ran a sluggish 4.62 second 40 time, boarding on Pierre Thomas level size adjusted-slowness. Thankfully for him, straight-line speed isn't a necessity. His college stats and his shiftiness made the Broncos front office fall in love, taking him with the third pick of the second round. Here, he was launched into another backfield split, this time with veteran Melvin Gordon.
In tandem, the pair were utilized heavily, with both of them finishing in the top 20 in weighted opportunities. They even had nearly identical opportunity shares, routes run, and fantasy points per game. Both backs impressed behind the Broncos stout run blocking, but it was Williams' flashes of dominance that overshadowed Gordon's late career resurgence. Williams produced above-average next gen stats on 50-percent of snaps, closing his rookie campaign with 903 rushing yards, 81 broken tackles, and 3.42 yards created per touch. He broke out in explosive fashion, producing 178 total yards while earning a 10.2-percent target share with three drops.
Williams started off his second season with a bang, getting 11 receptions in Week 1. However, ACL, LCL, and PLC ligament tears in Week 4 put an end to his 2022 season. Williams was being utilized as the Broncos' primary runner prior to the injury, with utility in the passing game as well. For 2023, Denver has a new Head Coach in Sean Payton. As Williams works his way back from injury, he will have a place in an ideally improved Denver offense.