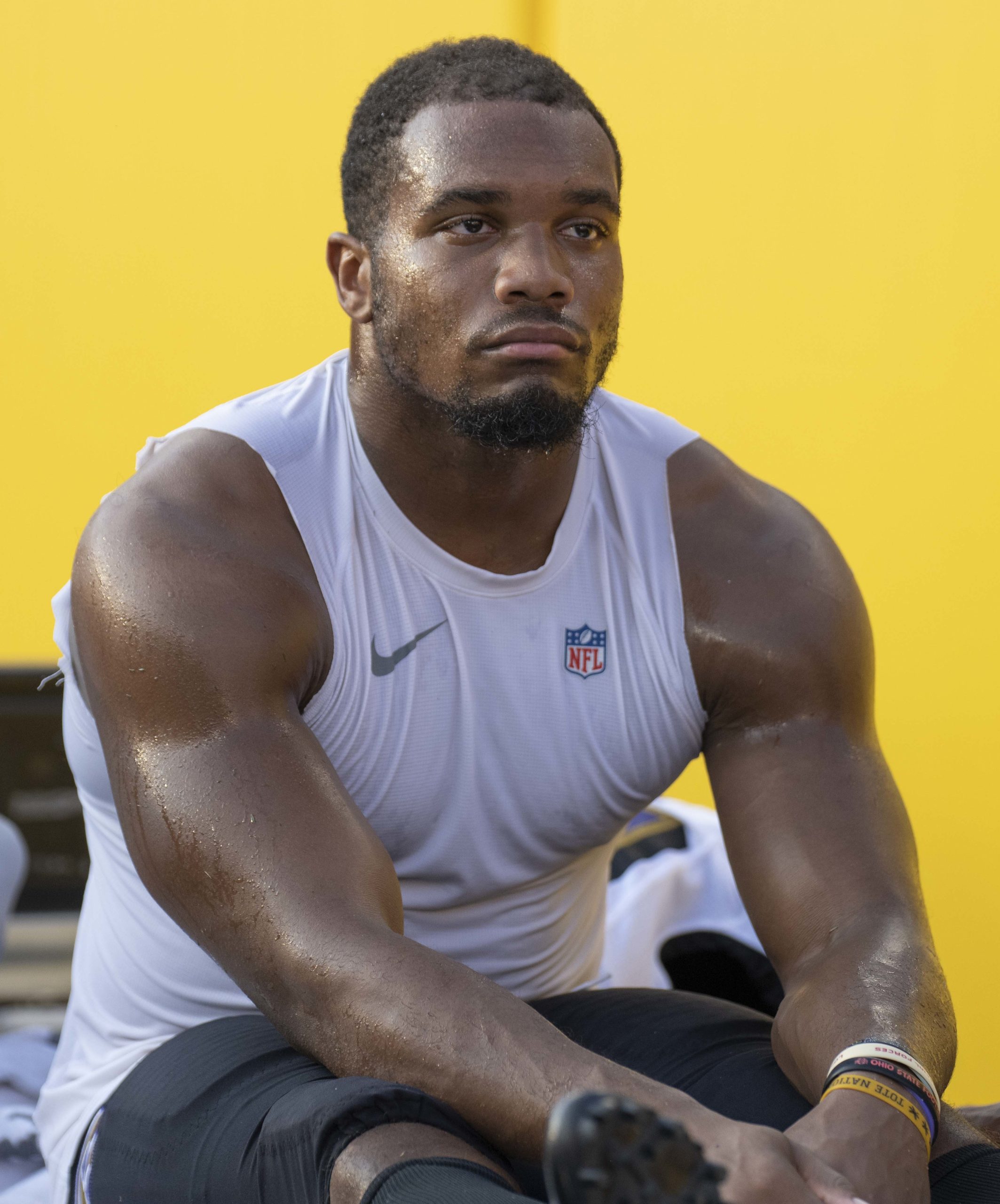 J'Kaylin, 'JK' for short, Dobbins is a running back for the Baltimore Ravens. Before making hay in the NFL, the Houston native Dobbins was a star at La Grange High School in La Grange, Texas. From there, he opted for the Ohio State University as a highly touted four-star recruit. Dobbins lit the college world up as a Buckeye, most notably as a junior where he ran for 2,003 yards, averaged 6.7 yards per carry, and scored 21 touchdowns. He even added 23 receptions through the air. In three collegiate seasons, Dobbins ran for 4.461 yards and 38 touchdowns and snagged 71 receptions that totaled 645 yards and an additional five touchdowns.
JK Dobbins' production and sublime talent which includes a 4.37 40-yard dash enabled the Baltimore Ravens to pull the trigger on selecting him with the 55th overall pick in the second round of the 2020 NFL Draft. He found himself in a loaded backfield having to fight Mark Ingram II and Gus Edwards to ride shotgun with Lamar Jackson. It took a while, but Dobbins cemented himself as the lead back in Week 8 of the 2020 season. From then on, Dobbins had one game in which he played that he failed to accrue at least 11 carries or player fewer than 44-percent of the team's snaps. He scored a touchdown in all six of his last games of the season. Dobbins' rookie season was a success, gaining 805 yards on the ground on six yards a carry and adding nine touchdowns to boot. He flashed as a receiver as well. Dobbins only saw 24 targets as a rookie (amounting to a 5.9-percent target share), but he corralled 18 of them which amounted to an additional 120 yards through the air. He ended his rookie season as the RB21 in fantasy.
JK Dobbins looked to keep the momentum going in 2021, but his body, unfortunately, had other plans. He tore his ACL in Baltimore's last preseason game, which prematurely ended his season and did not give Dobbins the chance to live up to or exceed his third or fourth round ADP. Dobbins had plenty of time to rehab and get ready for 2022 the third of four years under his rookie contract, and he exploded onto the scene in a week four matchup against the Bills where he scored two touchdowns. Unfortunately, just two weeks later he would have a knee procedure on the same knee that had the torn ACL. He would return later in the season, during week 14, and he would post the third highest breakaway run rate in the NFL. Now with his knee completely healed, Dobbins looks to show off the talent that flashed on the field during his rookie season.