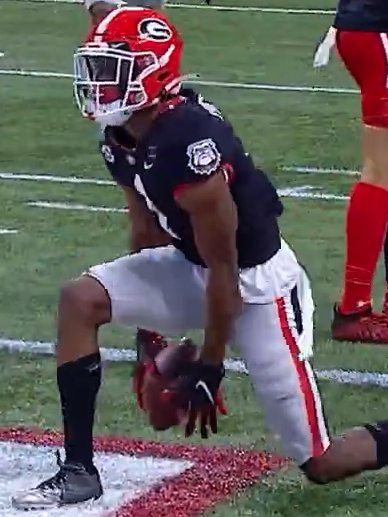 George Pickens was a 5-star prospect from Hoover, Alabama. He was the No. 1 prospect out of Alabama and the #4 ranked receiver in the 2019 class. With offers from a variety of top programs, Pickens chose to attend an up and coming Georgia Bulldogs roster.
As a true freshman in the SEC, Pickens immediately assumed the alpha role in the Bulldogs receiving corps. He led the team in receptions and receiving yards by a wide margin. However, it's important to note that his 2019 numbers were boosted due to an absolutely incredible performance against Baylor. Against the Bears he caught 12 passes for 175 yard and a score. That single game nearly accounted for 25% of his total receptions and yards that season. It's not concerning, but something to remember. In his sophomore campaign, Pickens continued to dominate in a run-first offense. Despite missing two games, Pickens tied Kearis Jackson in a team high 36 receptions and one less yard (513 yards). Had he not missed any games, he was on pace for 45 receptions and 770 yards. In the Peach Bowl, Pickens had 7 receptions for 135 yards and 1 score. It's important to know that this game and his game against an average Missouri team accounted for 50% of his total receiving yards.
In the 2021 spring season, George Pickens tore his ACL which caused him to miss almost all of the 2021 season. He returned to play against Georgia Tech, but only caught 1 pass for 5 yards. In the following 4 games, he was used minimally ending the year with 5 receptions for 107 yards. Hoisting the national championship trophy, he was invited to the combine. Coming in somewhat injured, he was dialed in mentally comparing himself to bigger Davante Adams. He ran a 4.47 40 which is great when adjusted for his size. If you consider he was still recovering from the tear, then he may have run even faster if he was fully healthy.
George Pickens was selected in the 2nd round of the 2022 NFL Draft by the Pittsburgh Steelers. From a pure production standpoint, it was a modest rookie season for Pickens, however, when you watch his alpha mentality as he fights for the ball against defensive backs, you can't help but feel a sense of inspiration as he makes acrobatic catches downfield. With a year under his belt, and a more experienced Kenny Pickett, we could be in for a standout season from George Pickens.