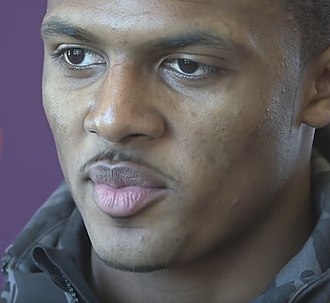 Deshaun Watson is a quarterback for the Cleveland Browns. He was born and raised in Gainesville, Georgia, and committed to Clemson University in the spring of 2012. Watson had a masterful sophomore season (2015) at Clemson, setting the record for most total yards in a National Championship game (478 combined). He was also the first ever player in FBS history to throw for 4,000 yards and rush for over 1,000 yards in the same season. He returned to Clemson in 2016 and led the Tigers to a National Championship victory. His college stats and résumé remain elite, including his overall college QBR of 85.3 (88th percentile). He was invited twice to the Heisman ceremony, though he did not win that trophy. At the 2017 NFL Combine, he ran the 40-yard dash in 4.66 seconds (86th percentile), and measured in at 6'2" with a 9 3/4-inch (60th percentile) hand size.
Deshaun Watson was drafted No. 12 overall by the Houston Texans in the 2017 NFL Draft, after Mitchell Trubisky (No. 2 overall) and Patrick Mahomes (No. 9 overall). Watson started the 2017 season as a backup to Tom Savage, but eventually seized the starting job. This was only to tear his ACL during practice later that season. He showed enough on the field, however, that he was named to the Pro-Football Writers Association's All-Rookie Team. Watson finished the following season (2018) with career highs of 4,165 passing yards, 26 touchdowns to nine interceptions, 551 rushing yards and five rushing touchdowns. He also led the Texans to the playoffs, where they lost in the Wild Card Round to the Indianapolis Colts.
The following year (2019), Watson led the Texans back to the playoffs, where they bounced back from a 16-0 deficit to beat the Buffalo Bills 22-19 in overtime. The following week, they played the Kansas City Chiefs, where they jumped out to a 24-0 lead, but lost by an eventual 51-31 score. That year, Watson finished top five with 5.4 Deep Ball Attempts Per Game. In September of 2020, Watson signed a four-year contract worth up to $177.5 million dollars, intended to keep him tied to the Texans' franchise through the 2025 season.
Despite Watson having the second highest true passer rating (113.3) in the NFL and finishing with a fantasy ranking of QB12 or higher for ten weeks of the 2020 season, the Texans still finished with a losing record. Watson demanded a trade following that season; however, the emergence of sexual-harassment allegations put a pause on trade negotiations. Many teams were linked to Watson as his legal situation unfolded, but the Browns ultimately offered Houston a generous package of players and picks and convinced Watson to drop his no-trade clause to go to Cleveland for a fully guaranteed $230 million dollars over five seasons. Watson served an 11-game suspension in 2022 due to the off-the-field conduct.
He returned to a 4-7 team and had only two weeks of practice with his teammates before his first start against his former team, the Texans. He did not exactly return to his pre-2021 form, averaging just 184 yards and just more than a touchdown a game (1.17). The Browns had the governor on Watson. He averaged just over 28 pass attempts per game and 5.4 Adjusted Air Yards Per Attempt. After a full offseason of practices with the team, the Browns have high hopes for Watson and their tooled up offense. It will be the first time in a long time that the Browns have had a superstar at QB. Previously one of the rising young stars in the league, Watson will look to return to prominence in the 2023 season.