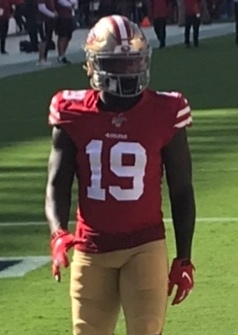 Tyshun "Deebo" Samuel Sr. is a wide receiver for the San Francisco 49ers, entering 2022 in the fourth year of his rookie contract. He was given the nickname "Deebo" by his father, Galen, after a tough guy character in the 1995 movie, Friday. Tough guy Deebo flashed multiple talents in high school, catching 166 passes, rushing 133 times, recording 94 tackles and grabbing 12 interceptions, posting 53 scores at Chapman High School in Inman, South Carolina. A three-star recruit, Samuel played his college ball at the University of South Carolina.
After redshirting in 2014, Deebo Samuel played little in 2015, struggling with injuries. In 2016, he led the team in receptions and receiving yards. With just 15 rushing attempts on the season, he posted six scores on the ground. His 2017 season was again marred by injuries, a broken fibula in Week 3 costing him the rest of the season. Returning to Columbia in 2018, Samuel exploded onto the national stage, posting 11 receiving touchdowns, including a 10-catch, 210-yard, three score effort against eventual National Champion Clemson.
Built like a running back at 5-11 and 214 pounds, Samuel blew up the 2019 Combine, posting top-tier measurables across the board, showing speed, burst & agility. Despite modest college stats, the 49ers selected Deebo in Round 2.
Samuel wasted no time in demonstrating his receiving chops as a rookie, posting a WR1 finish in only his second career game with 5 catches for 87 yards and a score on just 12 routes run. Posting three more WR1 performances in his rookie season, he immediately established himself as a red zone favorite and YAC monster, with 461 of his 803 yards coming after the catch. He was San Francisco's leading receiver as a rookie and played 71-percent of the snaps. Injuries & COVID wreaked havoc on Samuel's second season, 2020, limiting him to seven games. When on the field, though, he again showed his elite YAC skills, turning his 2 completed air yards (No. 208 in the league) into 391 receiving yards, over 55 per game.
Returning to health in 2021, as Samuel's opportunity grew, he took his game to a whole new level. He led the team in targets & his 27.8-percent target share finished No. 6 in the league. As always, Deebo had to do much of the work on his own, seeing just 14 deep balls on the season & earning most of his 1,405 receiving yards (No. 5) on his own. His 777 yards after catch ranked No. 2 in the league and, according to Next Gen Stats, he led the league in YAC per reception by a wide margin. As if the Niners weren't getting enough from Deebo the receiver, starting in Week 10, Kyle Shanahan decided to break out Deebo the running back. In the remaining regular season & playoff games, Samuel averaged 7.2 carries for 44 rushing yards & posted 8 scores on the ground. All that productivity added up to the No. 3 WR fantasy ranking with 21.2 Points per Game.
Deebo never really found his stride from 2021, and when the team added Christian McCaffrey, he lost out on rushing and receiving production. Later on in the season, Injuries would strike again for Deebo as he suffered a hamstring strain, quad strain, and high ankle sprain that would keep him off of the field for three weeks. Deebo has admitted that 2022 wasn't his best year and he's been vocal about wanting to return back to his form that he showcased in his sophomore season.