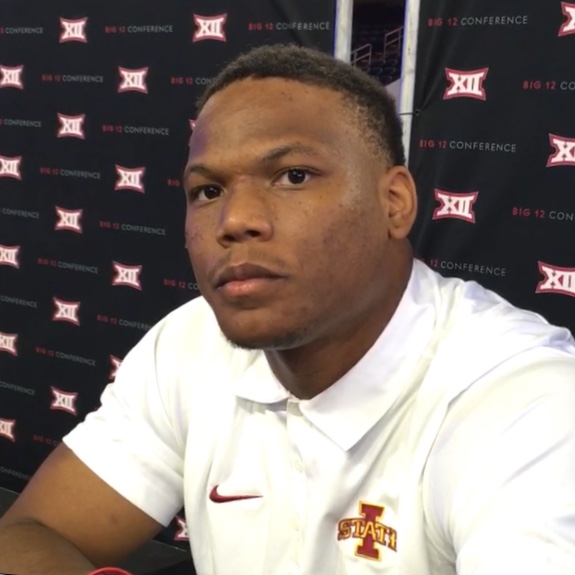 David Montgomery is the starting running back for the Chicago Bears. Montgomery was born in Cincinnati, Ohio. He played his High School football at nearby Mount Healthy High School in Mount Healthy, Ohio. Despite a prolific high school career, Montgomery was only recruited by Miami Ohio, Ball State, Buffalo, and Iowa State. He eventually landed at Iowa State where he put up big numbers. Through his three seasons in Ames, Iowa, Montgomery brought in 71 receptions for 582 yards and rushed for 2,362 yards and 24 touchdowns over his final two seasons. Montgomery's numbers nor his athleticism (4.63 40-yard dash) were world-breaking, but his college dominator (30.5-percent; 69th-percentile) and college target share (7.9-percent; 61st-percentile) were both above par.
After his junior season, David Montgomery declared for the 2019 NFL Draft. The Chicago Bears traded up to draft Montgomery in the third round of that draft with the 73rd overall pick. Montgomery's rookie season left some to be desired. He did accumulate over 1,000 yards from scrimmage and scored seven touchdowns, but he averaged just 3.7 yards per carry. More of the same continued in the first half of Montgomery's second season, but the light switched in the Bears' last six games. After missing the Bears' Week 10 game and the bye week in Week 11, Montgomery showcased what made him worth the Bears trading up to draft him. From Week 12 to Week 17, Montgomery rattled off 598 yards and seven touchdowns while adding 24 receptions (he hauled in 25 receptions his entire rookie season) for 226 yards and an additional touchdown. Montgomery's hot stretch catapulted him to an RB4 finish in 2020 and the RB9 on a per-game basis.
David Montgomery's 2021 season was far less rosy, through no fault of his own. The Bears had a constant revolving door at quarterback, injuries to Montgomery himself, a poor offensive line, and less than stellar coaching. That contributed to Montgomery averaging 3.8 yards per carry, 3.7 true yards per carry (66th among running backs), 4.3 yards per touch (51st), and 2.08 yards created per touch (49th). But, Montgomery was fourth among running backs in opportunity share (80-percent), second in snap share (74.8-percent), 13th in target share (12.1-percent), ninth in route participation (52.6-percent), 14th in evaded tackles (64), and 25th in yards created (556) and yards per reception (7.2). David Montgomery was a true workhorse, which enabled him to an RB18 finish on a per-game basis in 2021. Montgomery proved to be a jack of all trades, master of none, as he stayed healthy and available to finish out the 2023 season as RB24, but Chicago declined to bring him back, and the Detroit Lions signed him and paired him with rookie first round pick Jahmyr Gibbs. This Lions offense is easily the best team offense Montgomery has ever been a part of, and he can contribute right away, taking key handoffs while Jahmyr Gibbs is learning the ins and outs of the offense.