Let us take a journey to fictional trade offer land. Colin Kaepernick for Russell Wilson.
Who says no first?
As a Kaepernick owner, there is no chance I would trade him for Wilson at the moment. Over the last 6 games, Kaepernick has avergaed 22.63 Fantasy Points Per Game and Wilson just 18. If you sit quietly you can hear the tilt in Seattle. Life comes at you fast in fantasyland, and adjusting quickly to the new reality must be the priority over clinging to our preseason valuations.
For instance, two waiver recommendations for this week outscored Julio Jones and Brandin Cooks last week, a combined 52.7 Fantasy Points Per Game to 7.5. Just keep an open mind, because castoffs like Taylor Gabriel and forgotten players like Marquess Wilson win championships this time of year.
The RotoUnderworld Team provides a list of 10 players to add across all fantasy football formats. Note: All listed players are owned in less than 50-percent of MFL redraft leagues.
Taylor Gabriel, WR, Atlanta Falcons
Taylor Gabriel was a drab little crab once, now he sparkles like a diamond necklace. Undrafted in 2014 out of Abilene Christian, Gabriel spent two years on the Cleveland Browns' roster before being a preseason roster casualty earlier this year. When Thomas Dimitroff brought Gabriel into the fold in Atlanta, it was recieved as an afterthought. However, since returning from his concussion in Week 6, Gabriel has averaged 67.8 Yards, 1.25 Touchdowns and 18.8 Fantasy Points Per Game. Extract Tavon Austin from the incompetent Los Angeles Rams organization and plop him down in the fertile Atlanta fantasy soil and you have yourself Taylor Gabriel.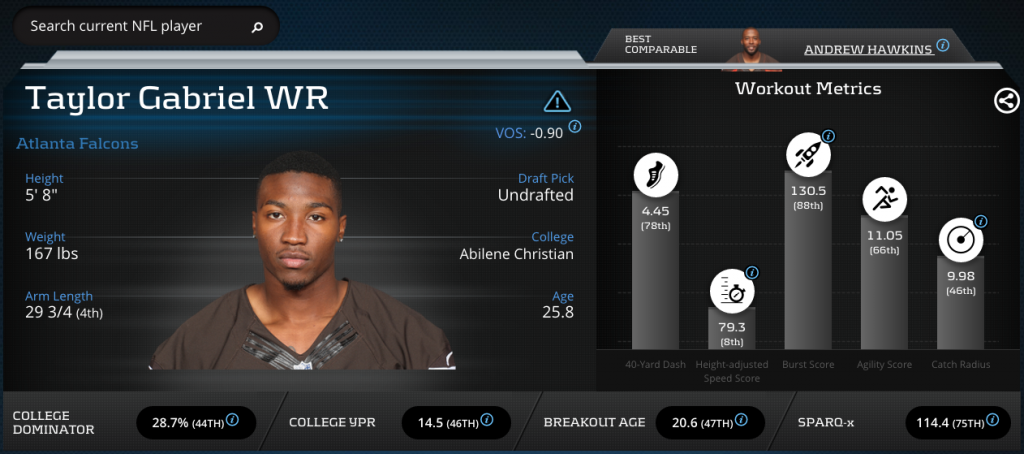 Taylor Gabriel Advanced Stats & Metrics Profile
The targets and touchdowns will wane in the coming weeks as Gabriel will not be able to keep up this unsustainable pace. However, the +3.14 Upcoming Schedule (No. 2) provides evidence, some more explosive games are forthcoming.
Rex Burkhead, RB, Cincinnati Bengals
What makes a 6th round draft selection, stick on an NFL roster for four years? Talent. Rex Burkhead has survived in Cincinnati year over year and now has a path to opportunity. Since Burkhead has little on field NFL performance to analyze, let's look at a comparison to the other Cincinnati backs.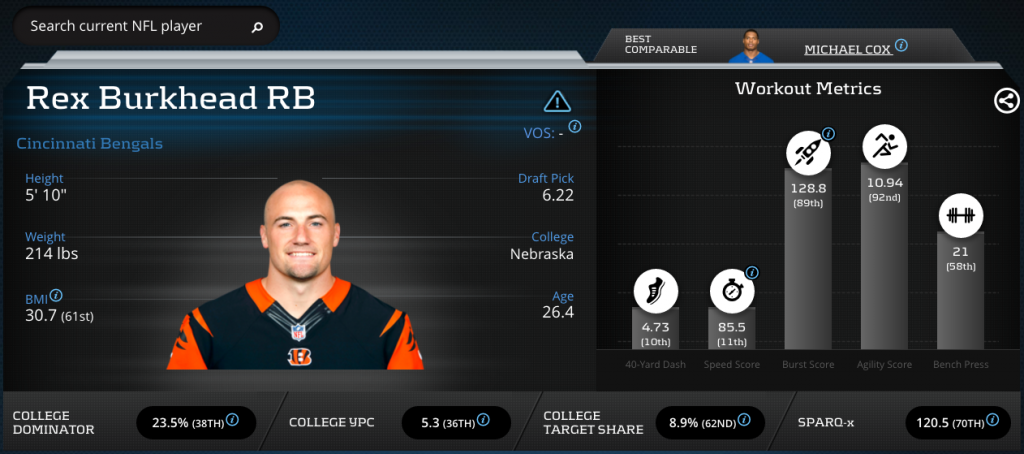 Rex Burkhead Player Comparison
Burkhead falls short of of Giovani Bernard and Jeremy HIll in historical College Production. Although, there is one particularly interesting aspect of Burkhead's profile an elite 10.94 Agility Score (92nd-percentile). This implies that Burkhead posseses the shifty, quickness and elusiveness to compile yards before contact. Burkhead does not have the proficiency in the passing game of a Bernard or even Starks, but do not discount the potential if Jeremy Hill ceeds touches or runs into an injury.
Rex Burkhead Advanced Stats & Metrics Profile
Marquess Wilson, WR, Chicago Bears
Marquess is the most precocious prospect in the PlayerProfiler database. As an eighteen year old freshman at Washington State, Wilson recorded 1006 receiving yards on 18.3 Yards Per Reception. Not to mention, the Marquess Wilson family of Best Comparable Players includes Rod Streater, Tyrell Williams, and Cameron Meredith. Despite this seemingly obscene potential, over four years in the NFL, Wilson has failed to tally more than 28 receptions in any season. The positive news is that Wilson is only 24 years old, has recently built chemistry with new quarterback Matt Barkley and just recorded his most impressive game at the pro level.
Marquess Wilson Advanced Stats & Metrics Profile
As Cameron Meredith has struggled with consistency and Chicago cannot keep receiving options healthy, look for Marquess Wilson to continue to see volume against the San Francisco 49ers in Week 13.
Waiver Priority Ranks
Sammy Watkins needs to be owned in all leagues. Fairly obvious statement here, but he is still unowned in 30% of MFL redraft leagues. Watkins should build up to full snap volume in the coming weeks and has to be on the WR2 radar at a minimum.
Nelson Agholor did not play in week 12, Jordan Mathews received an injury and Dorial Green-Beckham continued his slow, painful ascent to relevance. Put aside your past baggage with the mythical "DGB". The volume grows and the red zone opportunities swell, this could be Green-Beckham's time.
Dontrelle Inman is averaging a 22.9-percent Target Share over the past three weeks. The fun continues with a +2.42 Upcoming Schedule (No. 5).
Despite a crowded receiving core, Malcolm Mitchell excelled in Week 12, snagging two touchdowns on 7 targets. The Rob Gronkowski and Martellus Bennett injuries, should keep Mitchell relevant in the short term.
Below is the order I would claim players in a vacuum not taking into account individual team needs.