On Wednesday July 26th, Kenneth Dixon, already of the 4-game suspension, was placed on the Injured Reserve. This leaves Lorenzo Taliaferro, Terrance West, Danny Woodhead, Javorius Allen and the just signed Bobby Rainey to battle for the vacated reps. Here is a quick breakdown on what to expect and look towards in the Ravens backfield.
The Ravens are a team that led the NFL in pass play percentage in 2016 calling pass plays on nearly 65.9-percent of offensive downs. In 2015 they were fifth calling pass on 64.64-percent of their plays. So the initial reaction is that we should be looking for which player has the pass catching ability to take a large chunk of vacated targets. In 2016 Ravens RBs had 327 carries and were targeted 156 times.Terrance West, Javorius Allen and Lorenzo Taliaferro are the only three backs returning that split into these snaps and only West actually took meaningful plays on the team. The Ravens also lost their starting center, John Urschel, to retirement, which could negatively impact offensive line run blocking efficiency.
Danny Woodhead is the popular pick and his slot 67 ADP across early-season drafts in MyFantasyLeague.com, is bound to jump heading into August. He's currently going as the RB26 and that is bound to sky rocket as the season gets closer. Terrence West is next with a ADP of 118.85 and the RB 42. Lorenzo Taliaferro is free and is not even being taken in the top-200 running backs according to early draft ADP data.
Gritty Satellite Back
Danny Woodhead is a 5-8 RB who turns 33 during the season and is coming off a week 2 ACL tear last season. The lasting image we have of Woodhead is his monstrous 2015 campaign where he finished as the RB3 overall in PPR leagues with a 107 target 81 receptions, 756 receiving yards and 6 receiving touchdowns and 97 carries for 335 rushing yards and 3 rushing touchdowns. His receiving numbers and production carried him as he did little in the rushing game. A satellite back like Woodhead would fit well in the Ravens scheme as they emphasized the short and intermediate routes posting a 7.8 (28TH in league) average attempt depth. His ADP is certain to sky rocket as he is the most well known name currently on the roster.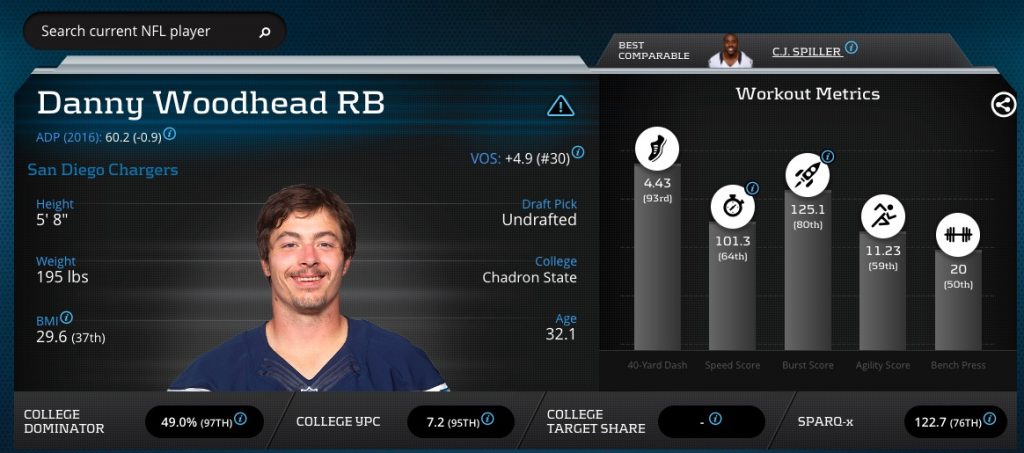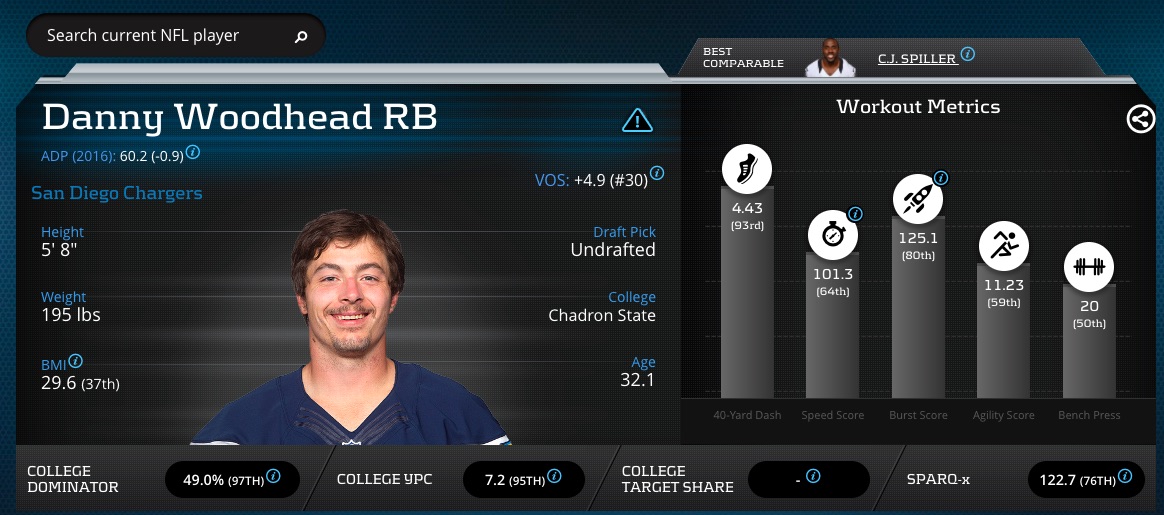 Opportunity Over Talent
Terrance West is the 5-9 225 former third round pick of the Browns who was discarded and had a bit of redemption season in Baltimore posting a low RB2 season of 193 carries 774 rushing yards 5 rushing touchdowns with 34 receptions  236 receiving yards and 1 receiving touchdown. Nothing major and Kenneth Dixon's injury shouldn't have any huge impact to his 2017 numbers. West did do a strong job when we look at Formation-Specific metrics as he led the NFL in YPC vs Stacked Front with a 6.6 YPC. West's efficiency numbers are nothing major and are nothing to get excited about especially from an athlete whose Best Comparable is Trent Richardson on PlayerProfiler.com.
Lottery Tickets
Lottery tickets Lorenzo Taliaferro and Javorius Allen are the players you should be selecting at the end of your drafts. A mid-level SPARQ-x Score whose Best Comparable is Carlos Hyde, Taliaferro had been moved to FB after the departure of FB Kyle Juszczyk though with Dixon's injury that could quickly change. Allen is a 6-0 221-pound RB with a Best Comparable of Ryan Matthews. Allen is free and likely could be a Free Agent/Waiver Wire grab post draft for you.
---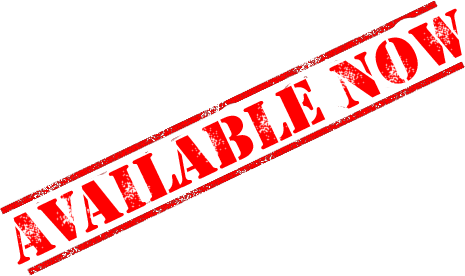 ---
For the most part these guys are NFL players and obviously are very good. However, picking the Ravens RB is more about opportunity than it is talent. None of these players jump off the page and none are going to make any list of "talented RB" if you polled NFL talent evaluators. Any player getting opportunity deserves a shot on your roster as you are talking about a guy likely to get 200 carries and decent targets in the offense.
Final Evaluation
The price for Danny Woodhead is likely to be too high in all formats when I consider drafting a undersized 32 year old low level athlete coming off knee injury. If you're drafting in the next few days expect to have to pay a significantly higher price for Terrance West. I'd prefer to buy a few late-round lottery tickets on Javorius Allen and Lorenzo Taliaferro. If I'm the Ravens, I would be calling John Lynch and the 49ers and doing whatever I could to get Carlos Hyde in a Ravens uniform. In other words, look elsewhere and avoid having to pay a inflated price for the Ravens backfield. You could hit a value if Woodhead manages to crush through the RB age wall and produce again. West was the player to target at his RB48 value though he could quickly become a sunk cost just as easily as he becomes a value. The best thing we can say about West is that he has opportunity. So stay away from Woodhead and if the value hits right go after the other players on the Ravens backfield.