I can feel the heat already.  Jeremy Langford has been a popular topic this summer amongst fantasy football analysts everywhere, but it hasn't necessarily been for the right reasons.  The hate for him seems to grow day in and day out, at least for the majority of fantasy analysts.  That was me.  About two months prior to this article, I was anti-Langford for sure.  Justified?  Not really.  Swept off my feet by poor efficiency metrics, foreboding micro-splits, drops, and an avalanche of 'fantasy bust' articles, I had been captured by the fantasy football demons.  Do not succumb to the enticing anti-Langford speech just yet, determine for yourselves as I lay out some reasons to trust him.
College Background
Jeremy Langford has only been a full-time RB since 2012.  He switched between WR, CB, and RB during his time at Michigan State.  It should be no surprise that a relatively inexperienced running back would not finish his rookie NFL season with impressive efficiency numbers.  We all know the running back position is one of the toughest transitions in football, yet sophomore RBs are some of the most intensely critiqued players in fantasy football.
Core Skills
Jeremy Langford dropped seven passed in 2015 on just 44 targets, which contributed to his abysmal 52 percent catch rate.  However, he also converted numerous highlight reel catches along the way.  Langford displayed big-play ability at both Michigan State and in Chicago demonstrated by a 37-point week 10 explosion vs. the Rams last season.  Langford's 4.42 40-yard dash time and 87th-percentile Speed Score forebode his big play ability at the NFL level.  Coming out of the draft, many expected him to enter the third-down role for the Bears, because he is actually a quality receiver evidenced by a 7.9-percent (51st-percentile) College Target Share.
Jeremy Langford brings a strong 3rd down skill set to the Bears' backfield. His 4.4 40 time translates well to the field. The Bears add some explosiveness to their run game.

– Mark Duglerian (NFL Scout)
He struggled with efficiency last year but that hasn't seemed to disrupt the hype for other inefficient sophomore backs for guys like Matt Jones, Ameer Abdullah and Melvin Gordon.
The Upside
It's a very limited sample size but his entire rookie season can be characterized as just that as well — in the three games Matt Forte missed, we get a glimpse into the upside Jeremy Langford possesses.  I'm not implying this should be expected but some are completely writing him off for the 2016 season — which is unfair considering the massive opportunity in his lap.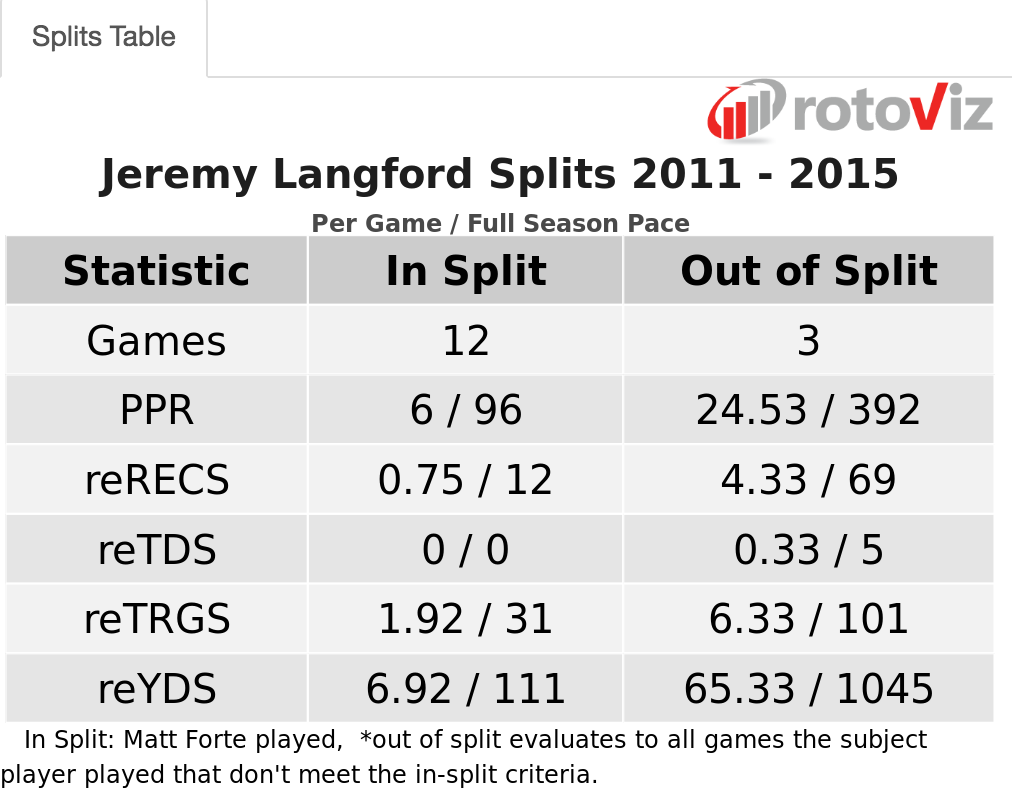 Jeremy Langford splits with and without Matt Forte.
Jeremy Langford also has a relatively strong group of guys around him.  The Bears graded out as the number five run-blocking team in the league, a top-five run-blocking offensive line will only make this year easier for him to produce.  Think about it for a second.  It's probably not soon to rule out a player with 4.42 wheels after he saw 170 touches in only a handful of games started his rookie season!  We know speed isn't everything and he has some obvious concerns with running in between the tackles but so did Le'Veon Bell.
Collegiate Notes
So many 'experts' and NFL 'twitter scouts' know Jeremy Langford will never become a three-down back, though most ignore his production at the college level.  Allow me to remold your previous perception of him with a simple picture.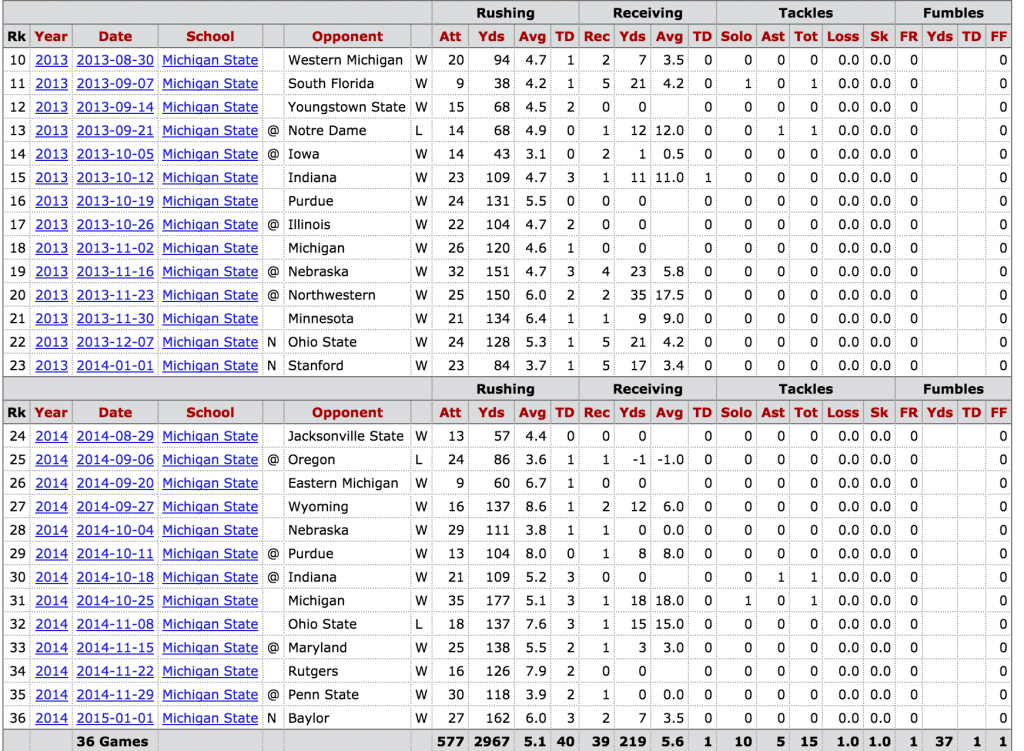 Jeremy Langford game log through the 2013 and 2014 season.
Let's go through some of the numbers, shall we? 616 touches and one fumble. 40 rushing touchdowns through two seasons. 20-plus touches in 17 out of 27 possible games.  Now remember, this is a player who has been clearly incapable to be a workhorse.  Jeremy Langford struggles inside, lacks agility and doesn't gather yards after contact.  We aren't searching for Ladainian Tomlinson here.  We have found a player with speed, home-run ability and most importantly, opportunity.  He can shoulder the load, he did it in college and for those YPC believers, he averaged 5.5 YPC in 2014 despite a tough schedule.
How effective can he be at the NFL level?  Well, that remains a question but inefficiency doesn't always turn off NFL coaches like it does for fantasy players.  Devonta Freeman is a great example of this, when he averaged just 3.1 YPC and fumbled twice on 112 carries from weeks 9-17.  Even with talented Tevin Coleman, the team stuck with Freeman and continued to feed him despite the inefficiency.
Immense Opportunity
Jordan Howard will start Week 1 and steal Jeremy Langford's job by Week 6.  Just kidding, he's a plodder.  Jacquizz Rodgers racked up one reception and ran the ball 14 times for 41 yards.  Ka'Deem Carey saw 43 carries and returned a 3.7 YPC with just three receptions.   Behind Langford on the depth chart sits a short-yardage back, a washed up third-down back and an underwhelming athlete and RB in Ka'Deem Carey.  As you can tell by this workout metrics on PlayerProfiler.com, he's below the 50th percentile in all workout metrics.  Is this really what one considers competition?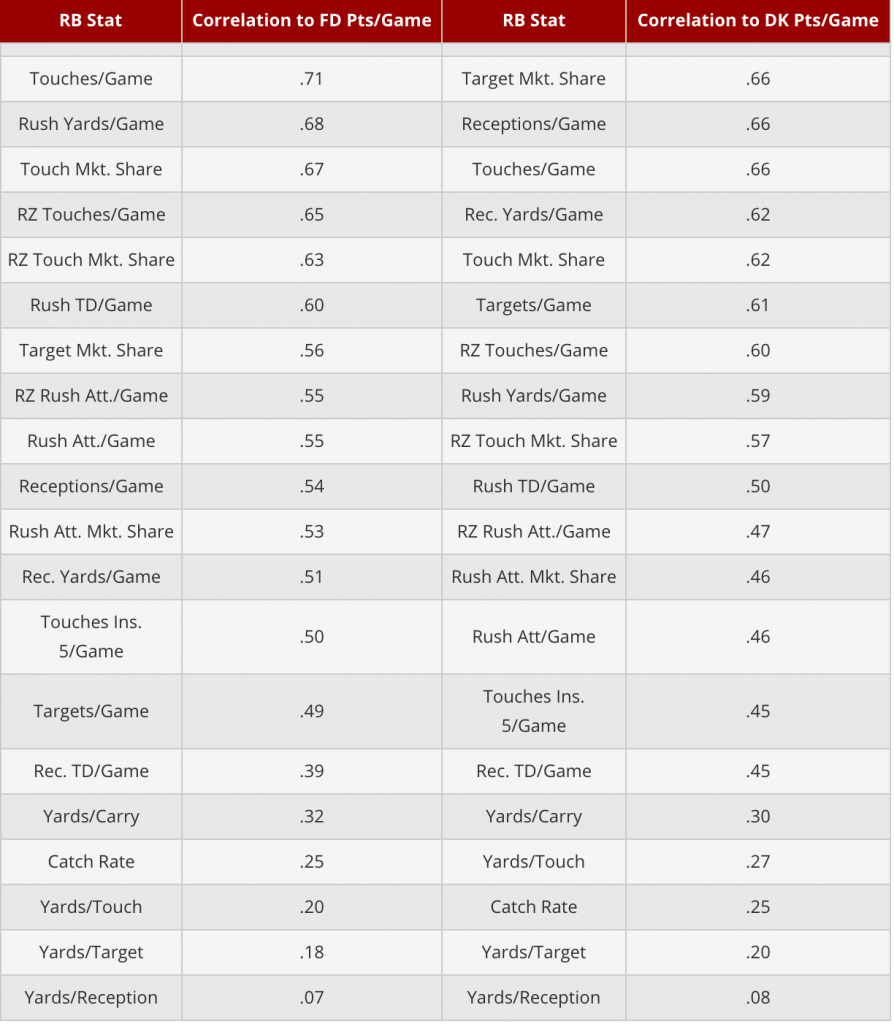 Fantasy points correlation to each metric for RB's via 4for4's Chris Raybon
This table was created from 2013-2015 and it analyzes the correlation of certain metrics to fantasy points per game. As you can see, yards per carry, catch rate, and yards per touch have very little correlation to success in fantasy. Yet 99% of the hate for Jeremy Langford stems form these performance metrics, when clearly they don't mean much. YPC matters when there is stiff competition because why would a team keep giving a guy with 2.8 YPC compared to an up-and-comer who is averaging 5.6?
Regardless, some teams decide to go with their 'guy' regardless of their perceived performance because there's more to the RB position then efficiency metrics.  So let's continue to attack a rookie with poor efficiency metrics though they have very little correlation to fantasy points per game, makes sense.  Jeremy Langford could very well be the bell cow of this offense and a little inefficiency won't slow him down, especially considering the low level of talent behind him. Stop overthinking and overanalyzing.
Conclusion
Jeremy Langford has a massive opportunity ahead of him and he has already began his fight for the role during preseason, earning praise from HC John Fox saying, 'he took a step forward' after his 8-55-1 rushing line.  Despite some anticipated struggles, I'll gladly scoop up Langford at his current ADP of 73.  With Zero-RB really taking off, he's the perfect high-upside selection anywhere in between rounds five through seven. He has the potential to hit 250 touches in the Bears offense, don't let the limited play as a rookie fool you.  Opportunity trumps all and he is also the most talented RB in his backfield so there's not much to worry about from a fantasy perspective, especially at his ADP.
Prediction: Jeremy Langford is well-positioned to finish among the top-5 fantasy running backs in 2016.  A couple things must go right for him and he carries some noticeable risk.  As a WR heavy drafter, he's exactly the type of guy to look for while you stockpile your late RB's.  The haters have driven down his ADP to the sixth round and that's exactly what has enticed me about the speedy sophomore back.