Welcome to the Week 1 confirmation biased overreaction seas.  Jump in!  The water's fine!
Actually, the waiver wire water is choppy (dead fish everywhere – insert obligatory Kevin Ogletree 2012 cheap shot).  Trying to make a waiver claim is like trolling the deep sea hoping to hook a marlin.  Usually we just come home with a boat full of mackerel.
Fun fishing analogies aside, the RotoUnderworld Team believes ten players are worth adding across fantasy football formats.  Box score stat hunting season is well underway and when making waiver claims the key to a good process remains to look at a player's historical profile outside of a one week sample.  Using Player Profiler's Data Analysis Tool, the goal is to separate marlin from mackerel and highlight some players to target on waivers or even just to a few to monitor as the season progresses.  Gird your loins, let's catch the big one.
Note: The following waiver targets were selected from a group of players owned in less than 50-percent of MFL redraft leagues.
Chris Thompson RB, Washington
The greatest trick Matt Jones ever pulled was convincing the Redskins he deserved to be an early round pick.  "It's gotta be the hair Cotton.  It's beautiful.  Feathered and lethal.  You just don't see it nowadays."  An "awesome hair"-induced perception surrounds Jones, propping him up as some kind of exciting athleticism and strength combo.  Yes, Jones has great agility, but he does not have particularly inspiring burst or strength. Prior to entering the pro level, 192-pound 6-ounce, little baby Chris Thompson, knocked out 21 bench press reps, while the 231-pound Matt Jones managed just 20.  Comparing their situation agnostic performance in 2015, Chris Thompson enjoyed a +11.8 Production Premium (No. 27) and Matt Jones a woeful -9.9 Production Premium (No. 55).  Even if Jones can stay healthy, Washington cannot afford to feed this inefficient, fumbling beast while a delightful chain moving butterfly in Chris Thompson does his best Danny Woodhead impression.
Tyrell Williams, WR, San Diego
If you own Keenan Allen, put aside the self loathing, there are fantasy leagues to be won.  Allen looked to be primed for a DeAndre Hopkins west campaign this season, but with his depressing ACL injury a 25.4-percent target void (from 2015) has opened up in San Diego.  Tyrell Williams could thrive with this newfound opportunity. An undrafted player in 2015, Williams did not see the field much until a week 17 explosion for 90 yards and a touchdown.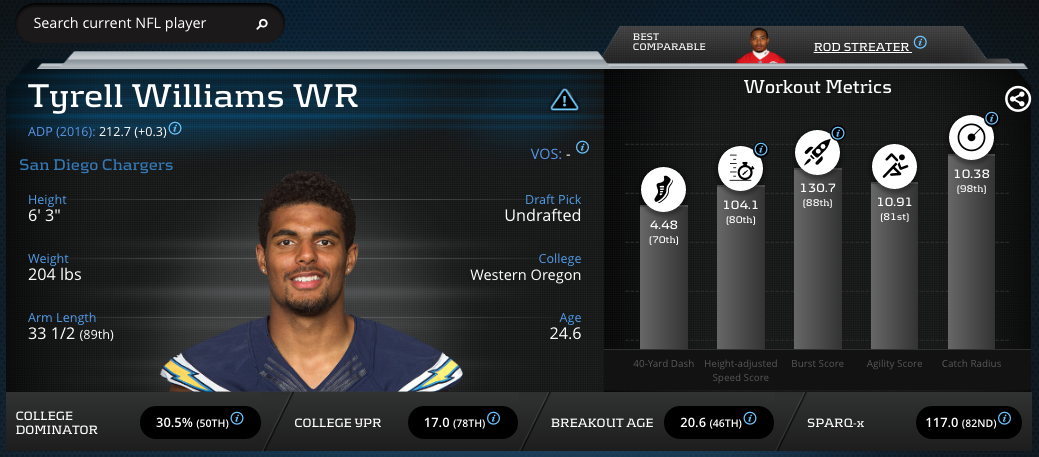 At Western Oregon, Williams generated a 17.0 Yards Per Reception (78th-percentile), reflecting his tremendous measurables.  The athleticism and possibility of a 20-percent Target Share for Williams makes his relative anonymity at the NFL level a risk worth taking.
Jermaine Kearse WR, Seattle
Keep it simple. In 2015, Russell Wilson delivered a hyper efficient +27.9 Production Premium (No. 1) and Jermaine Kearse sizzled with a +31.6 Production Premium (No. 5).  This may be news to you, but Kearse starts in 2 wide receiver sets for the team that Russell Wilson quarterbacks. If target volume increases due to the natural progression of the Seattle offense, Kearse is an inexpensive way to grab exposure.  With an 18.6 Breakout Age (96th-percentile), the precocious Jermaine Kearse has a perception of being boring when in reality he has exciting upside. While Russell Wilson recovers from his ankle injury, Kearse has sneaky stash appeal.
Quincy Enunwa WR, New York
Heavily targeted in week 1, (7 receptions on 8 targets for 54 yards and a touchdown), Quincy Enunwa looks to have a solidified role with Ryan Fitzpatrick this season. Enunwa's 41.7-percent College Dominator Rating (81st-percentile), displays his inherent football ability.  Interestingly, Enunwa's Best Comparable player in the PlayerProfiler database is Josh Gordon, which shows the raw talent that could be unlocked this year.  After the inexplicable roster cut of Jace Amaro, the Jets do not have much receiving depth.  Get on board with Enunwa, because the targets and high leverage opportunities should continue to flow in his direction.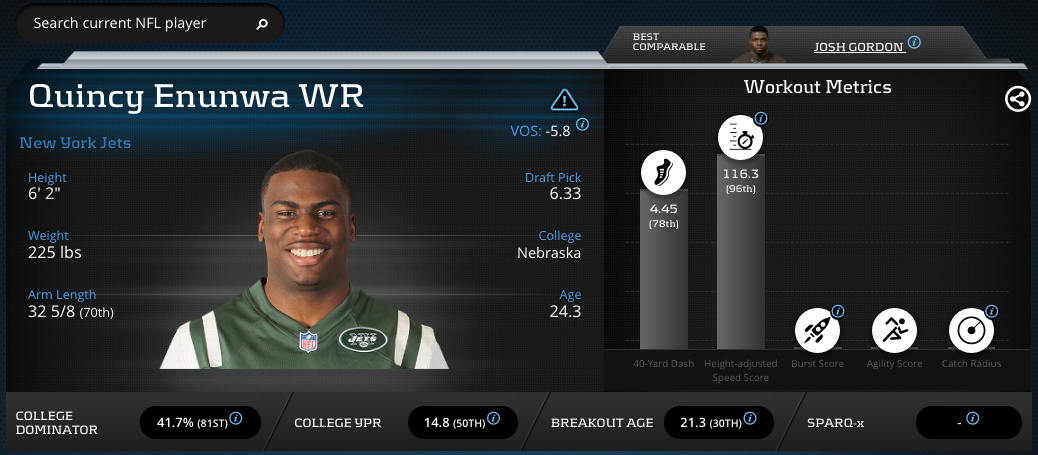 Chris Conley, Robert Woods, Jesse James, Shaun Draughn and Dontrelle Inman are some additional players to consider if the others are not available.  Then again, if this all sounds too difficult and you are looking to torpedo some rosters because you don't like winning, focus your efforts on Cody Latimer and Ty Montgomery.
Virgil Green TE, Denver
Before the season, RotoUnderworld's Ben Cummins posited that Virgil Green was the best possible late round tight end sleeper.  In week 1, Virgil Green saw 5 targets, converting 4 receptions for 28 yards against Carolina.  This was a respectable output, considering Carolina was the top 2015 team against the tight end position in Football Outsiders DVOA.  Going forward, the Denver defense will be able to put the offense in position to capitalize in the red zone.  Green's ability as a blocker and the lack of true tight end competition should keep him on the field in these situations.  Given Green's 139.4 Burst Score (100th-percentile) and 10.37 Catch Radius (96th-percentile), elite touchdown production and ascension to Top 12 tight end status is in play.  In addition, with Demaryius Thomas already struggling with a hip injury, Green's target share may balloon.
Below is the order I would claim players in a vacuum not taking into account team needs.
Waiver Priority Ranks