Stuffing is the best Thanksgiving food and it's not really even that close.
Listen, it's cute that your family makes special macaroni and cheese. I could not be more impressed by your cheese and noodles. I'm equally proud of you that mashed potatoes are your thing. Congratulations! You smashed a tater and threw butter in. Don't even come at me with cranberry sauce.
As the pilgrims intended, turkey's purpose is to show up on Thanksgiving to produce stuffing, just as Tyler Boyd's purpose is to show up on waivers to produce fantasy points. The RotoUnderworld Team provides a list of 10 players including Boyd to add across all fantasy football formats. Note: All listed players are owned in less than 50-percent of MFL redraft leagues.
Tyler Boyd, WR, Cincinnati Bengals
Late in the rookie seasons of wide receivers, the target volume balloons. The young 'uns have had time to adjust to the NFL and coaches can glean some information regarding their development going into the offseason. With A.J. Green and Giovani Bernard injured and the Bengals settling into the basement in the AFC North, Tyler Boyd will see a surge in opportunity.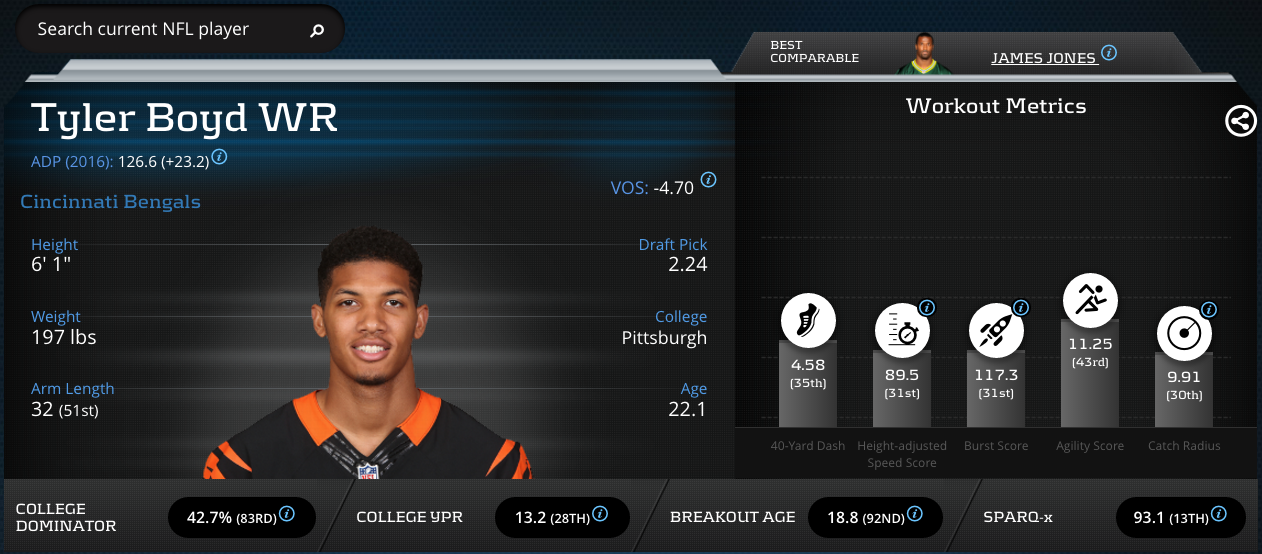 Tyler Boyd Advanced Stats & Metrics Profile
At the University of Pittsburgh, Tyler Boyd was a bit of a wunderkind, evidenced by his 18.8 Breakout Age (92nd-percentile). Best comparable to James Jones, Boyd lacks the speed of an A.J Green. However, Boyd's 42.7-percent College Dominator (83rd-percentile) underscores an ability to produce as the primary option in an offense despite middling athletic measurables. If volume is king in fantasy football, allow me to declare Tyler Boyd the supreme ruler of the Queen City.
Charles Clay, TE, Buffalo Bills
Prior to the season, Charles Clay had the feel of the least exciting floor play of all time. Clay's performance so far this season has done little to inspire as he has been uncharacteristically inefficient shown by his -25.2 Production Premium (No. 44). Meanwhile, Robert Woods was on his way to being 2016's Doug Baldwin when a knee injury derailed his quest in the apocalyptic Week 11.
Charles Clay Advanced Stats & Metrics Profile
Going forward, Charles Clay becomes the reliable target for Tyrod Taylor. As prior to the season, Clay can only be considered a floor play as the Bills run 32.8 Team Pass Plays Per Game (No. 31). As a silver lining, Clay has been able to record a 85.0-percent Snap Share (No. 9) despite his standard role as a move tight end.
Ben Braunecker, TE, Chicago Bears
Ben Braunecker you met me at a very strange time in my life: Alshon Jeffery suspended, Zach Miller and Jay Cutler injured. Already off the rails, the Chicago Bears offense has elite dumpster fire tendencies and hereafter shall be known as Project Mayhem.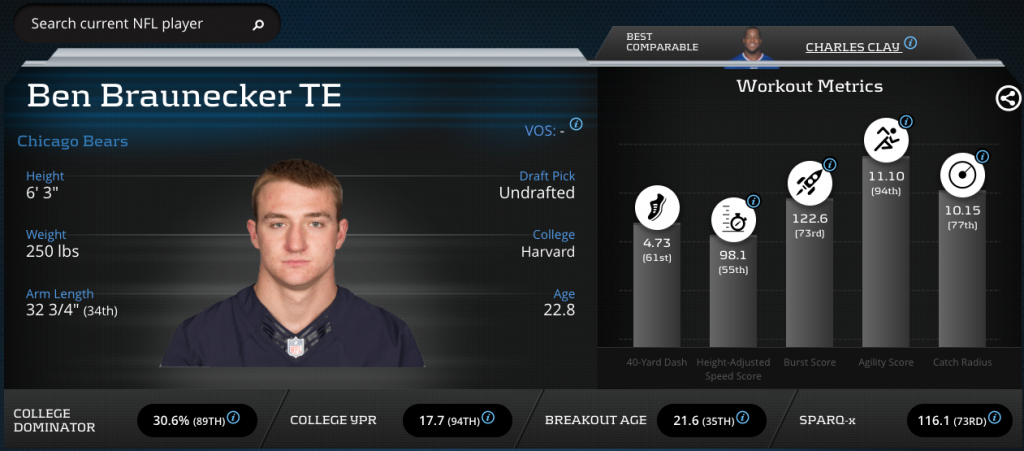 Ben Braunecker Advanced Stats & Metrics Profile
Hailing from Harvard University, Ben "Bronk" Braunecker posseses the history of college production and requisite athelticism including a wicked 11.10 Agility Score (94th-percentile). Only Logan Paulsen stands in his way on the depth chart. His name is Logan Paulsen, his name is Logan Paulsen. With "smoking Jay" on the bench and not much hope on the horizon, it would make sense for Chicago to funnel development snaps to Bronk in this lost season.
Waiver Priority Ranks
The seas have parted for Wendell Smallwood in Philadelphia with Ryan Mathews and Darren Sproles going down with injuries. Prior to Week 5 and many moons ago, I surmised that investing in Wendell Smallwood was a bet against Ryan Mathews' ability to stay healthy. That bet is ready to be cashed out in Week 12. Get your hands on the electric Smallwood (teehee) as he gets some touches.
Will Tye owns 13.6-percent Hog Rate (No. 9) in 2016 and his Snap Share has risen every week since Week 6. That +1.35 Upcoming Schedule (No. 5) is looking remarkably tasty.
Despite my internal bias against Brandon LaFell, he has performed well this year on an efficiency basis. It is almost as if he doesn't care what I think of him…strange. The target void in Cincinnati is massive. Add LaFell for large variance if you need some spice in your life.
If you like consistency and laugh in the face of superstitions then Vance McDonald is your man. McDonald has seen 6 targets each of the past 4 games, so if you add him, do it from the 13th floor of your hotel.
For a quarterback streamer, I urge you to continue to keep your eyes closed and play Colin Kaepernick. Last week I thought that Kaepernick and would hit 20.6 Fantasy Points against New England and he recorded 19.4. Against Miami, I like Kaep to keep it rolling near that 20 point mark. The rushing floor is a real treat even though the journey is rough and bumpy.
Below is the order I would claim players in a vacuum not taking into account individual team needs.