The classic tale of a player with shaky historical production and mythical athletic abilities like a Loch Ness monster, a Sasquatch or a Merman.
This past fateful Sunday, Tyreek Hill revealed his Unicorn athleticism as it united with previously untouchable opportunity.
The RotoUnderworld Team provides a list of 10 players including Hill to add across all fantasy football formats. Note: All listed players are owned in less than 50-percent of MFL redraft leagues or are named Jeremy Langford.
Tyreek Hill, WR, Kansas City Chiefs
Ride the Tyreek Hill Unicorn.  Tyreek the freak, workout metrics of a chic greek, the mystique to sneak on cornerbacks looking peak weak. The unique physique and technique must pique our competitive streak in the fantasy midweek. Excuse the rhymes bro, I'm just excited because Tyreek Hill has arrived.
Let's not overthink this. Hill has been the most efficient wide receiver in Kansas City by posting the highest disparity against teammates leaguewide with a +58.6-percent (No. 1) Target Premium. With Jeremy Maclin injured in week 10, Hill was the primary option for Alex Smith reeling in 13 Targets and a 34.2-percent Target Share.
Along with his explosive passing game presence, Hill contributes in the return game and receives touches out of the backfield, offering fantasy owners flexibility in the methods he can tally points. When Maclin returns, the Chiefs will still look to Hill for explosive plays and that is a comforting reality.
Cameron Meredith, WR, Chicago Bears
The sweet prince of fantasy lore has returned to the bountiful target rich land from whence he once reigned supreme. Cameron Meredith has a Target Share boom in his future because you know how Alshon be, just snackin' on them PED's. As the Podfather's First Law of the Conservation of Targets states: Targets must be conserved for team entropy to remain constant. In layman's terms, the Cameron Meredith dance party just had a 22-percent Target Share keg delivered and one lung Gronk will be in attendance.
After seeing 25 targets between weeks 5 and 6, Cameron Meredith has received a limited opportunity in the last three weeks with a total of 6 measly targets. I'm a Meredith believer and like him to join Tyrell Williams in top-24 WR status the rest of the way.
Ladarius Green, TE, Pittsburgh Steelers
Ladarius Green is going to happen now that he does not have to compete with Antonio Gates for targets. Green has Ben Roethlisberger as his quarterback and should see opportunity in a productive offense. This was the offseason narrative prior to Green injuring his head/ankle. After the false start to the season, Green returned to action in week 10 and got his feet wet, with 3 receptions for 30 yards.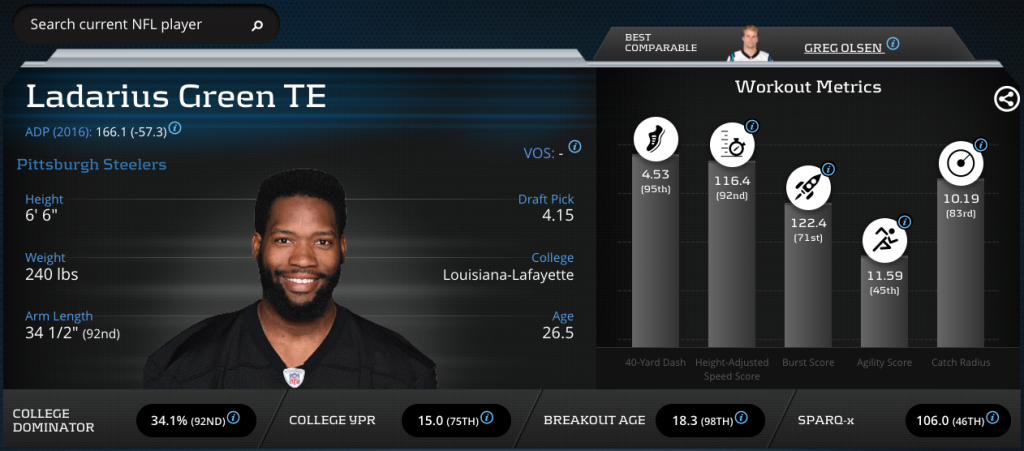 Ladarius Green Advanced Stats & Metrics Profile
On paper, Ladarius Green has one of the best tight end profiles in existence, but has yet to show consistency at the NFL level. The 34.1-percent (92nd-percentile) College Dominator Rating and 18.3 (98th-percentile) Breakout Age show the prodigious talent Green possesses. The Green profile has few blemishes and even contains the Best Comparable player of Greg Olsen, one of the most consistent tight ends in recent memory.
Listen, Green has a wide range of possible outcomes across the end of this fantasy season given his injury history, talent profile and situation. This late in the season, Green provides a unique value and should not be ignored.
Waiver Priority Ranks
The uncertainty surrounding Jordan Howard's injury places the recently healthy Jeremy Langford in position to produce for fantasy owners. No matter your opinion of Langford, volume is king on the running back frontier.
Dontrelle Inman looks like a knock off version of Keenan Allen and has averaged 10.2 Fantasy Points Per Game over the last 4 games. Although Inman has not provided large outputs, his consistency serves as a nice fill in option for fantasy owners in need.
The preseason sleeper tight end duo of Will Tye and Vance McDonald are finally producing over the last two week with McDonald receiving 12 targets and Tye 15 targets.
As far as quarterback streamers, just close your eyes and play Colin Kaepernick.  Kaepernick is averaging 20.6 Fantasy Points Per Game and should hit that average against New England.
Below is the order I would claim players in a vacuum not taking into account individual team needs.