We all have biases. These predetermined preferences and beliefs serve only to cloud our judgment and keep us from functioning as truly objective thinkers.
Bias in the fantasy football world is a very real thing, and it's crippling. Vividness bias occurs when a recent performance skews the opinion on a player too much in either the positive or negative direction. Recency bias causes the fantasy owner to assess a player with extra emphasis on recent events. My personal favorite, "My Guy" bias, is when a fantasy owner cannot think objectively about one of their favorite (or least favorite) players.
By recognizing these biases, the savvy fantasy footballer has a golden opportunity in the fantasy draft to avoid an overrated player or pilfer an underrated player. Let's take a look at the fantasy players that are most affected by bias in current seasonal drafts.
Kelvin Benjamin, WR, Carolina Panthers
Fool me once, shame on you; fool me twice, shame on me.  The fantasy community wants Kelvin Benjamin to be a WR1, but he simply is not. After catching a touchdown in the first preseason game, Benjamin received a lot of fantasy attention. In the true spirit of vividness bias, fantasy owners forget that this is nothing new for Benjamin.  In three of his four NFL seasons, Benjamin caught a touchdown in the first preseason game, but each of those seasons have been less than inspiring.
In 2014, Kelvin Benjamin was one of three rookie receivers to exceed 1,000 receiving yards. However, it was the way he did it that should have raised eyebrows. Per Warren Sharp, Benjamin totaled 56-percent of his total touchdowns, 18-percent of his total catches, and 19-percent of his total yardage when trailing by 11+ points in the 4th quarter. Digging deeper, Benjamin accumulated only 45 catches, 588 yards, and three touchdowns during the first three quarters of games during that season.
---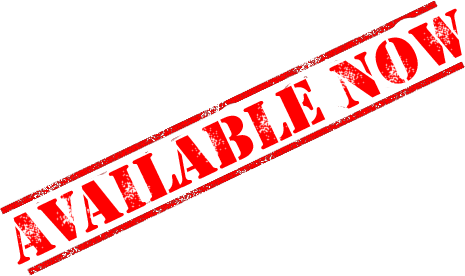 ---
In 2015, Kelvin Benjamin tore his ACL in the preseason and missed the entire year. Last year, Benjamin started off with a strong first two games, totaling 13 receptions, 199 yards and three touchdowns against Denver and San Francisco. For the remainder the season however, Benjamin produced just one WR2 or better PPR week (excluding week 17 when most fantasy seasons are over).
Kelvin Benjamin is currently being drafted at WR29 (ADP 58) in PPR formats and an even higher WR24 (ADP 57) in standard scoring leagues, dramatically influenced by the aforementioned preseason touchdown catch against the Texans.
https://youtu.be/1nPXoyiPXS8
Kelvin Benjamin's fantasy career is the quintessential example of vividness bias.
LeGarrette Blount, RB (Philadelphia Eagles)
Over the past two seasons, David Johnson and LeGarrette Blount are tied for the league lead with 24 rushing touchdowns. Besides the recency bias of Blount's performance, there is also the news of limited competition with the release of Ryan Mathews. But to assume that Blount will perform to the same level that he did with New England is nothing more than vividness bias. The Philadelphia offense is clearly different than New England's, in both success and formations.
LeGarrette Blount carried NFL-high 121 times in I-formation with FB in front of him last year.#Eagles don't even have FB on their roster.

— Evan Silva (@evansilva) August 16, 2017
Blount is slow (4.70 40-yard dash time, 17-percentile).  He also has below average 118.0 (44–percentile) Burst Score and 11.34 (49–percentile) Agility Score. He is moving from a positive game script dominate team to a completely unknown game script team. He projects to be no more than an inside the five yard line grinder, which is a death sentence for fantasy owners. Blount has produced 13 total receptions the last two seasons, so PPR points are nonexistent. While fantasy owners may vividly remember Blount scoring 18 rushing touchdowns last season, his situation this season will be dramatically different. Don't be surprised if he is in a timeshare with Wendell Smallwood by midseason.
Adam Thielen, WR, Minnesota Vikings
If a tree falls in the woods and no one hears it, does it make a noise?  In week 16 of last year, Adam Thielen had the best wide receiver PPR performance with 12 receptions, 202 yards, and two touchdowns. That incredible performance, coupled with the four game suspension of wide receiver Michael Floyd, should equate to a properly valued ADP for Thielen.  The problem is? No one took advantage of that week 16 performance since he wasn't started in any fantasy leagues.
Here is a prime example of vividness bias for an event that fantasy owner didn't see. Thielen currently has an ADP of 134 at WR49.  With the Vikings looking to increase his role, fantasy drafters are missing out on a great buy-low opportunity.  The absence of vividness bias for Adam Thielen actually increases his fantasy value.
Tyreek Hill, WR, Kansas City Chiefs)
No wide receiver had a bigger breakout season in 2016 than Tyreek Hill. The workout metrics savant ranked first among all wide receivers with a 20-percent Hog Rate, which capture the rate of passing game utilization on a per play basis. Hill had nine touchdowns and ranked seventh at the position with 12 red zone receptions, despite not hitting a 60-percent snap share until week nine. The recency bias here is strong, but is masking some major red flags.
Tyreek Hill has never been a consistent producer at the wide receiver position on any level. His 19.4-percent (22-percentile) College Dominator Rating at West Alabama is in direct conflict with last year's production. Hill's 12 red zone receptions were on 15 targets, which equates to an impossible to maintain 80-percent red zone catch rate. We have seen gadget players like Hill flash before. Similar style players like Cordarrelle Patterson and Percy Harvin have shown limited sustainable high level production.  Reaching for a player at current ADP of 45 overall (WR20) is a mistake.
Fantasy drafters would be wise to ignore the strong recency bias of Tyreek Hill's 2016 season, and allow someone else to experience the predictable impending fantasy disappointment.
Martavis Bryant, WR, Pittsburgh Steelers
Sometimes bias transcends one game or even one season. In the case of Martavis Bryant, it goes back to one catch in a Wild Card playoff game against the Cincinnati Bengals. That catch was 595 days ago. Since that time Bryant has a total of nine receptions for 40 yards.  He played the following week in a playoff loss at Denver, and hasn't seen the field since.
Having endured two suspensions due to substance abuse, Bryant is returning to the field for what is his third and final chance to shine. Fantasy drafters are very forgiving folk, especially when a player has the metrics profile of Martavis Bryant. Even during his last full season in 2015, Bryant was a very volatile wide receiver. He had six games of four receptions or less, and only two games of seven receptions or more. Taking a closer look using the RotoViz Game Splits App, Bryant profiles as a completely touchdown dependent player.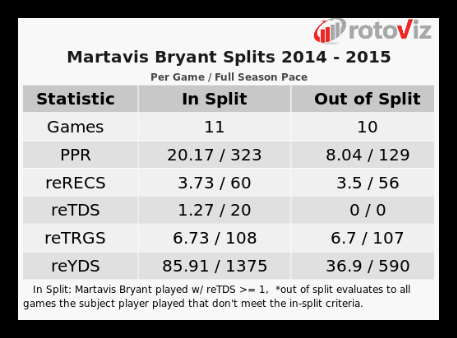 There is no denying Bryant's ability, but there is simply zero history of an NFL player returning successfully from two suspensions. Charlie Kleinheskel of RotoViz outlined this beautifully last year. Currently, Bryant is being drafted as the WR25 on FantasyPros which is a clear example of "my guy" bias.