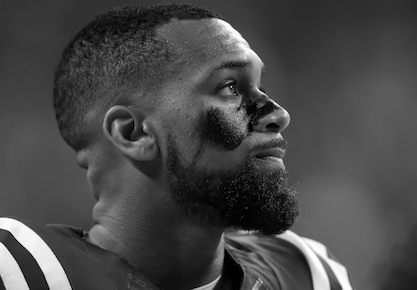 Touted as a popular breakout candidate in 2016, Donte Moncrief managed a quiet but respectable injury-shortened season. Finishing as the No. 76 ranked fantasy WR, Moncrief mustered 30 receptions for 307 yards and seven touchdowns. Shoulder and hamstring injuries held back the third-year receiver as he fell short of expectations alongside the rest of the Indianapolis Colts.
Yet, a light is creeping over the horizon. Moncrief's red zone proficiency paired with prolific quarterback play is reminiscent of Jordy Nelson. Natural talent development and situational forces project to lift the 23-year old Moncrief to new heights, making him one of the best value wide receivers in fantasy drafts next season.
Exceptional Talent
Donte Moncrief's terrific size and silky smooth athleticism also mirrors Jordy Nelson.
The measurables strike an uncanny resemblance. Father time is also on Donte Moncrief's side. Moncrief was one of the youngest players in the stacked 2014 WR draft class, and he is set to turn just 24 in August. Couple this with an evolving rapport with Andrew Luck, the skill should finally match his talent entering his fourth season. Moncrief will enter his prime in the perfect situation to become a fantasy WR1.
Red Zone Prowess
Despite appearing in nine games, and finishing only seven, Moncrief tallied a career-high seven touchdown receptions, tied for 16th in the NFL. Broken down on a per game basis, only Jordy Nelson and Antonio Brown averaged more. The chart below highlights the top ten pass catchers in the NFL last season in TD receptions per game.
Looking closer, Donte Moncrief hauled in six of those TD's inside the opponent ten-yard line, trailing only one player: Nelson, who caught seven. Moncrief demonstrated ridiculous efficiency working inside the opponent's ten, producing those six TD's on six targets. Keep in mind he did this in roughly half a season. Moncrief established himself as the red-zone target all young quarterback's dream of. While T.Y. Hilton may be the WR1 in Indianapolis, his diminutive size does not lend to a strong red zone presence. Couple that with the continued disappointment from TE Dwayne Allen, and Moncrief enters 2017 as Andrew Luck's go-to option near the end zone.
While T.Y. Hilton may sit atop the Colts depth chart, Donte Moncrief will be the better, more reliable fantasy WR next year. Hilton may see more targets and long balls, but with red-zone favoritism and facing consistent No. 2 coverage options, Moncrief will be the man to draft in fantasy. While Jordy Nelson and Hilton are clear-cut studs and deserve a warm place in your hearts, Moncrief holds superior value and the chance to be a fantasy difference maker.
Ideal Fantasy Football Situation
Setting talent aside, the Moncrief-Nelson comparison has two more key similarities, perhaps the most important features of a dominant fantasy WR: an excellent quarterback and a below-average defense. Pass-heavy offenses in Indianapolis and Green Bay provided consistent yardage and points in 2016. Both teams finished the year in the top ten in total passing yards (4202 and 4199) and points per game (25.7 and 27.0).
Moving ahead to 2017, T.Y. Hilton and Donte Moncrief will duplicate the rare feat Jordy Nelson and Davante Adams accomplished last season, two top-tier fantasy receivers on the same offense. Offensive line development should only catapult the Colts' pass catchers to the next level. Pro Football Focus's 25th ranked o-line in 2016 featured seven different starting offensive line combinations. Yet, with four rookies drafted last season alone, and at least two fixtures moving forward in LT Anthony Castonzo and C Ryan Kelly, Luck will have more time in the pocket next season. This means more downfield passes for Moncrief.
Flipping to the other side of the ball, the Colts and Packers defenses gave up over 24 points per game in 2016 (24.5 and 24.3). These leaky defenses are worth their weight in gold in the fantasy world. The Colts held just three teams under 20 points last season, and unless something magical happens, Donte Moncrief and the rest of the offense will need to outscore opponents once again in 2017.
Return on Investment
Durability concerns and an unproven track record should keep Donte Moncrief's stock at modest levels heading into next year. Most early fantasy football rankings for 2017 have Moncrief at outside the top-24. On the other hand, T.Y. Hilton and Jordy Nelson are often ranked among the top-10 fantasy wide receivers. Moncrief will surmount them both. With a clean bill of health, improved offensive line, and top cornerbacks focused on Hilton, Moncrief should be at the top of 2017 fantasy sleeper lists. While the other guys in your league reach for big name receivers in the early rounds, sit back, smile, and grab Moncrief with confidence.