Height: 5-11
Weight: 196
Age: 20.6
40-Yard Dash: 4.31 (99th-percentile)
Height-adjusted Speed Score (HaSS): 110.5 (90th-percentile)
Burst Score: 122.4 (58th-percentile)
Agility Score: 11.42 (22nd-percentile)
Catch Radius: 9.99 (47th-percentile)
Best Comparable: Randall Cobb
Curtis Samuel declared for the NFL Draft after three years at Ohio State where he became the only player in school history to accrue 1,000 yards both rushing and receiving. He accomplished that feat as a hybrid player for the Buckeye offense. Not unlike how Percy Harvin was utilized by Urban Myer at Florida, Samuel was spotted all over the field: running back, slot receiver, and kick returner.
During this first two seasons at Ohio State, Curtis Samuel saw limited action as a backup running back to Ezekiel Elliott. In fact, he dropped from 58 carries as a freshman, down to only 39 offensive touches as a sophomore. Ohio State's primary running back last year was Mike Weber with 182 carries, but Samuel got nearly 100 totes. He was also moved into the slot to play some receiver. In all, Samuel rolled up more than 1,600 yards from scrimmage as a junior and scored 15 touchdowns. That breaks down into 97 carries for 771 yards and eight rushing touchdowns, plus 74 catches for 865 yards and seven touchdowns as the team's leading receiver.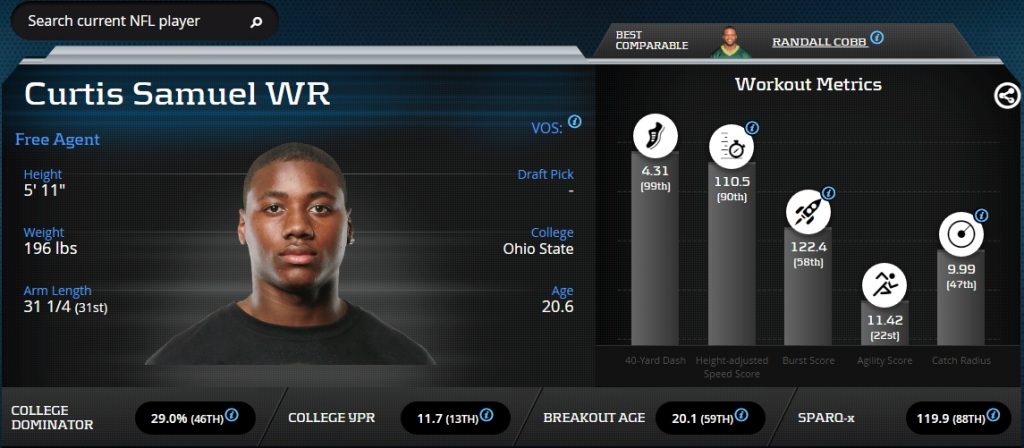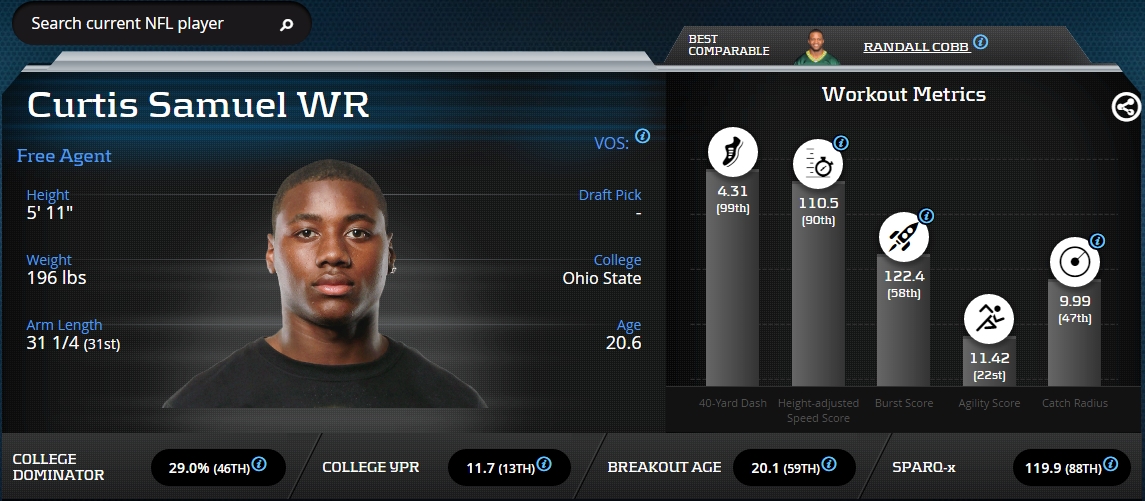 Curtis Samuel Advanced Stats & Metrics Profile
At the NFL Scouting Combine, Curtis Samuel participated with the wide receiver group, the position that scouts agree is best suited for him to play at the next level. He blazed a 99th percentile time in the 40-Yard Dash, but struggled with the agility drills like many slot receivers.
The team that selects Curtis Samuel needs to have a specific plan on how to use him effectively. His value is derived from being multi-dimensional on offense, as well as on special teams, and for the occasional gadget play. Those types of touches are not unlike how Kansas City used Tyreek Hill last year, or what we've seen from Green Bay with Randall Cobb; who happens to be Samuel's best comparable player on PlayerProfiler.com. Samuel is a super-fast, ultra-versatile receiver with numerous successful NFL comps on his advanced stats and metrics profile. After the top talents are off the board, Samuel will be the most intriguing high-ceiling player available in fantasy football dynasty rookie drafts this Spring.