It's hard to believe that almost 5 years have passed since the Washington football team signed a hard-nosed intergalactic badass by the name of Kirk Cousins — a true G that carries the swag of Star-Lord and the devil-may-care decision making of B.A. Baracus.
All kidding aside, Kirk Cousins is a schoolboy but he's turned out to be an above-average QB that has shed the "game manager" persona that plagued him during his time as a prospect and then later as a bench-riding backup.
And as the 2016 NFL Draft unfolded, it appears that a Kirk Cousins clone has emerged on the shores of Lake Erie by way of California.  His name is Cody Kessler.
Enhance 2011 to 2015: The College Production
The first thing that immediately jumps out when comparing Cody Kessler and Kirk Cousins is the college production and similar draft position.  Not only do we see two quarterbacks that rely more on their arms than their legs, we also see average completions per game too. Note: average and consistent can equate to very good in the NFL.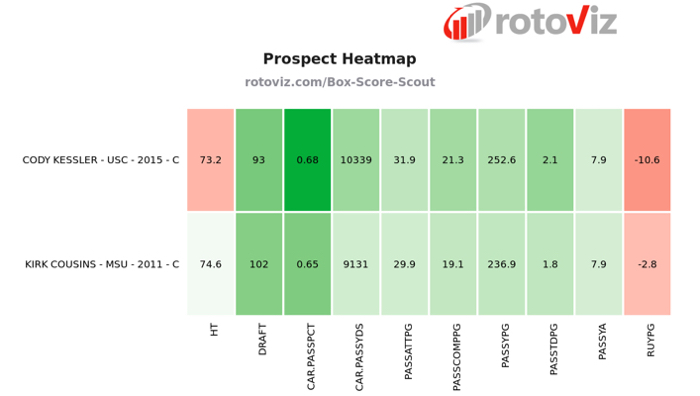 While neither threw the ball 42-plus times per game like a young Mega Buster-enabled Drew Brees, it's still hard to view either as having the passing profile of "…only a game manager."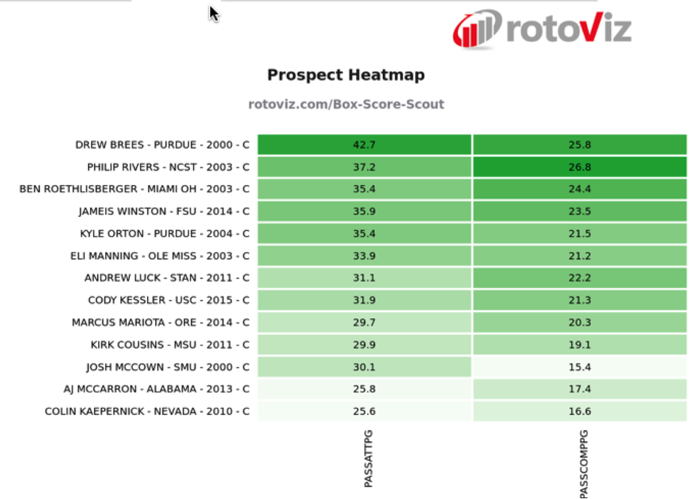 More Human than Human: Height, Weight, Speed
When scientists began building the Kirk Cousins replicant known as Kessler Model 6 they decided to keep their lackluster College QBR almost identical but they did have to sacrifice arm strength for the sake of larger hands and a significantly better SPARQ-x score.
While 55 MPH to 59 MPH is noticeably worse, 55 MPH throw velocity is not indicate that Kessler possesses a "weak arm" by NFL standards.  While many in the 55 MPH Club aren't wearing Super Bowl rings, a few names stand out that are NFL starting caliber….though Cody Kessler does have the second lowest QBR of the crew.  Sorry, Cody.  I'm trying here.
The Narrative 
The reason this terrible Blade Runner  started was because of one man, Robert Griffin III.  Much like Kirk Cousins, Cody Kessler has joined a team that has a bottom ranking offense/defense with the possibility of RGIII under center.  Yes, I know these are two very different iterations of RGIII, but bear with me.
My thought was "Man, wouldn't it be sad if Robert Griffin III was usurped by another QB after being overhyped – yet again!" and then in walks Cody Kessler in Round 3 of the 2016 NFL Draft.  And here we are, RGIII about to be cut down by Kirk Cousins in another form.
Finally, if we look at the end of 2014 Washington season – the season that lead to Kirk Cousins being installed as the starter in 2015 – it's eerily similar to the team ranks that Kessler has as his jumping off point in Cleveland.
Let us quickly take a trip down Narrative Street.  If we look back at Washington's 2013 season, we see a team that not only finished last in the NFC East but also ranked 23rd in points scored and 30th in points allowed.  Going into 2014, it was clear they needed to improve but that season ended again with them at the bottom of their division plus 30th in points scored and 29th in points allowed.  Calling that team "anemic" would be an understatement.
Now when you look at Cleveland's 2015, it's just as apparent that there is no place to go but up, and here's where the real narrative spinning comes in.  If Cleveland ends 2016 in a place as bad (or worse) from where they are today, it feels like the door cracks wide open to a potential QB controversy and here is when KesslerBot takes the reigns and starts firing off calculated, albeit choosy TDs.
Conclusion
While I don't think Cody Kessler is amazing, the similarities to Kirk Cousins are pretty uncanny.  I'm not rushing out to drop someone great for him, but if I have the space on my team, I'm definitely going to throw a few bucks at the possibility of cashing in on this Kirk Cousins clone.
https://vine.co/v/eYBbTpLquPd