Height

5' 8"

Weight

197 lbs

BMI

30.0

(49th)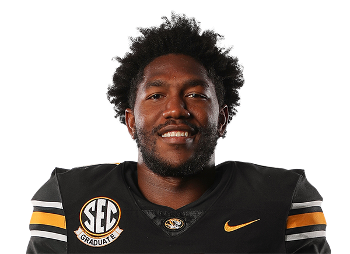 Draft Pick

6.18

2022

College

Missouri

Age

22.4
Workout Metrics
40-Yard Dash
Speed Score
Burst Score
Agility Score
Bench Press
High School Workouts
40-Time
Speed Score
Vertical Jump
20 Yard Shuttle
Scouting Grade
College Dominator

College YPC

College Target Share

SPARQ-x
Tyler Badie Bio
Tyler Badie was rated a 3-star prospect coming out of high school. His speed, elusiveness, and production earned him a position at Mizzou. The running back from New Orleans, LA would put the entire conference on notice that he was there to make a name for himself. He is the first Missouri Tigers running back to make an All-America team since the late 90s. Badie was named to the AP All-America second team. Let's also take a second to note that Badie is one of the smartest running backs in this draft class. He was named the SEC scholar-athlete of the year and had a GPA of 3.83. Wow. Read More
Tyler Badie College Stats
Year

Year

Games

Games

Rush Attempts

Rush Atts

Rushing Yards

Rush Yrds

Total Touchdowns

TDs

Receptions

Rec

Receiving Yards

Rec Yrds

Target Share

Tgt Share

Age

Age

School

School

2019

10

(RB)

48

242

(4 tds)

6

28

(42 tgts)

333

11.6%

20

Missouri

2020

10

(RB)

48

242

(4 tds)

6

28

(42 tgts)

333

11.6%

21

Missouri

2021

12

(RB)

268

1,604

(14 tds)

18

54

(76 tgts)

330

16.7%

22

Missouri
Player Popularity Index (PPI) ranks PlayerProfiler page views over the last 30 days. For example, the No. 1 PPI player page is the most frequently visited page in recent weeks.
Who is Tyler Badie
Let's get the blemishes out of the way. Tyler Badie was listed at 5-8 195lbs. Not exactly an oversized back that can handle a ton of work without getting dinged up. It seems that the coaching staff at Mizzou recognized this too. Larry Rountree III played ahead of Badie mostly due to his grinder size of 5-11 211. However, like most great players, they find a way to get on the field. In 2018, Badie sat behind Larry Rountree III. He established himself as a multifaceted back. He returned kicks, caught passes, and ran from the backfield. He showed flashes of efficiency with 7.5 ypc against South Carolina and 6.8 ypc against Alabama. He ended the year with 437 yards at a 4.9 ypc. In 2019, he developed in the passing game significantly. Where he only had 12 rec for 130 yards as a freshman, he improved to 32 rec for 356 yards. Rountree III still commanded the lion's share of rush attempts, but Badie showcased his usefulness returning kicks on special teams again.
2020 kicked off the first year of the Eli Drinkwitz regime. Badie was still the team's 3rd down running back, but he took a step back in rush attempts, 48, compared to his previous two seasons (89 attempts in 2018 and 108 attempts in 2019). Being the first year of a new head coach, the first year of the pandemic, and Rountree needing to up his draft stock, you can write off this 2020 season as being an outlier. Even so, he put up 333 yards through the air on 28 receptions. Let's move on to 2021. 2021 would be the year that Tyler Badie truly broke out in all phases of the game. With Larry Rountree III in the NFL, Badie commanded 268 rush attempts and amassed 1,612 yards on the ground. Those 1,612 rushing yards would make him the SEC rushing leader and number 3 in the nation across all conferences. Not only that, he tied Brian Robinson's rushing touchdown total of 14. He also put up 330 yards through the air and 4 touchdowns. Invited to the Senior Bowl, he quickly became a fantasy favorite, but he'll need to be more explosive to live up to his potential.
Tyler Badie was selected in the 6th round of the 2022 NFL Draft by the Baltimore Ravens. Badie won't start in 2022 and probably won't make the roster unless they cut Justice Hill. With Dobbins as the assumed starter and Edwards coming back just to make things worse, Badie's ceiling will remain capped throughout his rookie contract.
News & Advice
Get Tyler Badie news, rankings updates and draft pick advice, straight to your inbox!