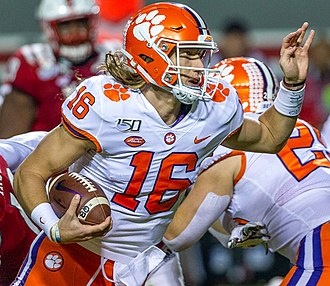 Born in Knoxville, Tennessee, Trevor Lawrence moved with his family to Cartersville, Georgia when he was six years old. He went on to play football and basketball at Cartersville High School, where he led the Cartersville Purple Hurricanes to two state championships. He also amassed 13,902 passing yards and 161 passing touchdowns, both records for high school football in the State of Georgia. He was a five-star recruit coming out of high school and committed to Clemson in 2016.
Trevor Lawrence began his true freshman season splitting time with Kelley Bryant, but soon secured the starting quarterback job in week six of that season. He passed for 3,280 yards and threw for 30 touchdowns to only four interceptions, leading Clemson to a National Championship. He was the first true freshman to lead a team to a national title since 1985. While Lawrence was unable to secure another championship during his remaining two years at Clemson, he continued to excel as a signal-caller. He averaged at least nine yards per attempt his sophomore and junior seasons and finished with a 87.3 College QBR.
After a COVID-shortened junior season in which he missed two games after testing positive for the virus, Trevor Lawrence declared for the 2021 NFL draft. He did not test or measure at the NFL Combine after opting to have surgery to repair a torn labrum in his non-throwing shoulder. At Clemson's Pro Day, Lawrence measured in at 6 feet 6 inches and 220 pounds, an ideal size for one of the most highly regarded quarterback prospects of all-time. He did not have his hand size measured, but ran a 4.61 40 time, presumably with his trademark long blonde hair flowing behind him.
Trevor Lawrence was selected first overall by the Jacksonville Jaguars in the NFL Draft, and was immediately installed as the starter for the 2021 season. Unfortunately, Lawrence's rookie season failed to live up to the hype of his prospect profile. He threw more interceptions than touchdowns and led all quarterbacks with 50 Interceptable Passes. While he finished among the top ten among quarterbacks in Air Yards, Lawrence's Deep Ball Completion Percentage (31.7%) was near the bottom in the league. He also did not get much help from his supporting cast, who led the league in drops with 43. This led to a disappointing fantasy ranking of QB29 in fantasy points per game.
Trevor Lawrence is the Jaguars franchise quarterback for the foreseeable future as he plays out his rookie contract. Jacksonville hired Doug Pederson ahead of the 2022 season, as well as signing free agent pass-catchers Christian Kirk, Evan Engram and Zay Jones. Over the course of the season, the Jaguars became one of the most potent passing offenses in the league. They went 6-1 after their bye and Lawrence found his footing as a true NFL passing threat. His True Passer Rating was 95.1 (No. 6) and he finished No. 7 with 127.5 Estimated Points Added on the season. Now with Calvin Ridley on board, expectations are high for Lawrence entering his third season as a pro.