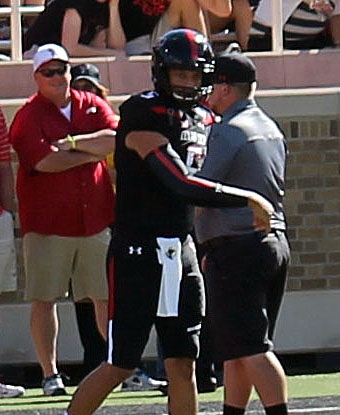 Patrick Mahomes is the starting quarterback for the Kansas City Chiefs. Mahomes is the son of former MLB pitcher Pat Mahomes. He played football and baseball at Texas Tech, but, once drafted by the Chiefs, quit baseball to focus on football. Mahomes led all NCAA Division I players in pass yards (5,052) and total touchdowns (53) during his age-20 junior season (2016). After coming out of college early, Mahomes was selected No. 10 overall by Kansas City in the 2017 NFL Draft. The Bears selected Mitchell Trubisky No. 2 overall, and the Texans selected Deshaun Watson No. 12 overall that year.
Patrick Mahomes played behind Alex Smith as a rookie, inexplicably starting just one game that season. In his second season, however, Mahomes broke out, throwing for a career-high 5,097 yards and 50 touchdowns. He became the only quarterback in history to throw for over 5,000 yards in a single season at both the NFL and college level. During his record-setting 2018 season, Mahomes finished No. 2 in Money Throws (45), and first in Deep Ball Attempts (91), Adjusted Yards Per Attempt, AY/A (9.2), and Expected Points Added (EPA, +312.8). He also led all quarterbacks in fantasy points that season, posting 26.7 points per game. This was all while recording 272 rush yards and two rushing touchdowns.
In 2019, Mahomes showed signs of humanity, spraining an ankle in Week 1, then missing two games with a dislocated patella (knee cap) Week 7. He overcame adversity and captained the Chiefs to a Super Bowl LIV win, defeating the San Francisco 49ers 31-20. Though he threw for less than 300 yards and two interceptions in the Super Bowl, Mahomes' clutch throws and leadership helped him secure his first Super Bowl MVP Award.
The Chiefs saw enough in Mahomes' first three seasons to make him the then-highest paid player in the NFL. In July of 2020, they signed him to a 10-year, $450 million contract. The deal includes a $10 million signing bonus and $141 million guaranteed money. The vast majority of the contract value exists in the form of annual roster bonuses, peaking at $49.4 million in 2027. He is signed through 2031 with a maximum cap hit of $60 million occurring in 2027.
Fully paid and fully healthy during the 2020 regular season, Mahomes finished No. 2 to Deshaun Watson in passing yards and second to Tom Brady in Money Throws. While he also finished No. 2 in Total QBR, his peripheral advanced metrics underwhelmed. His 7.4 Accuracy Rating ranked No. 15, while his Deep Ball Completion Percentage and Pressured Completion Percentage were both outside the top 20. After suffering a concussion, playing through turf toe, and losing both starting tackles during the 2020 NFL playoffs, Mahomes and the Chiefs finally succumbed to the Buccaneers in Super Bowl LV by the score of 31-9. Pressured relentlessly, he posted a forgettable 195 yards with zero touchdowns in the big game.
Mahomes picked up where he left off in 2021 but dialed back some of his signature air-raid style counting stats in favor of maximizing efficiency. He finished No. 1 in the NFL in Accuracy Rating (8.1) and Expected Points Added (EPA, +198.8). He also set a career-high with 381 rushing yards to compliment 4,839 passing yards (477 yards short of Tom Brady's league-leading total). The same day Brady lost a heartbreaking playoff comeback bid versus the Los Angeles Rams, Mahomes led Kansas City over Josh Allen and the Buffalo Bills in one of the most thrilling NFL games of all time.
The Chiefs traded one-of-a-kind receiving threat Tyreek Hill in the 2022 offseason and many wondered if the Chiefs were going to need to re-tool on offense. Instead, Mahomes and Andy Reid went to work redesigning an offense that utilized Travis Kelce and a middling group of wide receivers to plow through the AFC and reach their third Super Bowl in four seasons. They won their second in that span, and the Reid-Mahomes combo solidified itself as the offensive duo to beat in the league.