Height

6' 5"

Weight

250 lbs

Arm Length

32 5/8"

(35th)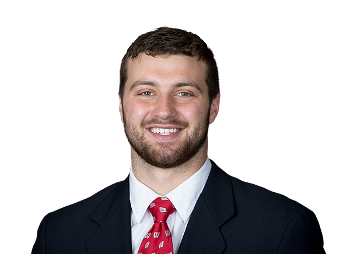 Draft Pick

4.24

2022

College

Wisconsin

Age

23.3
Workout Metrics
40-Yard Dash
Speed Score
Burst Score
Agility Score
Catch Radius
High School Workouts
40-Time
Speed Score
Vertical Jump
20 Yard Shuttle
Scouting Grade
College Dominator

College YPR

Breakout Age

SPARQ-x
Jake Ferguson Bio
There are three guarantees in life: death, taxes, and Wisconsin Badgers running the football. Wisconsin's run game has always been their offensive identity and it's why Jake Ferguson's stats won't jump off the page like some of the other tight ends in this class. We can explain away his muted production. In 2018 and 2019, his running back was Jonathan Taylor. In 2020, the Badgers had a down year, but Ferguson still managed to lead the team in receptions (30) and receiving yards (305). In Jake Ferguson's final season, he had a team high 46 receptions in spite of the Badgers finding their next workhorse back in Braelon Allen and a decrease in pass attempts per game. Read More
Jake Ferguson College Stats
Year

Year

Games

Games

Receptions

Recs

Receiving Yards

Rec Yds

Target Share

Tgt Share

Catch Rate

Catch Rate

Special Teams Yards

Special Teams

Age

Age

School

School

2018

13

(TE)

36

(52 tgts)

456

(12.7 ypr)

17.1%

69.2%

-

20

Wisconsin

2019

14

(TE)

33

(38 tgts)

407

(12.3 ypr)

10.8%

86.8%

-

21

Wisconsin

2020

7

(TE)

30

(44 tgts)

305

(10.2 ypr)

21.8%

68.2%

-

22

Wisconsin

2021

13

(TE)

46

(65 tgts)

450

(9.8 ypr)

16.3%

70.8%

0

23

Wisconsin
Player Popularity Index (PPI) ranks PlayerProfiler page views over the last 30 days. For example, the No. 1 PPI player page is the most frequently visited page in recent weeks.
Who is Jake Ferguson
Overall, Ferguson will be a solid number two tight end in the NFL. His 4th round NFL draft projection is indicative of the utility he'll be able to provide. You could do worse taking a swing on a guy who broke out as a freshman and averaged a 16.45% target share on a run first team. His unimpressive workout metrics and lack of collegiate production forewarn how he'll be used in the NFL.
Jake Ferguson was selected in the 4th round of the 2022 NFL Draft by the Dallas Cowboys. Ferguson should be able to beat out Jeremy Sprinkle for the number two role behind Dalton Schultz. Unfortunately Schultz had become a startable asset and therefore will mute whatever expectations we had for Ferguson. Furthermore, he's a risky pick because of the lack of college production.
News & Advice
Get Jake Ferguson news, rankings updates and draft pick advice, straight to your inbox!