Height

6' 1"

Weight

215

Hand Size

9 3/4"

(61st)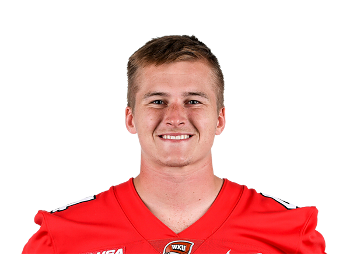 Draft Pick

4.32

2022

College

Western Kentucky

Age

23.1
Workout Metrics
40-Yard Dash
Burst Score
Agility Score
Throw Velocity
Wonderlic Score
College QBR

College YPA

Breakout Age

SPARQ-x
Bailey Zappe Bio
When you think of a quarterback that led the NCAA in passing yards and passing touchdowns, who comes to mind? Certainly an FCS quarterback that transferred to a group of 5 school isn't your first thought. You probably think of Joe Burrow, who set the record for passing touchdowns in a single season back in 2019. However, that's exactly what Bailey Zappe did. Read More
Bailey Zappe College Stats
Year

Year

Games

Games

Pass Attempts

Pass Atts

Passing Yards

Pass Yds

Yards Per Attempt

YPA

Completion Percentage

Comp %

Passing Touchdowns

Pass TDs

Rushing Yards

Rush Yds

Age

Age

School

School

2021

14

(QB)

687

5,967

8.7

69.10%

62

(11 ints)

17

22

Western Kentucky
Player Popularity Index (PPI) ranks PlayerProfiler page views over the last 30 days. For example, the No. 1 PPI player page is the most frequently visited page in recent weeks.
Who is Bailey Zappe
The 3 sport athlete from Victoria, Texas native started his collegiate career at the FCS level after receiving no offers from any FBS programs. During his time at Houston Baptist, he showcased his talent as a passer to the tune of 73 touchdowns and 8,466 yards during his 3 years at Houston Baptist. His football IQ is evident on the field, and is supported by him being named to the Southland Conference Commissioner's Academic Honor Roll for 3 years in a row.
With the 2020 season cut short due to the pandemic, Zappe had to choose whether to declare to the NFL draft or use his additional year of elligibility to up his draft stock. Zappe transferred to Western Kentucky in 2021, upping the talent around him, but also his level of competition. His offensive coordanitor at Houston Baptist, Zac Kittley, followed him to Western Kentucky where he set the record for passing yards (5,967) and passing touchdowns (62) in a single season. He was named the 2021 Conference USA Most Valuable Player and only failed to eclipse 350 passing yards in 2 of his 14 games played.
Bailey Zappe was selected in the 4th round of the NFL 2022 Draft by the New England Patriots. Though it seems puzzling, staunch Zappe truthers will spin the narrative that he was brought in to displace Jones. However, Patriots Director of Player Personnel Matt Groh mentioned that they saw Zappe as a value and that the Patriots take players who offer value at valuable positions. Probably less relevant in fantasy than in real life, he's not a guy that's going to see time in 2022 unless Mac Jones has an unexplainable implosion.
News & Advice
Get Bailey Zappe news, rankings updates and draft pick advice, straight to your inbox!