The Tennessee Titans have begun their rise. After finishing 2016 with a 9-7 record and narrowly missing the postseason, the Titans and superstar quarterback Marcus Mariota boasted a top-notch running game courtesy of DeMarco Murray, and look to further supplant that success in 2017.
Second year running back Derrick Henry appears to be on the rise, and the Titans made plenty of noise in the first round of the 2017 NFL Draft with the selection of highly touted wide receiver Corey Davis with the fifth overall pick.
While Derrick Henry and Corey Davis will receive plenty of praise this offseason throughout OTA's and training camp, the most interesting of the Titans' offensive class is wide receiver Taywan Taylor, who the Titans took in the third round of this year's draft with the 72nd overall pick.
Entering an already crowded wide receiver corps that also features Tajae Sharpe, Rishard Matthews, one would suggest that Taywan Taylor might be looking at uphill sledding early in his NFL career. That being said, allow some cause for new speculation.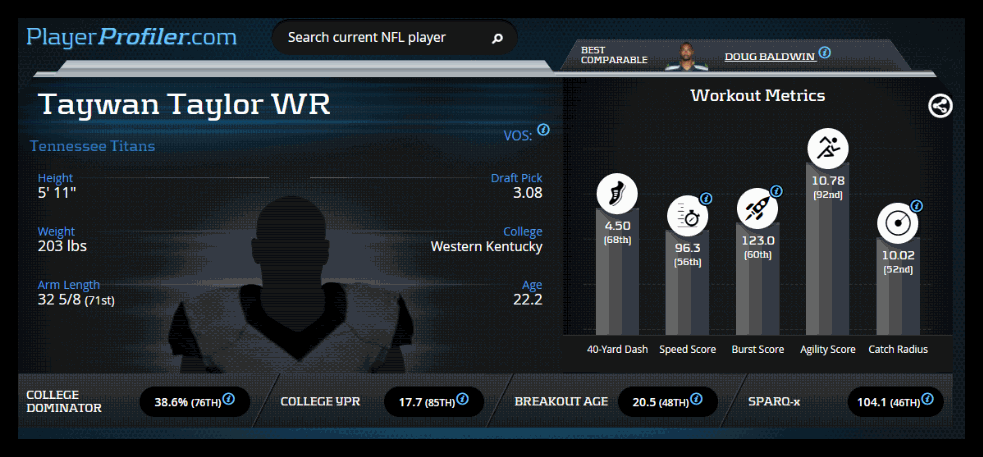 Taywan Taylor Advanced Stats & Metrics Profile
Incumbent wide receivers Tajae Sharpe and Rishard Matthews both possess lesser athletic metrics than Taylor, who brings to the table a 4.50 40-yard dash time (68th-percentile), 123.0 Burst Score (60th-percentile) and 10.78 Agility Score (92nd-percentile) while also carrying a 17.7 college yards per reception (85th-percentile) throughout his career at Western Kentucky.
Compare that to the far slower, less agile Rishard Matthews, and we already begin to have a case for Taywan Taylor eclipsing one of the aforementioned two players who took a majority of the snaps at wide receiver for Tennessee in 2016.
Tajae Sharpe is on pace to be a potential one-hit wonder with the Titans, after causing a stir following an impressive rookie training camp in 2016.
Thought to be a rising star at wide receiver for the Titans in 2016, Tajae Sharpe quickly came down to earth at the start of the regular season, finishing the year with the highest snap share among the team's wide receivers (80.4-percent), while only amassing 83 targets (no. 55 overall) on the season. He finished the season with 41 receptions (No. 67) and 522 receiving yards (No. 72), while hauling in only two touchdowns.
Tajae Sharpe looks like a player on the verge of being grounded with limited production in his rookie season and an underwhelming athletic profile: 4.55 40-yard dash (48th-percentile), 91.8 Speed Score (40th-percentile), and 114.0 Burst Score (16th-percentile). Meanwhile it is wheels up for Taywan Taylor, who is reportedly already making impressive strides in OTAs.
Taywan Taylor's rise began in 2015 with the Western Kentucky Hilltoppers after spending his first two seasons at college in a limited role. In his final two years, Taylor secured 184 receptions for 3,197 yards and 34 touchdowns, including a 98/1,730/17 line in his senior season. Taylor finished his career with a with a 38.6-percent College Dominator Rating (76th-percentile) and at 5-foot-11, 203-pounds, has the size to matchup with NFL cornerbacks.
For the Titans, Corey Davis is an unquestionable starter come Week 1. His 6-foot-3, 209-pound frame makes him a perfect target for one of the most efficient red zone quarterbacks in the league, Marcus Mariota. After failing to make strides in the passing game in 2016, finishing the season 25th in total passing yards, Corey Davis will be a welcomed addition to the Titans in the upcoming season.
---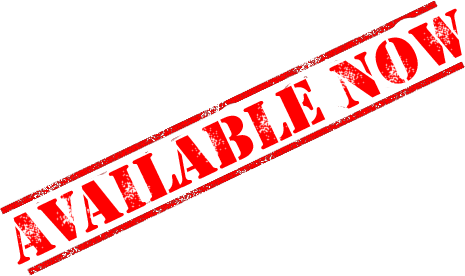 ---
Now the Titans will look to phase out the receivers who failed to produce last season, and instead should begin an early insertion of Taywan Taylor in the passing game to put their passing game over the top, both literally and figuratively.