Thank you, Eric Rydholm.
Thank you, Eric Rydholm, the producer of ESPN's now ubiquitous Pardon The Interruption (PTI) program, for birthing today's contrived sports media argument culture catering to the most attention-deficient, over-stimulated members of the sports public.
Montana or Marino?  You mush choose!  NOW!
Manning or Brady?  You mush choose!  NOW!
Wentz or Goff?  You mush choose!  NOW!
Why would two scowling sports writers even consider conducting a genuinely upbeat, in-depth player evaluation?  Why risk a convergence of opinion when the television audience prefers contention?  Why would a sports analyst  risk offering real insight when he or she can stridently support a disingenuously polar opposite position with confirmation bias-driven data-mining, high level generalizations, and unfalsifiable coaching narratives?
The PlayerProfiler.com reader will experience very few contrived player dichotomies and the RotoUnderworld Radio listener will experience precious few contrived sports arguments.  Our platforms are proudly devoid of manufactured conflict and click-bait content.
This is all to preface: The Battle of The Michael Thomas.  Once per season, we will wade into the sports sewer, select two players to arbitrarily compare, and pick a winner.  Last season, Aaron Butler incorrectly picked Tevin Coleman over Devonta Freeman.  This year, we juxtapose two players solely based on birth certificate.  Now, let's go and make Eric Rydholm proud!
Bad Michael Thomas
Calling Bad Michael Thomas (BMT) "bad" is an obvious oversimplification.  While college football expert Jon Moore from Rotoviz helped to coined the phrase "Bad Michael Thomas" on the Football Diehards Podcast, Moore believes BMT has the production history and physical tools to be a successful NFL receiver.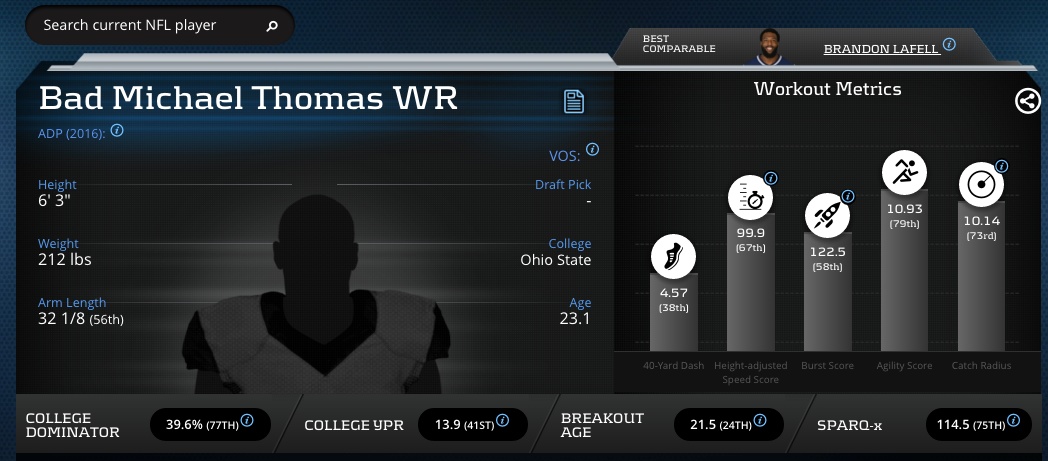 Bad Michael Thomas Advanced Metrics Profile
Bad Michael Thomas possesses above-average production, below average YPR, above average agility, below average speed.  Though he stands 6-3, Thomas' profile looks a lot like the typical NFL slot receiver.  BMT is now the same height and weight as Jordan Matthews coming out of Vanderbilt. However, Matthews was far more dominant and considerably faster.  Matthews has the profile of an outside receiver in the NFL, while Thomas profiles as a inside receiver at the next level.  Indeed, Bad Michael Thomas deserves the "pumped up slot receiver" label that the #FootballTwitter take-regurgitating drones incorrectly assigned to Jordan Matthews.
But this is no time for realistic expectations.  It's April, which means it's NFL Draft analysis hyperbole month.  This Bad Michael Thomas #DraftTwitter gem came directly from the NFL Draft Scout, Matt Miller.
I'd never found a comparison I really liked for Michael Thomas (OSU) until tonight…

Dez Bryant.

— Matt Miller (@nfldraftscout) April 2, 2016
Why write things that make sense on Twitter.com when you can write things that don't make sense?  While their 40-timers were identical, Dez Bryant showed great burst with limited lateral quickness.  Bad Michael Thomashas average burst paired with excellent size-adjusted agility (10.93 Agility Score is one of the best among 6-2 or taller WRs).  Measurables aside, here is how Dez Bryant and Bad Michael Thomas production compared:
Dez Bryant
• College Dominator Rating: 62.5-percent (99th-percentile)
• College YPR: 17.0 (78th-percentile)
• Breakout Age: 18.8 (92nd-percentile)
Bad Michael Thomas
• College Dominator Rating: 39.6-percent (77th-percentile)
• College YPR: 13.9 (41st percentile)
• Breakout Age: 21.5 (24th-percentile)
Clearly, Matt Miller does not use PlayerProfiler.com.  Here are three WRs with similar workout metric proportions to Bad Michael Thomas.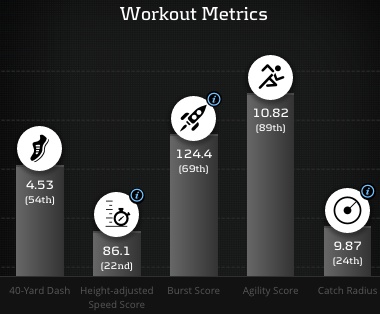 The wide receivers were Michael Campanaro (No. 1), Justin Hardy (No. 2), and Doug Baldwin (No. 3) — a who's who of NFL slot receiver prototypes:
Good Michael Thomas
Taking the Eagles parallel further, while Bad Michael Thomas is the big slot WR prototype that was improperly assumed of Jordan Matthews, the Good Michael Thomas (GMT) also projects to be an inside receiver at the NFL level — a superior Nelson Agholor.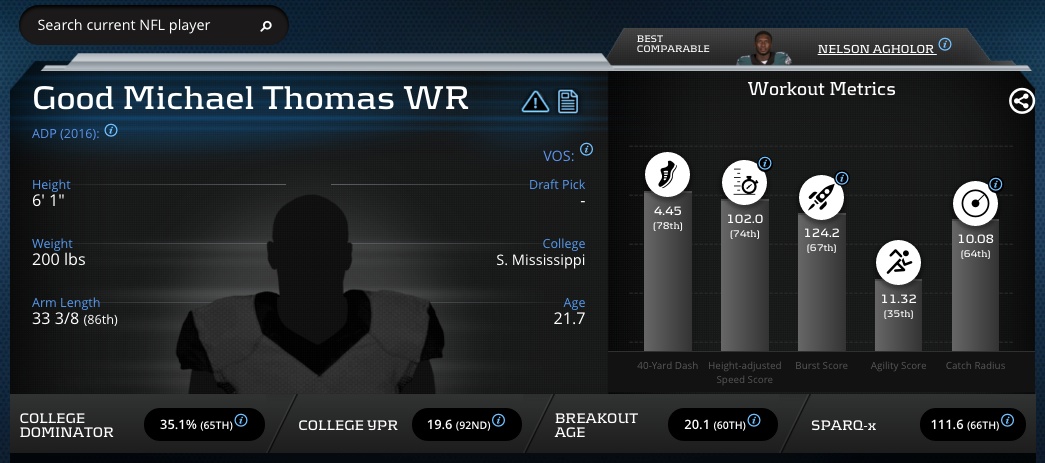 Good Michael Thomas Advanced Metrics Profile
Gordon McGuinness from Pro Football Focus believes Good Michael Thomas can develop into a top NFL wide receiver after he strung together an incredible number of spectacular, NFL-caliber catches last season.
Michael Thomas, the Southern Miss version https://t.co/ZPygL8HpfY

— Steve Palazzolo (@PFF_Steve) March 9, 2016
Working against Good Michael Thomas is the fact that he was not invited to the NFL Scouting Combine.  As Rotoworld's Rich Hribar noted on the Football Diehards Podcast, that fact alone implies that only a handful of NFL teams have been tracking Michael Thomas' Southern Mississippi career with even a modicum of interest.  Given this, Thomas projects to be a day-3 pick, which will mute his year-1 snaps unless he miraculously finds himself on a talent-depleted WR depth chart due to injury or roster mismanagement.
Working in Good Michael Thomas' favor is his special teams prowess.  Thomas logged an incredible 600-plus return yards in his first year at Southern Mississippi.  Assuming he is selected in the back half of the draft, the special teams abilities should allow Good Michael Thomas to secure a spot on a 53-man roster at the conclusion of training camp and be available when called upon as the 2016 unfolds and incumbent players get hurt or underperform.
Alright Southern Miss Michael Thomas fans, what does he do better than OSU one?

— Buxton Believer (@JoshMenschNFL) March 15, 2016
Poor Buxton got this question backwards.  Bad Michael Thomas was the one invited to the NFL Scouting Combine, BMT is being compared to Dez Bryant (LOL), and BMT projected to be a day 1-2 pick in the NFL.  The onus is on Bad Michael Thomas to demonstrate a superior skill set to Good Michael Thomas, not vice versa.  By almost every measure, however, BMT looks like the lesser Michael Thomas.
It gets worse.  Bad Michael Thomas is already old.  Beyond his age on draft day, BMT's production flatlined during a hyper-critical time period in the WR development cycle — a damning indictment.
• 2014: 54-receptions, 799-yards, 9-touchdowns
• 2015: 56-receptions, 781-yards, 9-touchdowns
Good Michael Thomas' improvement stands in stark contrast:
• 2014: 41-receptions, 592-yards, 5-touchdowns
• 2015: 71-receptions, 1391-yards, 14-touchdowns
The Good Michael Thomas was more productive at an earlier age and demonstrated superior all-around football capabilities throughout his college career compared to the equally athletic Bad Michael Thomas.  Counterintuitively, the bigger, badder, hype-fueled Michael Thomas projects to be an NFL slot receiver.  Meanwhile, the forgotten Michael Thomas projects to be a versatile all-field NFL playmaker.