The best part about fantasy football is the many different perspectives you can get on a single player.  At PlayerProfiler, we believe in informing our readers as much as possible and allowing them to make their own conclusions.  Recently, Aaron Butler released a well constructed argument as to why Keenan Allen is overrated this season.  The argument was smart, succinct, and informative.  However, I think Aaron is wrong.  Here's why.
Early Success
We all know that Keenan Allen had a down year last season. That much is impossible to dispute. However, he has still produced at an all-time level for his age.
Keenan Allen recorded over 1,800 yards and 12 TDs by age 22.  Using a Pro-Football Reference search, I was able to find any other receivers to break 1,700 yards and 10 TDs before their 23rd birthday.  The list is incredibly short as you can see, and contains a rather impressive peer group.  I don't think much has to be said for the careers of Randy Moss and Larry Fitzgerald. Josh Gordon had over 1,600 yards as a sophomore before getting himself suspended multiple times. Jeremy Maclin is coming off a WR1 season, and Hakeem Nicks probably would have been a perennial WR1 had lower body injuries not sucked away his explosiveness.  Keenan Allen is in good company.
Target Cog
The real reason you should be investing in any WR is his role in the team's offense. Fortunately, Keenan Allen is a major cog for the Chargers.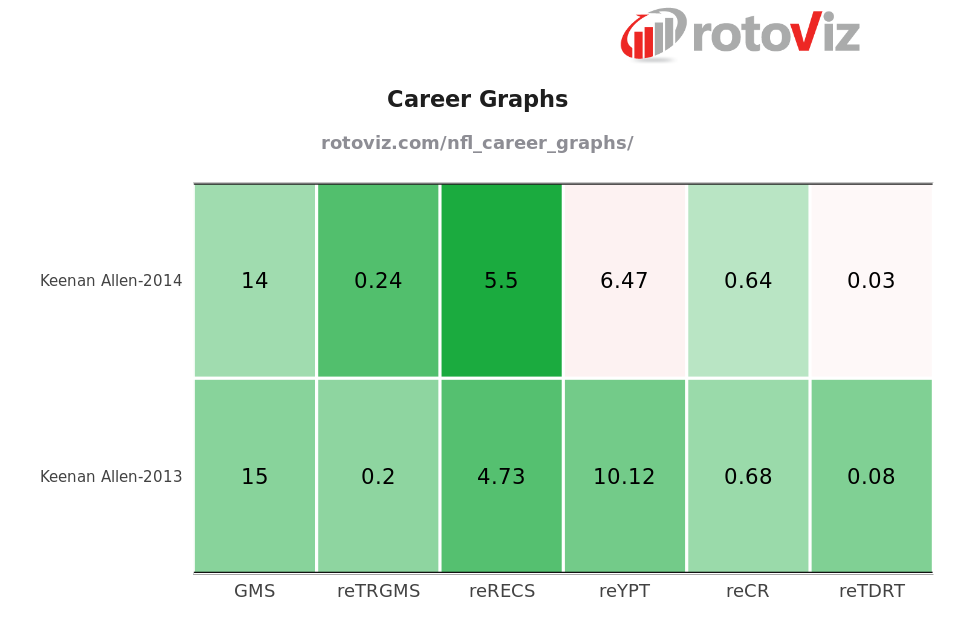 The RotoViz Career Graphs App shows us that Keenan Allen saw a four percent increase in target market share from his rookie season.  He caught more balls per game and maintained a rather high 64 percent catch rate.  So why did he fall off so much?  The answer lies in his efficiency.  Both his yards per target and TD rate dropped off tremendously from year one to year two. And as incredible as his rookie year efficiency was, it was equally poor last year.  Buy Allen for his projected usage (which also probably earned a bump once Antonio Gates was suspended), he is in line for major positive regression in 2015.
Steve Johnson the Non-threat
Probably one of the more offensive reasons I have heard to stay away from Keenan Allen this summer is the presence of one Steve Johnson.  I know Allen was not profiled as an elite athlete when he was drafted, but seriously, Johnson isn't anything much to look at either.
When PlayerProfiler tells you a player's best comparable is Brian Hartline, that shouldn't illicit too many bell and whistles.  Furthermore, Steve Johnson has had three 1,000 yard seasons in his seven year career, with the most recent one coming in 2012.  He then floundered as the lead target in 2013 with Buffalo.  So while he did experience a resurgence last season in terms of efficiency, it came in a year where he was the third most targeted WR on the 49ers.
Now 29-years old and having declined in fantasy production for three straight seasons, how could one reasonably expect Johnson to be a real threat to take significant targets away from a young alpha like Keenan Allen?
Anquan Boldin Career Arc
If you don't think a player like Keenan Allen can bounce back after a poor sophomore season, fear not! It has already happened.  Take a look at Anquan Boldin's PlayerProfiler page.
Interestingly enough, Anquan Boldin was also listed as a poor athlete, and given the exact same best comparable player as Keenan Allen (Michael Crabtree).  That, and the fact they went within a round of each other in their respective drafts, probably wouldn't mean too much alone.  But now take a look at Boldin's first two seasons in the league.
Does this career arc look familiar?  After a monster rookie year, Anquan Boldin was very highly targeted in his second season, but saw injuries and massive drops in efficiency across the board.  You'll be happy to know that Boldin followed up that miserable 2004 season with a 102/1,402/7 season in 2005.  Boldin is not the same player as Keenan Allen, and their situations differ, but there really is no reason that Allen can't follow a similar career path.
Conclusion
Taking Keenan Allen as a top 20 WR this season may seem like a silly endeavor, but I believe the opposite to be true.  He is an impressive young player with a great opportunity to build on what he has done already in his first two seasons.  As his competition for targets has become more aged (and suspended), he could see even more growth in that area this season, which would set him up for a big year.  It would not surprise me at all to see him follow the career path of Anquan Boldin, and deliver for fantasy owners this season.