Jeremy Hill has an audacious ADP of 17.3. He's being selected ahead of elite receivers such as Jordy Nelson, A.J. Green and Alshon Jeffery. Hill's value was immediately pegged to the second round after a sublime rookie season, in which he posted a 222/1124/9 stat line and is now being discussed as the next elite. His PPR RB10 finish in 2014 joined Eddie Lacy's precocious  rookie year RB6 finish in 2013. Only Odell Beckham's sophomore ADP rose more slots year-over-year than Jeremy Hill — the hype train is real, folks. Unfortunately, the old-timey horse bandito known to the locals as "Gio" is looming on the horizon and that train is about to be held up.
Opportunity Distribution
Fantasy owners know that the current running back landscape in the NFL can be divided into two factions: the bell cow backs and the committee backs. Jeremy Hill is can be found riding along the dividing line. Proponents of the young running back are anticipating an increase in snaps and opportunities this year, after Hill appeared to be incredibly efficient last year.
Jeremy Hill had his chance to shine when Giovani Bernard went down with a hip injury in Week 8. The rookie stepped in and rushed for 356 yards and a pair of touchdowns over a three game span. Impressive, until one realizes that those yards make up a third of his season total. This stretch of successful rushing also came against three of the league's worst run defenses:  The Jaguars, Browns, and Saints.  This year, the Bengals face the league's hardest fantasy schedule and owners are still expecting Hill to produce top-ten numbers with limited snaps.
Jeremy Hill produced over a thousand yards while only being on the field half of the time. It sounds incredible, but compared to the top RBs in the game, Hill's snap share is embarrassing. He was on the field twenty percent less than his first-round superiors. (Quick side note, look how amazing Matt Forte is! He's literally always on the field!) It wouldn't be shocking to see Hill leading a 60-40 split in Cincinnati this year, but he won't be able to capitalize like he did last year. And based on these numbers, he won't have the chance to be elite without seeing at least 70 percent of the snaps.
Lost amidst all of the Jeremy Hill hype is his running mate, Giovani Bernard. The first running back selected two years ago is still a legitimate threat to Hill's playing time. Bernard missed three games, had several lingering injuries, and managed to put up over a thousand total yards and seven touchdowns last year. Marvin Lewis may plan on featuring Jeremy Hill, but it's unwise to keep talent off of the field. Especially when the so-called lead back fumbled four times (second most among running backs).
Giovani Bernard had nearly twice as many targets last year (59 to Hill's 32) and nearly as many red zone carries (31 to 36) in three fewer games. As far as opportunity sharing goes, Hill ranks near the bottom once again.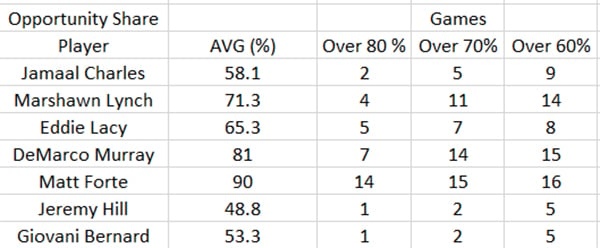 Look at Giovani Bernard sneaking in there. When healthy, Bernard will command his share of the opportunities, regardless of down and distance.
Giovani Bernard Doesn't Suck
Jeremy Hill's workout metrics are, to put it nicely, less than impressive.
Jeremy Hill does not cross the 25th percentile in any measurement of pure explosiveness. His agility score is in the 0th percentile, meaning that if someone wanted to know which NFL running back is more agile than Jeremy Hill, any answer would be correct.
He's like a baby deer on roller skates during a blizzard.
He made the three cone drill look like a six cone drill.
He's less agile than Jerome Bettis on water skis.
Workout metrics alone do not imply that Jeremy Hill cannot succeed in the NFL. Hill's 6.9 college yards per reception was truly remarkable considering the high quality defenses that LSU regularly faced during his final year at university.  Furthermore, Arian Foster has already demonstrated that bad workout metrics do not necessarily doom on-field efficiency.  Regardless, a 96.8 SPARQ-x score requires some suspension of disbelief by Hill enthusiasts to justify investing second round draft capital on a second-year athletic outlier devoid of measurable athletic gifts.
Meanwhile, Giovani Bernard's prospect and professional profiles are superior to Jeremy Hill across the board:
A better athlete from a metrics stand point, a higher VOS due to superior fantasy points per game played, and the exact same number of fantasy points per opportunity (.83), Giovani Bernard will see significant touches in 2015 no matter how strongly Jeremy Hill supporters wish that it was not so.
Conclusion
Jeremy Hill had an incredible rookie year. He also had nine games against teams ranked in the bottom half for run defense, an injured running mate in Giovani Bernard, and trouble hanging on to the ball. This year, Bernard will be healthy with less on his plate; the Bengals face the leagues toughest fantasy schedule; and Hill will struggle to be on the field enough to become elite.
The Jeremy Hill hype train must slow down with Giovani Bernard manning the handbrake.