A Fantasy Revolution
Want a brand new fantasy football experience? Are you passionate about fantasy football? Bettle Fantasy is here to revolutionize how you experience the game. This platform doesn't just amplify the potential of your best-drafted team. It also offers unmatched flexibility and minimal commitment, ensuring an exhilarating and stress-free journey.
Bettle's Super Team feature lies at the core of its innovation. It celebrates your best selections, turning your already-drafted roster from @SleeperHQ, Yahoo Fantasy, ESPN, or the NFFC into a powerhouse, regardless of whether it's your initial draft or an evolved star lineup. This dynamic, evolution-centric approach truly sets Bettle apart.
New to this innovative setup? You can join here and use Code UNDERWORLD for a $100 deposit match and $10 free play, giving you a lucrative start on your fantasy sports journey.
One Week Commitment
The game-changer here is the commitment model. With only a one-week commitment per matchup, Bettle grants players unprecedented freedom. Uncertain about a start/sit decision? Bettle empowers you to adjust your lineup, ensuring the most informed choices.
Moreover, Bettle offers group play options like the Week 9 Group by RotoUnderworld, where you can face off against Bradley Stalder and some of your other favorite PlayerProfiler Analysts. Whether you stick to a consistent lineup or switch throughout the season, Bettle adapts to your preferences, offering a fluid gaming experience.
Additionally, Bettle provides Half PPR scoring projections for your team, a strategic tool aiding in forming winning strategies and refining team performance.
Thrive With Your Best Team
For those who enjoy friendly competition, Bettle allows challenges with friends inside matchups, adding an extra layer of excitement and camaraderie to the experience.
The stress of start/sit decisions vanishes with Bettle's flexible approach. Waiting until game time to finalize matchups and lineups allows strategic decisions based on the latest updates.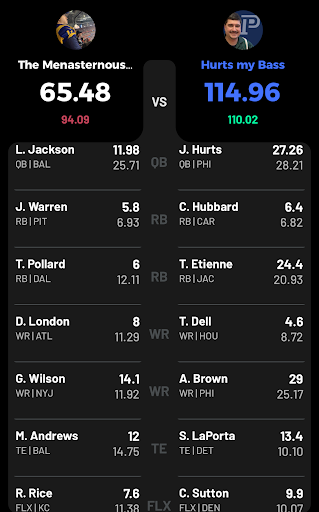 In summary, Bettle isn't just a fantasy football platform; it's a game-changer. It's where your best-drafted team thrives, commitment is tailored to your style, and flexibility rules. Join Bettle today for an unparalleled fantasy football experience.
Elevate your game with Bettle – the ultimate destination for fantasy football enthusiasts.
Join the revolution at Bettle Fantasy using Code UNDERWORLD for a $100 deposit match and $10 free play, giving you a lucrative start on your fantasy sports journey.