The term "truther" has become commonplace over the past few years to the point that it warrants official fantasy football cliché status. This will be my second consecutive year as a Cole Kmet truther. While it was the subject of much frustration for me during the 2022 season, it's a hill I'm going to be dying on once again in 2023.
I don't typically enter truther status often on a player and normally allow the ADP to dictate who "my guys" are going to be each year. In this instance, Kmet has fallen so far in tight-end rankings that he will once again be on my target list despite his rocky 2022 season.
The New Kid in Chi-Town
Cole Kmet entered the NFL in 2020 as a second-round pick for the Chicago Bears. As a rookie on a middling Bears offense, he played second fiddle to aging star Jimmy Graham. Additionally, he played with perennial Pro Bowl receiver Allen Robinson. Despite having a limited role in his rookie season, Kmet managed to produce a stat line that was solid by rookie tight ends standards. He finished 2020 with 28 receptions on 44 targets with a total of 243 receiving yards and two touchdowns. This is modest production, to say the least. However, Kmet more than showed the potential was there to be a star should he receive an opportunity.
Buried Behind Jimmy Graham
Entering his sophomore season in 2021 the Bears returned a largely unchanged roster. Despite still being buried on the depth chart being Graham, the Bears gave Kmet a slightly increased role. This led Kmet to a modest breakout. He hauled in 60 receptions on 93 targets for 612 yards with zero touchdowns. The zero touchdowns were due largely to Graham getting in the way.
After his sophomore season, the Bears chose to move on from both Graham and Robinson. This lead to increased hype in the fantasy community over his newfound status as the Bears' No. 2 target. This opportunity, combined with likely positive touchdown regression after his zero touchdown 2021 season, set his stock skyrocketing as most fantasy managers assumed a massive breakout was on the way.
Failure to Launch
2022 got off to an ominous start for Cole Kmet. As a result, the same was true for the roughly 20 fantasy teams in which I drafted him. He started the season going pointless in back-to-back weeks, recording zero catches on a mere two targets. Weeks 3 and 4 rolled by, and when his targets only jumped to three in each game, many fantasy managers pushed the eject button and moved on to other options at tight end.
By Week 5, the Bears' offense started to show signs of life as Fields began to move the ball more effectively which ultimately led to Kmet posting nine or more fantasy points in two out of three games. Week 9 is where things took off for him and the Bears offense. Kmet posted a massive Week 9 with four catches for 41 yards and two touchdowns. Week 9 saw Kmet put up 23 fantasy points.
The Eruption
Cole Kmet would then catch fire. He would go on to put up 10 or more fantasy points in five of his last nine games en route to a TE8 finish overall. This hot streak included weekly top-five finishes and four top-ten finishes. Going into the 2023 off-season, there has been little to no buzz about Kmet. Some of this is due to the recent acquisition of Moore. Some of it is because of the hype surrounding the 2023 rookie tight-end class. This perfect storm has led to him being the forgotten man and a steal in late rounds of drafts.
The Forgotten Tight End
As you can see from the superflex ADP chart below, he is severely undervalued. He is going off the board at pick 146 which makes him TE16, behind Dalton Kincaid, who is likely to be drafted on Day 2 of the NFL draft and has never played an NFL snap. We also don't know what team Kincaid will play for. It is more than possible he winds up in a less-than-ideal situation on draft day.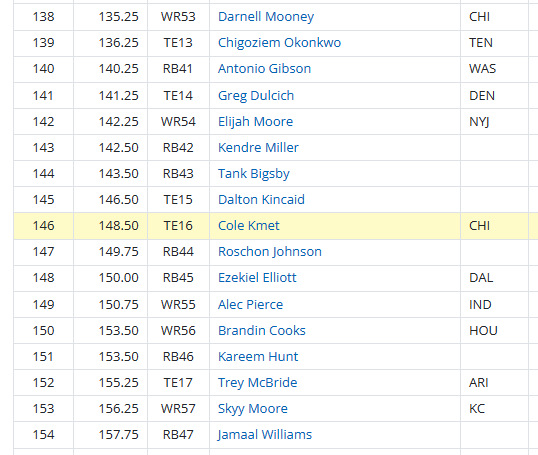 ADP Chart courtesy of DLF March 2023 Superflex ADP.
The player drafted after him is Trey McBride, a second-year player who functioned largely as a backup in 2022. While McBride figures to get a larger role in 2023 due to the injury of Zach Ertz, there is no reason he should be drafted above Kmet. McBride shouldn't be in the same tight-end tier.
Breakout Incoming
Now let's look at why he is on the cusp of a breakout.
As evidenced by the following chart, he has improved drastically every season in yards per route run, yards per pass attempt, yards per target, and fantasy points per game.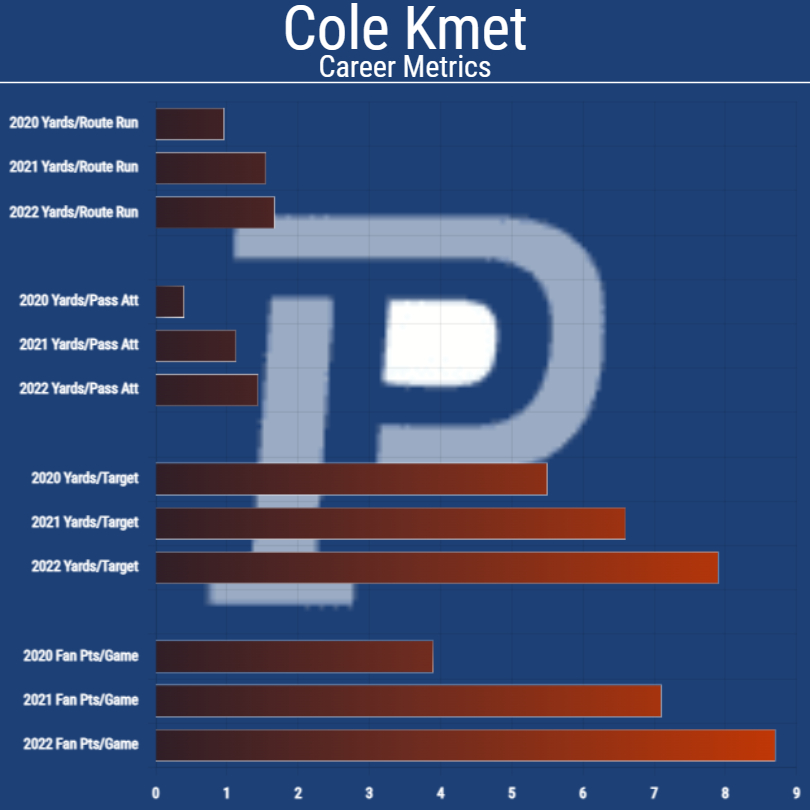 All of this despite a Bears offense that looked incapable of scoring at times. In 2023, the Bears are going to have a vastly improved offense, and Kmet is going to be an important piece. Despite being on a bottom-five offense with a quarterback that rushed at a record level, he was still able to be a top-ten tight end despite the offense not finding its footing until mid-season.
The Bears' offense will have a full training camp together to build chemistry, and Kmet will be in a great place to have a career year.
At his current value, Kmet is a Dynasty buy and a value in early Redraft leagues and tournaments. A top-five tight end season is well within his range of outcomes this year, so draft him now in Round 12 and let the other managers deal with rookie tight ends.