After considering the offseason acquisition of Devin Funchess, and the fact that Cam Newton and Jonathan Stewart are finally enjoying healthy training camps, the Carolina Panthers as a whole are fantasy football's single best team-centric value proposition.
Kelvin Benjamin
Going into his rookie year in 2014, much of the dynasty community undervalued Kelvin Benjamin and his ability to put up fantasy points over the long haul. With players like Benjamin, I often find that the community overcorrects itself, or sticks to its convictions to a fault.
Kelvin Benjamin finished his rookie year as the 15th highest scoring receiver in PPR fantasy football. Critics will point to his unsustainable volume and his numerous drops, but WR15 is an impressive rookie campaign by any measure. Advanced metrics like fantasy points-per-target (No. 60 overall) and a catch rate of approximately 50-percent (No. 87 overall) do not paint Benjamin's rookie year in a positive light, but people are forgetting that Benjamin, like most rookies, will improve over time.
Detractors of Kelvin Benjamin who compare him to a Gargamel-like character who only wins because he towers over smurf-like NFL defensive backs often dismiss the possibility of future development. With an extra year of NFL experience on his resume, Benjamin is poised to better understand the nuances on the position, become more instinctual, and better utilize his unprecedented size at the wide receiver position.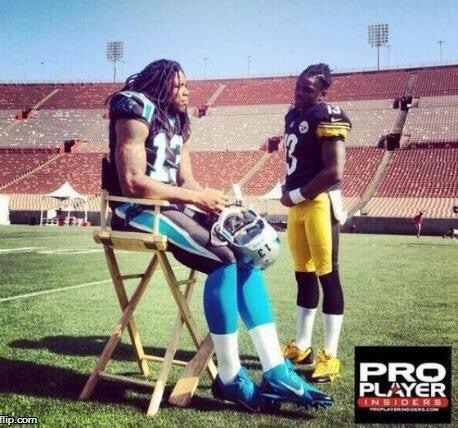 If his efficiency does not improve, Benjamin's dynasty prospects are dimmed, but I think he will become a more refined and efficient player, offsetting the targets that Benjamin will be losing to Devin Funchess. Benjamin is being drafted at No. 16 WR in MyFantasyLeague.com money leagues, which is priced closer to his floor than his ceiling. And as the Devin Funchess training camp highlight reel gifs continue to roll in, Funchess' ADP is sure to rise while Benjamin becomes even more affordable.
Cam Newton
As you might have guessed, Cam Newton was a freak of nature as a quarterback prospect, finishing in the 93rd-percentile for QB rating and 97th-percentile in college YPA.  His only blemish is his breakout age of 21.3, and that's likely only because of a combination of Tim Tebow and Cam Newton being kicked of the University of Florida football team for stealing a laptop.
His tumultuous college career notwithstanding, Cam Newton finished as a top-5 fantasy quarterback in each of his first three seasons.  His one underperforming season was due to a combination of injuries and only having two receivers worthy of being on NFL rosters. This year, with the addition of Devin Funchess and hopefully renewed health,  Cam Newton will return to his top-5 fantasy quarterback form(in 4-pt passing touchdown leagues). Newton's QB7 redraft ADP in MyFantasyLeague.com redraft leagues and a QB4 dynasty league ADP leaves room for a reasonable equity gain. For comparison, Newton is being selected 22 spots after Russell Wilson in redraft and 15 spots after Wilson in dynasty.
Devin Funchess
This year, the Panthers took Devin Funchess in the second round of the NFL draft, and his similarities to Benjamin are initially striking. This likely reminds fantasy owners of Tampa Bay selecting Mike Evans in 2014; Evans looked a lot like the incumbent WR1 Vincent Jackson. Before the draft, many fantasy analysts compared Devin Funchess to Kelvin Benjamin, but unlike Benjamin's who held dubious distinction of "oldest relevant rookie" (old is the new short), Funchess will only be 21-years-old when he makes his NFL debut in September. Looking at his college productions metrics, Funchess has a favorable breakout age of 19.3 (81st percentile) and college dominator rating of 41.4-percent (79th percentile) which paints a better picture than his raw numbers which were hindered by subpar quarterback play at the University of Michigan.
For a player who looks a lot like Brandon Marshall, Devin Funchess' 148 redraft ADP on MyFantasyLeague.com money leagues renders him one of the least-expensive starting wide receivers in the NFL.  Contrary to all of the preseason hype, I still believe that Funchess will begin the season as the clear No. 3 passing option in the Panthers offense.  In redraft leagues, this will lead owners to become frustrated with inconsistent fantasy production, creating valuable trade or waiver opportunities.  As the season progresses, I think his usage will increase and he will become a viable fantasy option; make sure he is on your team before this happens.
In dynasty, there will be no such opportunity and I don't think his dynasty price will get any cheaper, even if he is inconsistent out of the gate.  Now is the time to buy Devin Funchess, who remains a bargain at his WR46 MFL dynasty ADP.
Jonathan Stewart
Jonathan Stewart has suffered years of criticism for being "injury prone."  His extensive history of missed games has done little to reverse his reputation of fragility.  Thankfully, this creates an attractive buying opportunity in 2015.  Like Newton, Jonathan Stewart's workout numbers were off-the-charts coming into the NFL with a 116.7 speed score(97th percentile) and 28 bench press reps (95th percentile).
Each of the last two seasons, the Panthers have been one of the run heaviest teams in the NFL, ranking No. 7 both years. The Panthers project to be even more run-heavy with a healthy Cam Newton at the helm, and rookie Cameron Artis-Payne will not get all of the carries that Deangelo Williams has left behind.  If he and Newton can remain healthy, Stewart could be in for a career season in 2015.
Greg Olsen
Of the relevant fantasy assets in Carolina, Greg Olsen is the one I am not buying at his current ADP. Olsen resides in a middle round TE no-man's-land, which does not align with my personal tight end acquisition tactic of targeting Rob Gronkowski early or waiting to until the later rounds to fill out the tight end position on my roster(s).
Greg Olsen's age of 30.4 is also a red flag. Given that most tight ends decline relatively quickly after their age-27 season (Tony Gonzalez and Antonio Gates being the exceptions not the rule), the days of Greg Olsen's fantasy relevance may be over sooner rather than later.
Conclusion
The 2015 Panthers are one of the rare teams with significant ADP value at nearly all of their skill positions.  An investment in their talented rushing QB, freakishly athletic starting RB, or either of their gigantic receivers will likely result in a player who outperforms their draft position.  Fantasy owners who are looking for upside should make sure that their rosters have at least one player wearing Carolina Blue in 2015.