This time of the year everyone is looking for that late round sleeper that makes them look like the next coming of Bill Belichick.  Bruce Ellington is that player this year.  Once you draft him, you can take a look around your draft room and maniacally laugh as you know you just successfully completed a heist.  The addition of Chip Kelly's up-tempo scheme and Ellington finally getting a legitimate opportunity will be all that's needed to turn him into a household name.
The Talent
The talent has never been a question for this third year wide receiver as he boasts an impressive profile headlined by a 125.1 SPARQ-x (93rd-percentile) and a 10.64 Agility Score (97th-percentile) on PlayerProfiler.  When looking at comparisons to other players Bruce Ellington's athleticism correlates to a top end player like Brandin Cooks.  The only real blemishes on the profile are the 27.5-percent College Dominator Rating (40th-percentile), and his Breakout Age of 21 (35th-percentile).  The rest of the profile is golden so I wouldn't get hung up on those scores.  The sky seems to be limit for this explosive receiver and Chip Kelly plants to take advantage of it.  If you need more convincing take it from Chip Kelly himself, "When you look at just the short time that I've seen just film of him you're like 'Wow.'  That kid can do some interesting things.  And it's our job to figure out how we can use that to benefit us to help us win games."
Blur Offense
Speaking of Chip Kelly, he will be bringing his up-tempo offense sorely needed in San Francisco after finishing 32nd in points and 31st in total yards under Jim Tomsula.  Last season the 49ers attempted only 526 passes which would have put them at 24th in the league even though they were trailing much of the season.  Since 2013 the Eagles under Kelly averaged 584 pass attempts and finished in the top half of the league each year in attempts. Last season the 49ers finished 29th in plays from scrimmage, while Kelly's Eagles finished second with 1,102 plays.  The defense for San Francisco also isn't what it used to be, and they didn't do much to improve on this front as they finished 28th in Total Yards and 18th in Points Allowed in 2015.  On top of this they have already lost starting defensive lineman, Ian Williams, for the season, so expect for the 49ers to be down often and playing catch up.  This increase in plays, pass attempts, and an inferior defense will only create more opportunities as these attempts and targets need to be absorbed by someone in this new offense.  That someone is going to be Bruce Ellington, and that means great value for whomever drafts him in the later rounds.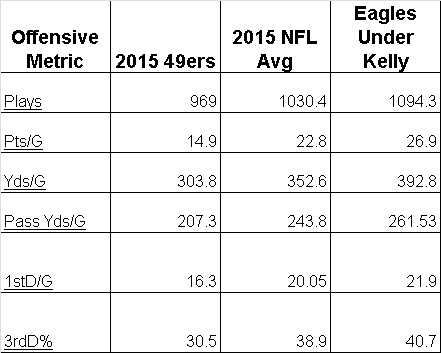 The Opportunity
Even with the points I've stated prior if you have any further doubts just take a look at the supporting cast.  There isn't a stud wide receiver on this team which opens the door a player like Bruce Ellington to shine. San Francisco's current depth chart outside of Ellington includes Torrey Smith as WR1 and Quinton Patton as WR3.  Patton started over Ellington last year, but you can chalk that up to Jim Tomsula not having a clue what he was doing or what he had in Ellington.  Hence why he was fired after one season.  As far as Torrey Smith being listed as the 1, I don't see that as an issue being that he is more of a deep threat evidenced by his mere 61 targets last year.  I envision that number increasing, but the largest target share for this team will be coming from the slot.  The Eagles under Kelly featured Jordan Matthews in the slot.  Matthews racked up 229 targets over the past 2 years, and ran 553 routes in 2015.  Just to hammer it home that position will now be filled by Ellington.  I still haven't even gotten to the point that Anquan Boldin is no longer in town along with his 110 targets.  Ellington will most likely see the majority of those targets as he will feast on those middle routes just as Boldin did in his younger days.  With no other additions to this receiving corps, the window to syphon a lot of targets as the WR2 in San Francisco is there for the taking.
QB Conundrum
Now i can already hear you yelling about how all these targets are great and all but what about the quarterback who actually has to throw the ball.  Currently Blaine Gabbert looks to be the favorite and he finished the season strong last year for the 49ers with a 63-percent completion percentage and 7.2 yards per attempt.  Now those aren't record setting numbers but they are middle of the pack in the NFL which is all that will be needed to get Bruce Ellington his PPR looks.  If Colin Kaepernick becomes the starter you're looking at 60.5-percent completion percentage and 7.0 yards per attempt in 2014.  Obviously not great numbers, but under Kelly the Eagles averaged a 62.6-percent completion percentage and ranked in the top-10 in that category every year other than 2016 when they were 12th.  Also under Kelly the Eagles averaged 7.7-yards per attempt, so I envision the stats for whomever starts at quarterback to vastly improve as Kelly wasn't working with pro bowl quarterbacks in Philadelphia either.
2016 Outlook
The expectations for Bruce Ellington have been slowly increasing as this offseason has progressed.  He has shined in OTA's and is garnering more chatter everyday in the fantasy world.  There is a lot of opportunity in this new 49ers passing offense and the fantasy players who take advantage will be reaping large rewards.  I'm projecting Ellington to see around 100-115 targets this year which is a huge leap from last year.  I envision him turning into a solid WR3, with upside of a WR2 especially in PPR.
Make sure to jump on Bruce Ellington a littler earlier than planned as the fantasy world has slowly started to take notice.  His ADP is creeping up to 181.3 which is a recent change of +17.6, which puts him as a 15th rounder in a 12 team league.  So, instead of taking Torrey Smith at his 81.2 ADP, go out and win your league by holding tight and taking the wide receiver who will lead the 49ers in PPR points this season.  Get out there and get Bruce Ellington folks as this is the year talent finally meets opportunity.