D.J. Chark is the subject of a BRAND NEW RotoUnderworld written series. The phrase 'second draft' is a common one among front offices across sports. When teams prepare for a draft in a given year, teams do their homework on every prospect, even ones they don't need or have a chance to select in that specific draft. Why? So when one of these players eventually becomes available either via trade or free agency, there is still some familiarity with their games and how they'd possibly fit and revitalize their careers within a new system. This is not a new phenomenon. 
Wide Receiver
It is not uncommon for a high draft pick, especially a first-round pick, to get a second chance despite early career struggles. Sometimes, the situation just was never the right fit for any party, especially the player, whether that be the personnel around them, the coaching staff, the usage of said player, or all of the above. Other times, injury gets in the way of allowing a player to shine their brightest. Sometimes, all these guys need is a fresh start to become the players they were meant to be. A little bit of both applies to former Jacksonville Jaguar D.J. Chark.
Second Draft WR Candidate: D.J. Chark
D.J. Chark entered the NFL as a super athlete. This evidenced by his 4.34 (98th-percentile among qualified wide receivers) 40-yard dash, 115.3 (96th-percentile) Speed Score, and 132.5 (93rd-percentile) Burst Score. He wasn't a mega-producer at LSU, but did manage to post a 21.9 (97th-percentile) College YPR, 22.6-percent (63rd-percentile) College Target Share, and 20.0 (64th-percentile) Breakout Age. Not bad to accomplish those feats at 6-3, 200-pounds.
2019 Breakout
D.J. Chark didn't play much in his rookie season. But, he broke out in 2019 to the tune of 73 receptions on 118 targets for 1,008 yards and eight touchdowns in 15 games. He averaged roughly 8.5 yards per target and 13.8 yards per reception in his second season. For reference, in 2021, A.J. Brown averaged 8.3 yards per target and 13.8 yards per reception, which finished No. 48 and No. 33, respectively, among wide receivers. Chark finished 2019 as the WR16 in fantasy football and the WR19 on a per-game basis.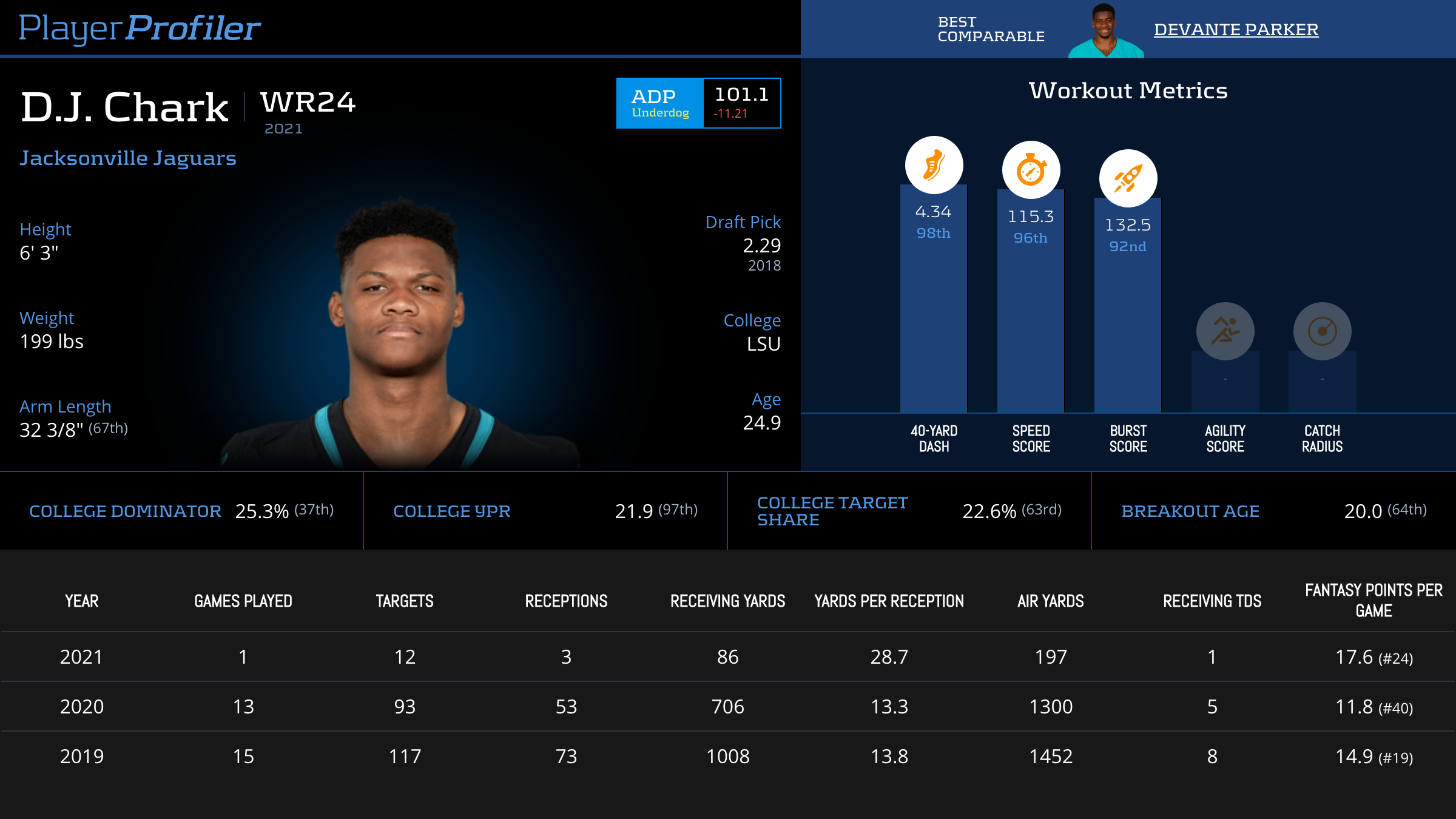 Advanced stats worked in Chark's favor that season as well. Matt Harmon's Reception Perception charting data showed that he won 69-percent of his routes versus man coverage and 68.7-percent of his routes against press coverage. That indicates that even if he wasn't targeted on a certain route, basically seven out of 10 times, he was beating his man and doing his job well.
The 2020 season was not as favorable to Chark. He nearly maintained his yards per reception efficiency (13.3 yards), but his yards per target fell roughly a full yard to about 7.6 yards. He ended the season by hauling in 53 receptions on 93 targets for 706 yards and five touchdowns. After finishing 2019 as the WR16 in fantasy football, he tumbled to a WR50 finish and was the WR42 on a per-game basis. That is not going to get the job done at all.
Bad Luck Injuries
This is where things get tricky. D.J. Chark was on the field but did play through a litany of injuries. In Week 2 of the 2020 season, he suffered chest and back injuries that forced him to miss one week. He sprained his ankle in Week 5, missing two more games in 2020 with rib and shin ailments; "good" for a 42-percent Man Coverage Success Rate and 29.2-percent Press Coverage Success Rate. Did the real Chark stand up in 2021? We couldn't find out for many reasons.
Firstly, he lost almost all of training camp to a finger injury. It's never good to miss camp time, but especially when a rookie quarterback strolls into town. He did return for Week 1 with 86 yards and a touchdown, but only caught three of 12 targets. Inefficiency was a constant theme for the Jaguars under Urban Meyer. According to Football Outsiders, the anemic offense finished No. 27 in offensive DVOA. That accounts for the entire season, which Chark did not get to see through. His season ended prematurely in Week 4 after a player fell into his leg while he was run blocking, resulting in a fractured ankle. 
The injury was all the more unfortunate considering he was in the midst of the final year of his rookie contract. The Jaguars needed him too. Marquee WR free-agent signing Marvin Jones averaged 1.36 (No. 98) yards of Target Separation and 7.1 (No. 81) Yards Per Target. Laviska Shenault, another second-round pick, also failed to step up. He averaged a 1.52 (No. 83) Target Separation mark and 6.3 (No. 98) Yards Per Target. Laquon Treadwell came from nowhere to give the Jaguars some semblance of competency on the outside. Safe to say Chark was missed.
Where Can He Go?
That leads us to now. Who do you believe is the real D.J. Chark? The 2019 version or the 2020 version? Most importantly, who do the other NFL teams believe is the real Chark? The Jaguars did not franchise tag him, allowing him to become a free agent. No one would blame him if he bolted elsewhere. What if that elsewhere results in Chark landing in Kansas City with the Chiefs? Could he land in Detroit in a barren wide receiver room? What about Atlanta? 
Conclusion
I personally believe that the 2019 D.J. Chark is closer to the real thing. Though his 2020 season was concerning, the 2019 season is the one we've seen him start and finish without a myriad of injuries. If he really is a receiver of the caliber he showed that year, and lands in a situation conducive to fantasy success, he will get back to putting big-time numbers. That scenario is very much in his range of outcomes, making him a buy in dynasty and best-ball leagues before free agency kicks off.