Height

6' 1"

Weight

184 lbs

Arm Length

30 3/4"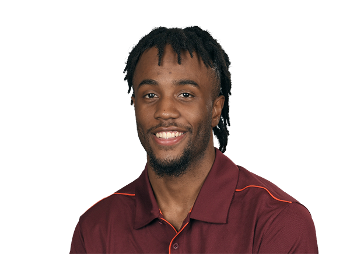 Draft Pick

Undrafted

2022

College

Virginia Tech

Age

22.9
Workout Metrics
40-Yard Dash
Speed Score
Burst Score
Agility Score
Catch Radius
High School Workouts
40-Time
Speed Score
Vertical Jump
20 Yard Shuttle
Scouting Grade
Tre Turner Bio
Tre Turner was a 4-star prospect from Greensboro, NC with offers from Notre Dame, Penn State, Ole Miss, Miami, and Florida. Given those offers, Turner chose to attend Virginia Tech. In his first year as a hokie, he produced 535 receiving yards through a 9.79% target share. He was also used as a rusher, gaining 101 yards on 8 attempts. Read More
College Dominator

College YPR

College Target Share

Breakout Age
Tre Turner Injury History
Year

Year

Games

Games

Receptions

Recs

Receiving Yards

Rec Yds

Target Share

Tgt Share

Catch Rate

Catch Rate

Receiving Touchdowns

Rec TDs

Special Teams Yards

Special Teams

Age

Age

School

School

2018

12

(WR)

26

(42 tgts)

535

(20.6 ypr)

9.8%

61.9%

4

-

18

Virginia Tech

2019

11

(WR)

34

(60 tgts)

553

(16.3 ypr)

18.9%

56.7%

4

0

19

Virginia Tech

2020

10

(WR)

34

(48 tgts)

529

(15.6 ypr)

18.9%

70.8%

3

0

20

Virginia Tech

2021

10

(WR)

40

(78 tgts)

675

(16.9 ypr)

24.7%

51.3%

3

0

21

Virginia Tech
Who is Tre Turner
In his sophomore year, Turner continued to produce as a rusher and a receiver. Versus Virginia late in the season, Tre Turner posted 7 receptions for 174 yard and 1 touchdown, while adding 3 rush attempts for 25 yards. The hokies looked for ways to get him the ball. He led the team in both yards and receptions.
In 2020, the junior sustained his previous year's production through the air with one of his top games coming in late November. At Pittsburgh, he caught 3 balls for 74 yards and 2 touchdowns. The week before against Miami, he posted 5 rec for 86 yards. His growth in target share to 18.90% was evident. He was second in receptions and receiving yards on the team despite playing one last game than the leading receiver.
2021 was the peak of Tre Turner's production and target share. He commanded a whopping 24.68% target share. One of the best games to watch if you're a fan of Tre Turner was the game against Georgia Tech. Turner absolutely dunked on the yellow jackets with a disrespectful 7 receptions, 187 yards, and a score. He earned an invite to the senior bowl, but turned heads for all the wrong reasons. Tre Turner came in at 6-1 179lbs, which is severely undersized for a wide receiver.
Tre Turner was a UDFA signed by the Las Vegas Raiders following the 2022 NFL Draft. He's just not good at football. It's unclear what his role would be even if he made it on the roster.